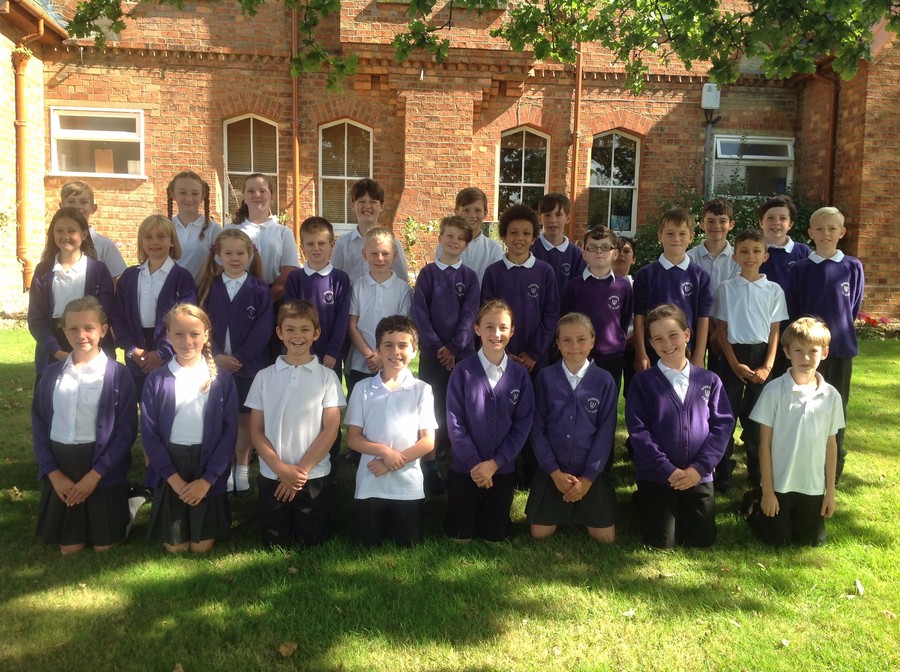 Wow. What a week we have had in Zebra class. On Wednesday we had our school Sports Day, where the children were just magnificent. All of the 5s and 6's really led by example in their teams and were a wonderful credit to the school. Special well done to Canada who were our overall winners. In class, our Y6's have started creating their own mathematical board games, which they hope will help the younger children with their learning, during this time the Y5's have worked incredibly hard showing off their problem solving skills in addition and subtraction. In English, we have had great fun exploring play scripts and finding out about the key language such as aside and soliloquys, we have then written different scenes together with created characters.
Well done to our gold winners this week.....Macy and Ryan
Happy half term all! The children have been working so hard this week, again with the English and Science split. The 6s have worked hard to produce a newspaper article about a crime on Monday morning, the children became super reporters and were able to detail the key events! The 5s have been working creatively, dissolving salt in water, creating mobile cars and then creating designs for a nature garden!
In the afternoons we have been looking at healthy schools, thinking about how and what we eat, how we can be mentally healthy as well as how we can keep physically healthy. Super work all with exemplary behaviour throughout again!
Well done to our gold medal winners this week.........
Super again Zebras! Our Year 6s have worked all week putting together a fantastic narrative, which is a delight to read and the Year 5s have been exploring the human side of Science! In maths we have been learning about prime numbers and factors, and using our knowledge of them to investigate! Lots of exploratory learning this week so well done to all!
Well done to our Gold Medal winners this week.......... Macy and Bradley
Well done for this week Zebras, your attitude to your tests are above expected. The year 6s have been focusing on their sats, but the year 5s have been also been revising by doing tests. To finish the week, the year 5 wrote a story and their range of language was amazing! Year 6 had a celebration morning, playing loads of games and had a picnic! In our reading Year 5 and year 6 have been using and understanding new words such as loathsome audacious and euphoric. What a week!
By George H and Macy.
Well done to our gold award winners.....Martin and Anna
Excellent week again Zebras! The children have been working so hard to finish off their diary entries, and their dedication has paid off with some wonderful examples of independent writing. They are all proud of what they have written, and rightly so! The 6s have worked really hard across the board again, with a last week prepping for SATs, they are all ready and have made such a tremendous effort and will be as ready as anyone when it all starts on Monday. The 5s have continued to work hard on their maths, trying to apply their learning into different contexts. Finally, the inventions were all completed and the children were very proud to take them home and hopefully show off their creations, all should be able to describe and explain what they have made, so please do ask them!
Well done to our gold medal winners this week Alix and Olivia....
WOW! What a super week. The children have started looking at how to write a diary. They have been working hard to learn the key features of the text, such as the language and the structure. Using their learnt skills the children then worked together to write a diary entry, using our current topic as Africa as the engagement. We had some really thoughtful and creative writing which was brilliant to see. The children have also moved on to the next step of their prototype where they painted their inventions.
Well done to our gold medal winners this week Shaka and Alana....
Welcome back after a lovely Easter break. The children have settled back into learning superbly, investigating our new topic of Africa. We have spent the opening few days looking at Africa as a climate and how to identify it on both a political and a topographic map. We then focused our learning on schooling in two African countries, seeing the similarities and differences between them and us. Our next area of learning was to focus on two children who go to school and their lives at home and at school, where we looked at the cause of a problem and the effect it would have. As well as our topic of Africa we have begun to make our prototypes of our inventions, thank you to all parents who have supported the school with the resources!
Well done this week to our gold award winners Kieran and Scott.
What an amazing start to the week. This week the year 5 have been doing maths in different classes because the year 6 have been practicing for there SATS. In English we have being doing blue prints it was really fun. Also we have been creating our very own inventions and they all have a purpose!
In filming we have been doing animations and stop motion. They have turned out great
I hope you have a lovely Easter!
This week we have been making are own clay models of evolved species. Also, we have been creating are own inventions ready to write instructions on how to use them. As well, we have been trying to use and apply our maths learning. Finally, HAPPY MOTHERS DAY to all of our mummy's. By Shaka and Olivia
Well done to our gold award winners....
This week(in English) we have been learning about modal verbs ; informal and formal letters, and at the end of the week we wrote a letter to the Prime minister about the endangered elephants and their ivory. We have also been doing some test papers it was really difficult! In Maths we have been learning how to work systematically. In I.C.T we have been making our own PowerPoint's about endangered animals we used hyperlinks to connect slides to the PowerPoint. In P.E we have been carrying on our circuit training. Also this week we have been doing art, in art we have been drawing picture inspired by Henri Rousseou.
What a fab week. From Scott and Daisy
This week in the Zooming Zebra class we have started to write our 500 word stories. On Thursday 2nd March it was World Book Day and the Zebras made comics of their characters they came in. We had all sorts of different characters we had: Little Miss Chatterbox; The Bad Tempered Lady Bug; The Dirty Cinderella; a few Harry Potters; Hermione; Mary Poppins; Mr Willy Wonka and so much more. In English we have been writing non fiction reports on endangered animals. Once they are all done our amazing teacher Mr Baker will send them to the WWF-world wildlife foundation. If you want to help WWF just visit their website for more information. In Maths we have been learning about ratio and proportion, most have really enjoyed it, on the other hand, some have absolutely hated it- it is quite a hard subject. We have also began drawing for our non-fiction reports.
Written by Chloe and Alix
Well done this week to our gold award winners.....
This week we have had a blast doing our class assembly(check it out on our website below). In English we have been learning about non-fiction reports and the language, audience, purpose and structure of the text. Also, we have been learning about mean, median, mode and range in maths, all the children loved it although it was quite tough. At the end of the week we finished with some PE, where the children had the most challenging time doing the cross country.
From Simeon and Scott
Well done to our gold medal winners this week: Chloe and Hayden.....
In the zebras class this week we have had lots of fun and faced challenges! In maths we have been learning about: symmetry, reflection and translation. We have planed and wrote our very own adventure narratives, in English. To give us inspiration Mr Baker covered the classroom with border paper and tissue paper to make the class look like a jungle! On Thursday we done some French with Mrs Brickwood and we have received our valentine cards from our French pen pals. What an amazing week from Keali and Taiya
Well done to our gold medal winners this week: Keali and Ryan.....
Super work Zebra Class! What a week! We had a fabulous time on Wednesday celebrating Chinese New Year. As a class we created an Ox with the 12 other animals inside as a collage. Such a fantastic effort from the whole class. Additionally, this week we have explored Adventure texts in English, and written some fantastic problems. Such an amazing range of ideas and language used by all. A huge focus on division this week in maths, developing and securing the method for long division, and after initial misconceptions you have all shown an understanding of the method! Many of you also pushed yourselves to reason and problem solve! We ended the week with a fun game of handball, where you showed great teamwork and sportsmanship, well done.
Well done to our gold medal winners this week: Jacob and Simeon.....
WOW! What a fantastic week, it has gone so quickly! You have all worked so hard on your writing and your published stories were all so wonderful to read, you all put a tremendous amount of effort and dedication into them and you should be very proud of yourselves! Alongside our writing we have had an assessment week, where you really showed a fantastic effort of being the best you can be.
You have also shown a super ability to work as a team this week. You have been tasked with a practical science investigation as well as a tactical PE session, in which you really had to work well as a team and show that working respect to one an other. You accomplished this with flying colours and really represented your class well.
Well done to our gold medal winners this week: Taylor and Bobby....
This week in maths we have been learning fractions and converting measurements, such as solving word problems with length, capacity, weight ,money and time. In English we have been writing character descriptions (about a girl in the animation adrift) and using a wide range of vocabulary, we wrote some amazing descriptions. This week we have also done P.E. and French. In P.E. we took part in some circuit training, and in French we were learning directions such as left, right, forward, back, stop and go. What a fab week! Daisy and Bobby.
Well done to our gold medal winners this week: James L and Daisy.....
Happy New Year
Wow, what a fantastic beginning to the year, everyone has shown amazing kindness and made me feel extremely welcome to Bugbrooke Primary School. I am delighted to join the children on their learning journey and can not wait to get started.... Mr Baker
We opened our year with a movie making activity, linking to our new topic of film and introducing Mr Baker to our school. We had to work as a team to create small news clips, which we then edited and put together to make a small movie. It was so exciting!
This week we have all had great fun in English and Maths. In English we have been learning about fantasy narratives, such as its structure, audience, purpose and language. In maths we have been learning about angles on a straight line and in a shape. But the fun hasn't stopped yet, on Friday we were able to go and play in the snow! It was fantastic, but a bit cold... Written by Zebra class.
Well done to our gold medal winners this week: James C and Rosie.....
Also....Congratulations to year 5 and 6 who this week won their Athletics tournament!
HAPPY CHRISTMAS EVERYONE! MY CLASS AT ITS BEST: SMILING, CREATIVE AND WORKING AS A TEAM! THANK YOU FOR ALL YOUR HARD WORK THIS YEAR. I WILL MISS YOU!
Friday 16th December 2016
What a wonderful class I have had the pleasure to teach whilst at Bugbrooke. This week they have continually shown me just how fantastic they are.
We have produced some amazing writing, beautiful artwork and have persevered with our sewing and times tables.
Well done!
Friday 9th December 2016
Thank you for all your hard work this week. We have enjoyed problem solving in maths and have started looking at our new class text - The Highway Man.
Friday 2nd December
Thank you for all your perseverance demonstrated during both our maths and writing lessons today. Our synonyms activity proved to be quite a challenge but so many of you were determined not to be beaten!
Following on from our visit to the church yesterday, we reviewed our understanding of advent and various Christian beliefs. I was impressed with the behaviour and questioning demonstrated both during and after our visit.
Friday 25th November 2016
The end of yet another wonderful week!
Thank you for all your great story writing this week. We have drafted, edited and re-written our versions of 'The Tunnel'. Our editing skills have definitely improved.
During maths, we have been investigating shape.
Our guided reading carousel activities focused on our retrieval and inference skills. I know Mrs Palmer and myself particularly enjoy Thursday mornings.
Our indoor volleyball session was very enthusiastic this week. We will definitely be trying that again!
Friday 18th November 2016
A week full of arithmetic, subordinating conjunctions, inference questions and spots! Well done to everyone who brought in their small change. Our class was able to start the line of coins in the small hall in aid of Children In Need.
We have planned our version of 'The Tunnel'; I just know that I'm going to have lots of fabulous writing next week.
A special well done to our super spellers this week.
Keep up the great work!
Friday 11th November 2016
This has definitely been a week to remember.
We have:
Read regularly and aloud,
Edited our sentence work and drafted poems,
Multiplied and divided whilst solving word problems,
Enjoyed our guided reading carousel,
Made poppies and demonstrated our creativity,
Been a good friend and worked as a team,
Evaluated our handwriting and worked on our joining,
Remembered all those who died in wars.
I have been immensely proud of the teamwork and creativity shown this week.
Friday 4th November
We have started our Festival topic with a wonderful week of art, dance and creativity. Thank you for your perseverance with your diva lamps. I was very impressed with your dancing!
In writing, we have started to explore The Tunnel. We enjoyed crawling through our tunnel in class!
In maths, we have continued to work on our division skills.
Well done and stay safe this weekend - I am very proud of your all.
Friday 21st October 2016
What a wonderful week we have had! Well done for your excellent behaviour and enthusiasm during our World War II carousel this week. Your costumes were amazing.
As you can see, we had lots of fun baking our egg less cakes, learning our war time songs and looking at artefacts.
Everyone has worked hard on their times tables and spellings this term - keep up the great work over half term and see you all in November!
Friday 14th October
We have produced some fabulous written work this week. Following on from our work on The Piano, we have all completed a narrative piece of writing which shows our understanding of adjectives and past tense verbs. I have been thoroughly impressed with your great attitude to learning.
In maths we have continued reviewing our understanding of fractions. We are all looking forward to our history focus next week. Don't forget your costumes for Wednesday!
Friday 7th October 2016
Another fantastic week full of maths, reading comprehension, spellings, SPAG, Science and performing a poem about a dragon!
Everyone is working really hard to improve their times tables recall. I have been really impressed with the work on multiplication this week.
Some of my Year 6 children have received a headteacher award this week for their superb problem solving!
We have started to think about World War II and hope to dress up on the 19th October so that we can have a history day!
More information about Wednesday 19th October will follow shortly. Please do not feel that you have to go out and spend money on an expensive costume.
Friday 30th September 2016
Our week in pictures....
Friday 23rd September 2016
We have had yet another busy week! I've been incredibly proud of the writing that has been flowing from our pencils and pens this week! Well done for some great learning logs which will be returned next Friday.
Please remember that your spelling books need to be returned on a Thursday and that you must complete 10 sentences. New spellings have been glued in ready for our next test.
We seem to be having problems learning Year 3/4 spellings so it is really important that your child is given help at home to review these essential spellings.
All year 6 children will be re-tested in two weeks .
Friday 16th September 2016
So what have we been up to this week?
We have been: problem solving, completing our prints; using ICT to make selfie art; looking at key reading questions which help us to predict what is happening next and how to write the best sentences!
We have completed our Year 3/4 Spelling Test review and the results will go home next week. Our spelling test will be on Thursday. Please remember to look/write/check your spellings as well as completing at least 10 sentences. Can you been Jacob who used 5 of our spellings in one sentence?
Dojo shout outs for Anna and Rodrigo this week!
You are a fabulous class! Have a great weekend!
Friday 9th September 2016
What a wonderful first week back to school! I would like to thank every member of my class for their enthusiasm and perseverance this week. Your behaviour during our Bletchley Park class trip was fantastic; during our code breaking challenge the member of staff leading the session was very complementary.
In maths we started looking at a range of problems to highlight the importance of questioning, thinking, communicating our ideas and persevering with constructive struggle. I have been impressed already! Keep up the great work.
We started our class book this week: Hacker.
This book will be our focus in our English and reading work next week.
Our P.E. days will be on a Wednesday and Friday. However, as we have taster sessions next week, please make sure that your P.E. kit is in school everyday.
The learning log went home today which will need to be completed by Friday 23rd September. There is a slight change to the arrangements for spelling tests so apologies for any confusion. Next week Year 3/4 spellings will be tested in class.
Please remember that you must read regularly - at least 5 times each week for at least 10 minutes. Well done to all those in my class that have read for much longer and much more frequently! Remember: SPELL, READ, PLAY, REPEAT!
Our Dojo champions this week were Daisy and Rosie. Well done girls!