Mrs Nash and the excellent Elephant Class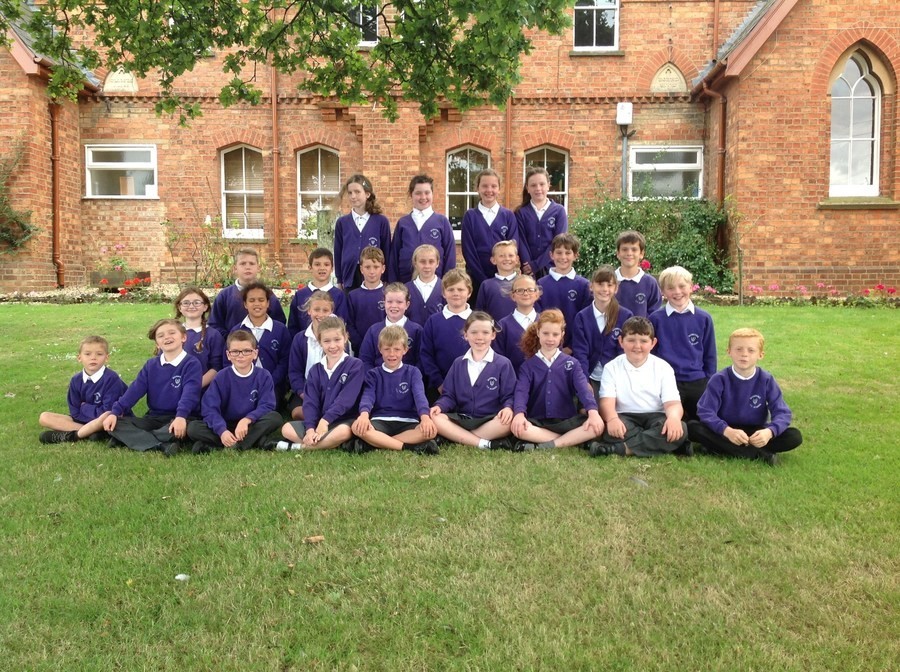 .
Week Beginning 17th July
It has been an emotional end to the week saying goodbye to Year 6! We all wish them good luck at their Secondary Schools, and know that they will shine, but will miss them all very much:(
Year 5's we look forward to seeing you again in September and hope you all have a fantastic Summer Break!
Mrs Nash & Mrs Stevens
Year 6 parents, the video and photos from this morning are in the news section of the website.
Week Commencing 26th June
This week Yr 5 and Yr 6 have been taking their next steps in preparation for next year! Yr 5 have spent two days with their new Yr 4 classmates and many of Yr 6 have spent time in their new Secondary School. I feel very proud of all of the Class as Yr 5 have already become good role models for the younger classmates, and Yr 6 came back buzzing from their experiences of Secondary life! Those Yr 6 children who did not have a Campion transition day had a super day creating programmes and posters for our Yr 6 production and spending time with younger pupils. Production preparations are in full swing, as the stage has gone up and our actors have been in costume. Yr 5 have enjoyed play script work with Mr Baker. Next week brings Aylmerton, and whilst we will miss our Yr 5 friends, Yr 6 have a super, exciting week in store!
This week's gold medallists have been Samuel for his wonderful work ethic in maths, Amie for her great acting skills and Alex for his super sensible attitude. Well done!!!
Week Commencing 12th June
Another super busy week for Yr 5 and 6! In English we have been continuing to explore different characters and stories in preparation for our own play script writing next week. Maths for Yr5's has concentrated on identifying and explaining errors in calculations, whilst Yr 6 have been planning and making maths board games to be played by the Yr 5 children and enhance their learning. Our production practice is in full Spring and Yr 6 are already confident without their scripts for the Production songs- great fun! Sports Day was enjoyed by all and demonstrated the great sportsmanship our class have in cheering each other on- in the heat of the day! We also tried some inclusive sports such as walking football and goal ball- thinking about how sport should be accessible to all.
Our gold medallists this week are Will W for his enthusiasm for all subjects including Sports Day, and Chloe Sharp for her impressive Maths game- well done!!
Week Commencing 5th June
This week Year 6 have been investigating tricky maths problems whilst Year 5 have been improving their mental subtraction skills and using formal methods to solve problems. In English, we have started looking at the features of play-scripts and including these in our own writing, as we turned a narrative into a play-script. Lots of us got into character as Shrek and Donkey to act out different scenes using super expression! In the afternoons, whilst Year 5 have been working on a theme park project with Mr Baker and playing bench ball in P.E, Year 6 have started practising their performance ready for the start of July and playing football-rounders and rounders. It has been a super first week back!
Our gold medallists this week are Kalonice, Darcy and Charley for their super gymnastic performances when representing the school, and to Darcy (again!) and Natasha for their caring and enterprise in organising a mufti day and cake sale to raise money for the Geriatric Elderly Medicine area at NGH- you have made us very proud.
Week Commencing 22nd May
What a busy week we have had! Yr 6 have been our super reporters, writing impressive newspaper articles on a "Bugbrooke" crime! They noted the key events and included quotes to make their reports come to life. Our Yr 5's have had fun designing balloon powered vehicles and planning nature-friendly gardens.
In the afternoons we have been working hard thinking about how we can use exercise and what we eat to be physically healthy, then also looking at having a happy mental attitude to keep mentally healthy.
Our Yr 6's have been auditioning for parts in our forth-coming production and we are looking forward to putting this on next term!
Our gold medallists this week are Alex for his super behaviour and focus, and Sam for his impressive newspaper report and positive attitude.
Have a wonderful Half Term Break!
In the afternoons we have been looking at healthy schools, thinking about how and what we eat, how we can be mentally healthy as well as how we can keep physically healthy. Super work all with exemplary behaviour throughout again!
Well done to our gold medal winners this week.........
Week Commencing 15th May.
This week Yr 6 have been building up to write and publish a narrative based on a futuristic film clip we watched- called "Ruin". They produced some super suspense-filled writing! Year 5's have had a fun Science week with Miss Jardine and Miss Osbourne looking at the organs of the body, and how food affects the body. In Maths we have been looking at prime numbers and factors and investigating patterns and rules. Our artwork on African animals has now been completed and is looking amazing up on our classroom wall.
Our gold medallists this week were Darcy for her super maths work and Josian for his amazing narrative work.
Week Commencing 8th May
Wow what a week!SAT's week for year 6 and they did us proud. Year 5 have also been working hard on assessment week too, so in the afternoons we have all been enjoying lots of art and sports activities.
On Friday the all of Year 5's spent the morning on a big write whilst the Year 6's had a fun morning as a celebration for the end of the SAT's tests; bench ball tournament, picnic and fun games were a lovely positive way to end the week.
Our gold medallists this week were Erin for her perseverance and hard work and Oliver M for his maturity and ability to make the right choices- well done!!
Week commencing 1st May
This week we have been continuing with our diary writes, as a Class getting into character as Stanley Yelnats- the main character from "Holes", our class reader. Then editing and up-levelling to produce some outstanding writing. Whilst Year 6 have been involved in SAT's preparation, Year 5's have been looking at polygons in maths- investigating a range of quadrilaterals.
In P.E we have been lucky enough to continue training with Woody from the Saints, and in Art we have been producing Nigerian batik pictures.
Our Gold Medallists this week have been Daisy and Harry for their excellent diary work- well done!!!
Week Commencing 24th April
We have had a busy but fun week in Elephant Class! Our English focus has been diary writing so we have analysed lots of examples, identified the language and structure and started writing entries. Through shared writing and video diaries we have tackled a day in the life of a variety of characters which included Bart & Lisa Simpson,Dr Who, Alex Rider, Harry Potter and the Worst Witch!
Our maths work has been about angles - measuring, drawing and problem solving and our topic work has been Africa themed - country research, pattern and mask design. Woody from the Saints came in for one of our P.E lessons and the Yr6 children have done us proud in their mock SATs.
Congratulations to our gold medallists this week- Joel for his amazing work ethic and Grace for her super attitude!
Week Commencing 17th April
A short week but an exciting one for Elephant Class.We have been learning all about Africa as an introduction to our Tanzania topic. Looking at the physical geography of the continent,as well as how the lifestyles of the population varies from country to country, in this diverse continent. On Thursday we got the chance to ask Mrs Steven's son Thomas lots of questions about his time in Tanzania, which made our learning come alive! Our Africa experts at the moment are Erin and Daisy who can name at least 9 different African countries and recount facts about them, but they could be usurped next week!
Our gold medalists this week have been Amie for super engagement and questioning and Darcy for her impressive African artwork- well done!
Week commencing 27th March
What a busy week the Elephants have had! In maths Yr6's have been hard at work solving SAT's style questions/investigations, while the Yr5's have been looking at inverse operations and estimating to check answers. In English we have been coming up with our own Wallace & Gromit style "Cracking Contraptions" and writing operating instructions for them. Art has been messy but fun with creating our own plaster of paris fossils! A few special mentions go out this week for the Yr6 children who have given up their lunchtimes to organise activities for the KS1 pupils and also to our amazing Yr5/6's who made us proud in their first Hi-Five netball tournament at Campion.
Our gold medallists this week were Chloe & Joel for their amazing, well designed "Cracking Contraptions"!
Have a lovely Easter Break!
Week Commencing 20th March
This week's reporters are Grace, Alex, Natasha & Darcy.
The Elephants have have a very busy week with investigating different types of instructions and working out features. We used instructions for card games and origami frogs to see which instructions were easiest to follow. In P.E we have been practising ball skills and playing basketfootball! Maths has been different this week, Yr5's and Yr6's have been working in different classrooms and Yr5's have been looking at place value and sharing out Mrs Lucky's lottery winnings. On Friday it was Red Nose Day and we had lots of joke telling before we voted for Grace and Kalonice to represent our class: Knock, knock. Who's there? I eat sheeps. I eat sheep who??!!!! How disgusting!!!
A special mention for Charley who represented us in the Campion Cross Country and for our Gold Medalists Mia and Kalonice (for being super role models).
Week Commencing 13th March
A busy and exciting week for Elephants- in English we were writing persuasive letters to Sea Word to persuade them to free the Orcas! We worked hard in Maths converting between fractions, decimals and percentages. The highlight was sorting "Skittles" to practice our skills.
Science Day was amazing- the day kicked off with some exciting experiments in the Hall, which ten inspired the Elephants in their investigations throughout the day in mixed Yr 5/6 and Yr 3/4 groups. We also had some "Super Scientists" who earned a special mention in Assembly: Imogen, Harry, Sam and Joel!!!
A special mention this week goes to our Woodford Halse cross country representatives- Lauren, Kalonice and Kane. We are really proud of you!
Week Commencing March 6th
This week's reporters were Kalonice, Darcy and Harriet.
It's assessment week, we have done Maths and English tests. While Yr6 were doing their 2nd reasoning paper Yr5 had to solve Mrs Hen's egg problem as an investigation. We sorted eggs into evens totals and managed to solve it. The Yr6 did a very hard test and all tried their best.
In English we have been doing persuasive writing to King Pig (Angry Birds). We are going to be doing persuasive writing for another week and will improve our letter writing.We also had a debate about school uniform!
In P.E we have been doing basketball. Also warm-up games like cups and saucers and foxes and tag rugby.
We have also everyday done Big Maths arithmetic where we all had different levels plus we had 10 minutes to complete. If you got it all right you moved up to the next level.
In Science we have been learning about a lady called Mary Anning. We were drawing our own fossils and making posters- we used brown and white paper and pastels, smudging them to make them look better.
We have had a great time this week- bye for now!!!!
Our gold medallists this week were Evie for her fantastic spelling achievement and Lauren for her great positive attitude and super progress- well done!!!
Week Commencing 27th March 2017
This week's reporters are Alex and William.
In P.E we did basketball but we missed a lesson because it was raining.We have been writing reports on elephants in English and in maths we did ratio and proportion using smarties!!!!
On World Book Day our class dressed up as lots of different characters, our favourites were the Minions and the Things 1 and 2. We listened to stories from famous authors and wrote our own 500 word stories and comic strip stories.
Our gold medallists this week were Grace for her positive personality and kindness to others and Ollie for his confidence in tackling challenge- Mrs Nash is very proud of you both :).
Week Commencing 20th February
This week's reporter is Mrs Nash!!! Elephant Class have been too busy :)
This week we have been planning and starting to research information ready to use in our non-chronological reports on.........elephants of course!!! This has tied in nicely with the Science work on Evolution which has involved seeing how and why, elephants have evolved into the animals that we recognise today.
Maths has been all about data handling and the class have worked really hard to work with data in a variety of different ways: bar charts, temperature charts, time-tables and graphs. We are all confident with working out the mean, mode, range and median of a set of data.
We have been very sporty this week making the most of nice weather days and avoiding Storm Doris to play basketball, rounders and to complete a 20 minute cross-country circuit (phew!)
Our gold medallists this week are Joel for his excellent research and mathematical work and Imogen for her great positive attitude and involvement in every aspect of Class life. Well done!!!
Wk Commencing February 6th
This week's reporters are Amie & Imogen
This week we have been writing Amazon adventure stories in our Amazon classroom! We had to plan, write and purple pen edit our stories. Our character was called Steve Hunter and he found Maya treasure, long lost family members and got kidnapped by hostile tribes in our stories!
We played football and did fitness training in P.E and the girls were really keen!
In maths we have been looking at geometry: translating shapes and looking at symmetry and then data handling in line graphs.
On Thursday we had a visitor called Adele from the NSPCC who talked to us about staying safe and speaking up and in PSHE on Friday we talked about friendships(and it snowed!!)
Our gold medallists this week are Harriet for her super, descriptive story writing and Alex for his fantastic maths work with graphs- they blew us away with their enthusiasm!!!
Have a wonderful Half Term Break!!!!
Week Commencing 30th January
Our reporters are Grace and Natasha.
This week we have been really busy with our Maths and English work and have started looking at writing adventure stories and different methods of division.
On Monday some children from our class went to Young Voices in Birmingham where Natalie Williams the singer performed and David Lawrence was the conductor. Well done to Kalonice, Imogen, Amie, Darcy, Daisy, Natasha, Charley and Lauren.
We celebrated Chinese New year and used our art skills to create fans (which we used in a Chinese fan dance with the whole school), dragon and snake scales, puppets and masks.
Our class was given the snake as our zodiac animal and our art work was connected to this. We discovered that for the year of the snake lucky numbers are 2, 8 & 9 and lucky colours are red, yellow and black.
In P.E we have been doing circuit training and football where we increased our fitness and ball skills.
A busy but fun week!!!!
Our gold medallists this week were Erin for being a great mathematician and Charley for her amazing kinetic writing and positive attitude- well done!!!
Week commencing 23rd January
This week's reporters are Joel, Josian and Alex.
We have been doing lots of tests this week but we have found time to do some fun lessons and activities too.
In P.E we have been using ball skills and working in teams. We also started a new book "A Wrinkle in Time" by Madeline L'Engle and we found a new word called tesseract!
In R.E we learnt about the 30 rights in the 2nd World War and in Mrs Carr's reading Group the Year 6's had some fun. We looked at insulators and conductors in Science and in our investigation used 3 jars covered in paper, foam and foil to see how good they were as insulators (measuring temperatures after 5 minutes and 10 minutes).
Our representatives in the Daventry Sportshall Athletics event were: Kacey, Oliver, Ollie, Charley, Kane, Kalonice and Darcy - they did us proud!
This week's going for gold medallists were Kane for his perseverance and sportsmanship and Asher for his super manners and kindness to others.
Week commencing 16th January
This week's reporters are Amie and Harriet.
In maths we have been looking at measuring, converting cm into metre etc by multiplying and dividing and time problems (Grace and Evie enjoyed using the plastic clocks!) We also looked at fractions and changing denominators. We have been practising ball skills in P.E and having lots of fun using them in throw tennis and basketball."I love basketball!", said Samuel.
In English we were looking at writing word banks to describe different characters and settings from the film adrift.On Wednesday the children really loved doing experiments in Science. We were finding out which material was more absorbent: kitchen roll, paper towel, wrapping paper, plain paper and foil.
Later in the week we did our spelling tests and lots of people got full marks- Mrs Nash was very pleased. Also all of the Year Six children enjoyed Maths Club with Mrs Carr after school. We finished reading "River Boy" our class reader, it was a sad but also happy ending and we have enjoyed reading it over the past weeks.
This week's gold medalists are Amie for being such an active member of the class- always involved and trying her best, and Kacey for her excellent questioning skills and enthusiasm in our Science experiments.
Week commencing 9th January 2017.
This week's reporters are Erin, Evie and Grace.
We have had such a fun and enjoyable week and a bit back at school. Last Thursday and Friday we did fun activities to get to know Mrs Nash our fantastic new teacher, and started our new topic Lights, Camera Action. It was fun making and sharing our own short films.
On Monday we were measuring angles in maths, which we enjoyed and used tape on our tables!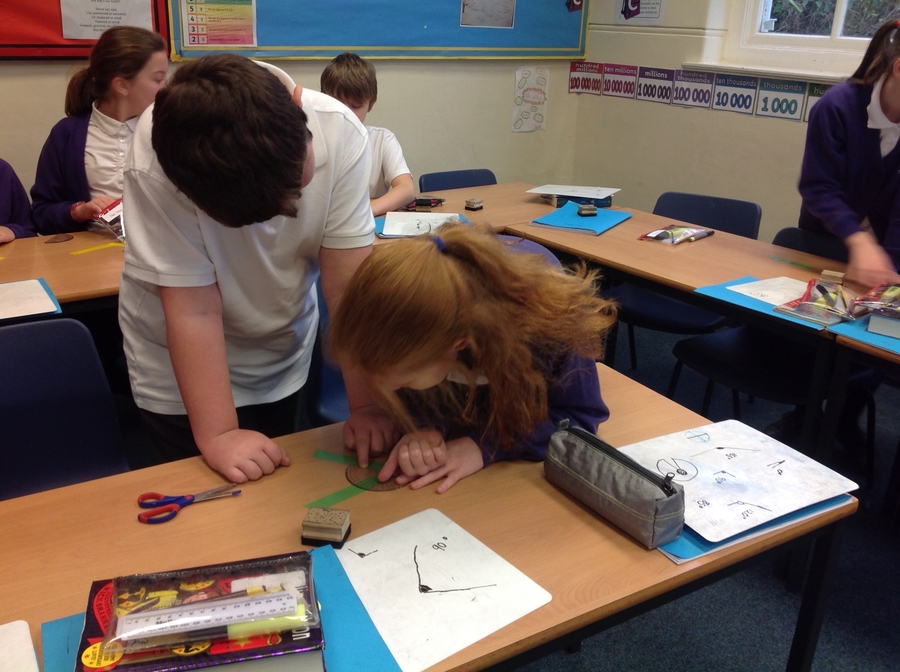 On Wednesday we did a cold write for our English topic, which is fantasy stories and on Thursday we were learning about narrative features and drawing the journey of writing a story. We loved this adventurous and busy week!!!!!!!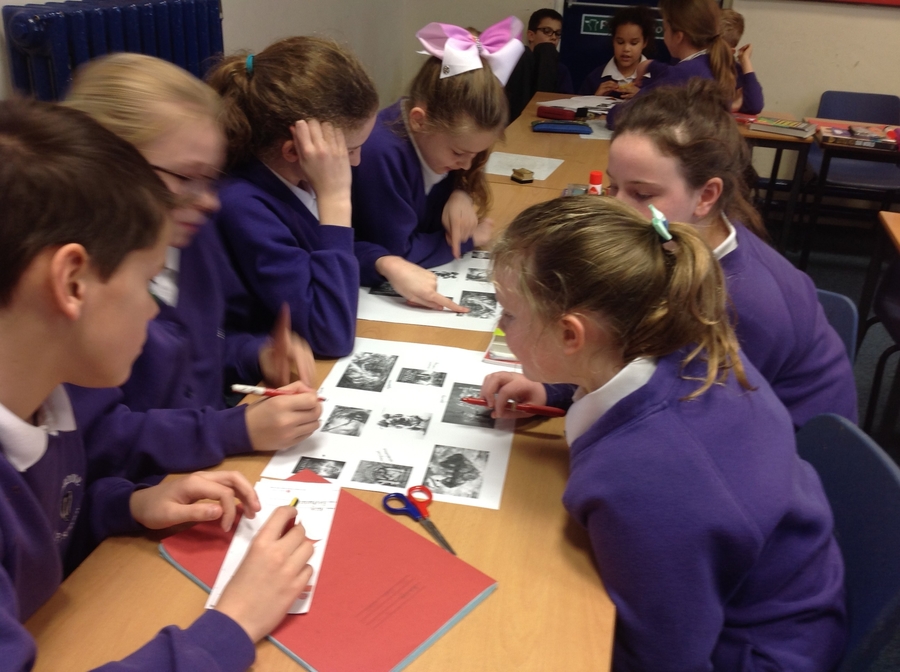 Our Going for Gold winners this week are Darcy- for her fantastic questioning and effort in our Science work and Oliver M for his great work ethic in Maths and Literacy- throughout the week (a great role model)-well done!!!!!
All of Elephant Class have been winners in my eyes this week for making me feel so welcome and working so hard- I am a very lucky teacher!!!- Mrs Nash
The excellent Elephant class embark on the next leg of their learning journey...
Week Commencing Monday 19th December 2016
A short week, this week, consisting of just two days, but we worked right up to the end. As you will see from the photographs, the children made periscopes in science which tested their knowledge of light reflecting in mirrors. It would be fair to say that some were more successful than others but all the children had the chance to use a successful one and see around corners or over walls. A written explanation then had to be completed, explaining how the mirrors enabled them to do this.
We completed the last Times Tables Challenge of 2016. As always, the children were keen to better their scores and some joined Mrs Bramble's 100 club, sporting their special stickers proudly.
Monday afternoon was party afternoon and I must say how proud I was of all the class. With one adult and twenty eight children, a successful afternoon relied on the right behaviour choices being made and I was thrilled that every child, without exception, was a delight to have in the classroom. We played Pass the Parcel, Musical Bumps (but we had to dance sitting down, then stand up as soon as the music stopped), Who Stole the Treasure (requiring excellent listening skills and the ability to move in silence) and had a 'Dance Off'. I must say that I felt exhausted just watching the dancers. Of course, there was party food to consume too. Thank you for your donations to this worthy cause!
Tuesday afternoon ended with a farewell assembly, in which fond goodbyes were said to the retiring Mr Ford and Mrs Laidlaw.
Over the holidays, please encourage your child to read at least ten times, for a minimum of ten minutes every session. They should also be practising their times tables and regularly looking at the statutory spelling lists. All have now sat the online spelling tests for the Year 3/4 and Year 5/6 spellings lists, so each should have a computer generated list of words personal to them to practise, covering the gaps identified.
As I end this blog, I now hand over the baton to Mrs Nash and wish her every happiness in the class. The children are an amazing bunch, made up of individual characters and I know that I will miss having them as part of my life, five days a week. I have stressed to all the importance of first impressions and how vital it is that they continue to work hard from the off.
I end with a selection of photos from that last two days. Merry Christmas to you all and I wish you a happy and healthy new year.
Week Commencing Monday 12th December 2016
Armed with needles, thread, their designs and 'Binca', the children started the week by embarking on their Christmas card making. I assume that you have all been given your cards by now but, in case you haven't, I have refrained from putting pictures of the finished projects so that surprises are not spoiled. What I will say is that the children produced some excellent cross-stitch cards which I know, as a parent, I would be thrilled to receive. In addition, we finished our 'The Highwayman' inspired pictures by adding tree silhouettes to our moonlit backgrounds, which we had created the week before; the children were tasked with mixing a purple colour which they then gradually added to white to create a range of tones. The silhouettes were created by both brush and by paint blowing to create the branches. They produced some very eye-catching results.
It has not been a week of pure art and DT; we have continued with our English by exploring the vocabulary choices of Alfred Noyes and creating our own lines to add to the poem. We have written similes and metaphors to build tension and to create images in the reader's mind. The children have had the opportunity to write their own, listen to the work and ideas of others and then improve their own writing. They are clearly enjoying the poem, with many of them able to now recite sections.
In maths, we have returned to fractions and used the bar model to visualise how we find fractions of amounts and to really understand what a fraction is. Some of us extended our learning further by dividing fractions.
Science this week, as you will see from the photos, was great fun. We explored light refraction and reflection. The children were given prisms, lenses and torches and 'played'. In doing so, they raised questions and then discussed these to see how what they already knew might help them to answer. We created rainbows and learned the pneumonic 'Richard of York gave battle in vain' to recall the spectrum of colours in white light. Mirrors were used to explore the angles of incidence and reflection by drawing on the tables. Some children noticed that the two angles were equal. I was very impressed by the enthusiasm in the class and the questions raised. To put this newly acquired knowledge to good use, we will be making a periscope this coming week.
Throughout the week, the children have nearly all completed their Year 3/4 and Year 5/6 statutory word spelling tests. Many have been really proud of their scores. It is important that all continue to use the spelling app on a near daily basis to practise the words.
Times tables challenges were completed with a number of children joining Mrs Bramble's '100 club'. For those children who have not yet completed the first challenge, they have taken home sufficient sheets to practise daily, ready to take their final challenge of 2016 on Tuesday morning!
We had the good fortune of being able to watch the Foundation Stage nativity and the Year 3/4 Christmas production this week. Both were great performances which were thoroughly enjoyed by all.
Our Going for Gold winners were Sam and Joel. Both were awarded for their knowledge and enthusiasm in our science lessons.
Thank you for the party food contributions. The children are to come in wearing their uniforms on Monday with their party clothes in a bag to change into. They have requested a number of traditional party games which, I am sure, will be great fun. the Pass the Parcel prizes are wrapped and ready to go!
Week Commencing Monday 5th December 2016
I am going to start this week's report with a big thank you to all the children who came to the school fair on Friday to participate in the singing. I was so proud and don't mind admitting that I had a lump in my throat and a tear in my eye watching you all; I am reassured to know that I was not the only one as I have heard other parents had the same reaction (I know I'm not the children's parent). Thank you to all the Friends of Bugbrooke who organised such a great evening. It was made even more special by past pupils making a point of coming to visit.
This week, we continued with our Festivals theme and explored Hanukkah. The children moved around a carousel of activities, armed with research questions which they had to find the answers to. One of the activities was a game of Dreidel which became really quite competitive in some groups.
Our new text is the poem 'The Highwayman' by Alfred Noyes. We have explored the vocabulary used, the use of figurative language, the themes, the rhythm, the character of Tim the ostler and come together to read the whole poem, taking it in turns to read different parts. I felt compelled to show the children 'Stand and Deliver' by Adam Ant: consider it a history lesson! In addition, out came the paints to create the first part of our moonlit pictures. We had to mix our own purple and then add a little amount at a time to white to create a variety of shades. We will see how these develop as this week goes on.
We were very lucky to be part of the audience watching the KS1 Christmas performance dress rehearsal. Many of the children reminisced about their same performance 'when they were little'.
In PE, we played team games in which we practised passing the ball; chilren took turns to be defenders and attackers. This was preceded by a competitive game to warm us up involving a lot of running and hoops.
As there was no Gold Assembly this week, there are no Going for Gold winners to announce.
On Monday 19th December, we have our class Christmas party during which the children will be allowed to wear their own party outfits. Please look out for correspondence about this in the coming days.
Homework: As usual, please encourage your child to read to you for at least ten minutes a day, at least five times a week. Spelling should be revised in preparation for our assessments.
Week Commencing Monday 28th November 2016
Phew! Yet another week has flown by in the blink of an eye.
Shape exploration was the focus in maths this week. It started with a 'knowledge harvest' of all we knew about shape. As a class, we filled the whiteboard with our ideas and this lead us to some interesting discussions about the meaning of some of the shape vocabulary. In one of our lessons, we had a number of statements to discuss and 'test', deciding whether they were never true, sometimes true or always true: for example, 'triangles will tessellate'. Working in small groups, the children had some very interesting discussions (debates) whilst they shared their points of view and challenged each other. We also worked on area of shapes, including compound shapes, and some of us went on to areas of parallelograms and triangles.
Mrs Bramble joined us in one of our literacy lessons this week. We were learning how to use the 'comma for clarity' in our writing. Mrs Bramble was so impressed with just how much the children display positive attitudes to their learning. Well done, everyone!
On Wednesday, the timetable was thrown out the window, metaphorically speaking, as we took full advantage of experiencing the exceptionally cold weather. Coats and hats were put back on after morning registration and we went outside to 'feel' and 'observe' the freezing, cold weather. We then took the opportunity to write a description of what we had seen and felt. I am looking forward to reading these over the weekend.
Science was a creative experience as we turned Pringles tubes, tracing paper and silver foil into pin-hole cameras. The children were not told what they would become, only finding out when they had finished making them and taking them out doors. 'Wow' was a popular word at that point. Ask your child what they he/she saw through their camera.
Our focus in Guided Reading this week was skimming and scanning as a skill. Speed was of the essence in some of our activities. We also continued to PEE (point / explanation / evidence) and we were challenged by a very difficult synonym activity. it was great to hear someone say that 'Growth Mindest' was the key to success, rather than complaining that the activity was too hard! Well said, Sam!
Thank you to William, who was celebrating his birthday on Wednesday, for a delicious chocolate cake. The children enjoyed eating it, accompanied by Michael Rosen reciting 'Chocolate Cake'. In the same vein, the children made a significant contribution to the chocolate supply for the Christmas Fair. Thank you for supporting this.
Going for Gold winners this week were Seb and Darcy. Darcy always tries her best and never has to be reminded about the class / school rules. She is a positive role model in our class. Seb was awarded a medal for the effort and commitment he had demonstrated in our 'Winter descriptive writing'. A bonus award went to Ellis, in Mrs Murphy's class, for his much improved positive attitude in our spelling work (when all three classes are split and go in different directions).
Homework- As always, I expect the children to read for at least ten minutes, five days a week as a minimum. In addition, there are times tables to learn. There are no additional spellings to learn for those Year 5's in Mrs Laidlaw's group and the Year 6's in my group. Revision of the statutory Year 3/4 and Year 5/6 spelling lists is a must. We will be testing these in the week commencing 12th December. Please remember that your child has a log in for the spelling app on the school website where the lists can be worked through. They are also to be found in the middle of the Reading Records.
Just a reminder that the school fair is on Friday 9th December. I am lookig forward to hearing the children sing at the start of the fair.
Week Commencing 21st November 2016
This week's Going for Gold winners were Kane and Samuel. Both were awarded for the same reasons: being the best they can be; having a positive attitude to learning and being a positive role model. Well done to both the boys.
This week, we have written our own re-birth stories, based on The Tunnel. We have been through the process of planning, drafting and editing (including Funnel Marking, where children support each other and become a critical friend). I have been really impressed by the positive attitude to their learning and the supportive culture in the class.
Assessments have threaded through the week, which although somewhat tedious, afforded the opportunity for the children to celebrate their successes and understand where they need to go next on their learning journeys.
The children were very excited on Tuesday afternoon when they met Mrs Nash, who came in to spend the afternoon with us. We had a circle time where everyone had the chance to introduce themselves and to share our classroom routines. We also had the opportunity to ask Mrs Nash some questions to find out more about her. Thank you, Mrs Nash, for coming to see us.
We finished our class reading book, Fireweed, and have chosen to read 'River Boy' by Tim Bowler. We will get stuck into this next week. We have enjoyed a morning of Guided Reading, focusing on another Anthony Browne book, Gorilla. The artwork is stunning and the children could have talked about it for much longer than we had time for. If you get the opportunity, do take a look at the book and enjoy studying the illustrations with your child.
Friday morning's weather was much brighter than earlier in the week so we seized the opportunity to get outside and make use of the new equipment on the field. You can see from the photos and the smiles on the children's faces just how much they enjoyed it.
Letters have been sent out, asking for confirmation of attendance at the school Christmas Fair. So far, the response has been very positive but there are a number of children who still have letters to return. Please send these back in on Monday.
On Thursday, we are taking the children down to the church as part of our Festival learning. Stephen is going to tell the children about Advent and what it means to people of the Christian faith.
Week Commencing 14th November 2016
This has very much been a week of two halves. The first half of the week was focused on literacy, with our knowledge of The Tunnel, by Athony Browne, underpinning our boxing up of the text and then planning our own re-birth story, using the text as a skeleton upon which to add our own ideas. We will carry on with this next week.
The second half of the week was spent on maths; we have spent time working independently or in pairs to work on the four operations, including fractions. We then came together in our year group to mark our work and explore any misconceptions and alternative strategies.
In Guided Reading this week, we used The Tunnel to answer a range of questions, requiring us to PEE: make a point, explain it and provide evidence. The children are growing in confidence in answering these question types.
In science, we have been exploring shadows. We used a concept cartoon as a stimulus for our investigations. The children had access to a wide range of materials - opaque, transparent and translucent - and created their own investigations with some interesting findings. There was a real sense of awe and wonder in the classroom.
Speaking of awe and wonder, our intended learning was interrupted with the arrival of 'Nibbles' the squirrel, just outside our classroom window, on Wednesday morning. The children were fascinated watching Nibbles work tirelessly, collecting leaves and depositing them in the hollow of a tree. We used the internet to find out what he/she was doing and discovered that there was drey building going on. The squirrel has now been adopted by the class and has been spotted since. It was delightful to see the children take such pleasure in nature.
Our school Children in Need day was a great success. We participated in creating a change trail and lunchtime activities.
Our Going for Gold winners this week were Kalonice and Erin. Kalonice impressed me with her positive can-do attitude in our maths revision / learning this week. She was not afraid to say when she had made a mistake and to take this as an opportunity to move her learning forward. Erin received her award for always doing the right thing at the right time and for being willing to listen to constructive feedback in a mature manner. Well done to both of you girls, You are both great role models in the school.
We had our usual weekly times tables and spelling tests with many children feeling very proud of themselves. Some of the Year 6 children have now completed all five challenges and will go on to use the weekly time to challenge themselves in different areas of the maths curriculum.
Thank you to all the parents who came to our Year Six Sex and Relationship Education briefing on Wednesday. I hope you found it informative.
During this coming week, we will be doing outside PE. The weather has changed. Please ensure your child has a full PE kit in school every day.
Week Commencing Monday 7th November, 2016
This week, as usual, has been a very busy one. We finally got around to using the apples we 'scrumped' on our World War II day. Because time is limited in the week, the children were given the choice to stay in over two lunchtimes to create their puddings. I hope they will be enjoyed over the weekend.
We continued to focus on The Tunnel and recreated our own story maps based on an uplevelled text. This was done directly onto the tables - as you can see from the photos - which added to the children's engagement in the task. We also decided which themes run through the text and found evidence from the text and images to support our ideas.
Two whole-class Guided Reading - using visual text - sessions were completed this week, with the focus being on how to answer different types of questions (author's choice / retrieval / interpretation / explanation). We discussed using PEE for questions requiring more in-depth responses. P stands for making your point, E stands for an explanation and the second E stands for providing evidence to support and justify a response. When hearing your child read, please encourage him / her to PEE! We have continued to read independently for twenty minutes every day as well as be read to (normally by Mrs Stevens). Our current book is Fireweed by Jill Paton Walsh.
We were very fortunate to receive a visit from Tom Percival, of BBC Radio Northampton, who came to tell us about a past headmaster of the school. Ask your child to tell you about Frank Wright, Morse Code and what is going to happen this coming Thursday, linking us with Paris!
Our Going for Gold winners this week were Alex and William. Alex was for his perseverance with his phonics and using his skills to read a whole book to me and William was for his positive attitude to his work this week.
We have had our weekly spellings and times tables test, with pleasing results for many children. They have all been reminded of the importance of regular practise and not leaving their learning until the night before.
Week Commencing Tuesday 1st November, 2016
Although a shorter week, we seem to have packed a lot into the four days.
Our English week this week has focused on our new text, The Tunnel by Anthony Browne. The children have really engaged with the story and begun to think about alternative vocabulary by scaling words and learning skills of how to determine the meaning of unfamiliar vocabulary. We have used drama to explore the character's thoughts and feelings. Furthermore, we have uplevelled sentences from the text. In addition, we have made time to relax and enjoy our own books in class. You will see from the photos that we have been laying down and 'chilling' as we lost ourselves in our imaginations.
The class seemed to enjoy our day exploring Diwali. Earlier in the week, we created our own Diva Lamps from clay. These were then decorated with bright paints on Friday. The children learned a dance in the space of forty five minutes - see the video clips below.
In maths, we have been concentrating on division. Depending on the individual's confidence, we have looked at dividing on a number line, using the 'bus stop' method, long multiplication, problem solving using remainders and dividing decimal numbers by decimal numbers.
Science found us exploring our misconceptions about light and we carried out a practical task to investigate light travelling is straight lines. This learning will continue in the coming weeks.
Our Going for Gold winners this week were Daisy and Joel. Daisy's was awarded for her amazing SPaG knowledge, which she willingly shares with the rest of the class. Joel's was awarded in recognition of his positive attitude to arriving at school on time every day.
In PE, as well as our Indian dancing, we enjoyed a game or two of Bench Ball.
Thank you to all those who came and visited the class on Thursday evening during our school Open Evening. It was great to see everyone who came, as well as seeing past pupils.
Week Commencing Monday 17th October, 2016
This week, our Going for Gold winners were Jack, Sam and Charley. Jack has said his goodbyes to the class as he moves onto pastures new (in Scotland). We couldn't let him leave without receiving a medal simply for 'being Jack'. It has been a pleasure to have him in the class. His positive attitude to all that was asked of him is a shining example of someone 'being the best they can be'. We wish Jack every happiness in his new (previous) school and hope that he keeps in touch with us to let us all know how he is getting on. Sam and Charley were awarded their medals for 'being the best they could be' in their weekly spelling tests. Both have worked hard each week and achieved consistent 20/20's over the last five weeks, since we introduced the tests.
This week's highlight has to have been the World War II day. The children put in so much effort and enjoyed a carousel of activities, learning about rationing (including cookery), research and World War II songs, including a sing-a-long. My class' day ended with 'scrumping' in the school field! We harvested a large box of apples and intend to put these to good use after the holiday. The week was started with a visit from Mr Evans, whose wife hears the children read at school weekly. He told us all about his experiences of the war as a child growing up in London and how he was evacuated. Mr Evans had a captive audience as the children listened intently and learned about some of Mr Evans antics as a child, entertaining himself in a time before computers and gaming consoles.
We have continued with our weekly times tables test and spelling test. We had a great success on Thursday, when EVERY child handed in their spelling homework and all sentences had been completed. I admit that the quality of the sentences was somewhat variable but one step at a time. Most children are reading nightly at home and getting their reading records signed. Their have been a few cases of 'forged signatures' which have been spotted by Mrs Stevens or me. Please support your child by hearing them read and reminding them to both complete the reading record and to get it signed by an adult.
In maths, we have continued with our fraction work and deepening our understanding by problem solving. Ask your child to explain how KFC assists with division of fractions! Don't worry - it doesn't require a trip to the fast food retailer!
May I please request that FULL PE KITS are in school every day of the week. The weather is turning and there are a number of children with incomplete kits.The kit should include:
- shorts and long trousers
- T Shirt and long sleeved warm top (neither should be their uniform hey are wearing to school)
- trainers suitable for being outside in damp / wet conditions
- change of socks / pants in case of wet weather
- plastic carrier bag to put damp / wet shoes in
- hair band to tie back long hair
Thank you for your support with this.
Have a fabulous half term break but don't forget to read and practise your spellings and times tables.
Wednesday 19th October, 2016
World War II Day Special
Thank you for all the support you have given in allowing your child to come to school , dressed as a person from World War II. It was an absolute delight to see the children come into class this morning. I have added the photos taken for you to enjoy. More photographs will be added at the end of the week.
Monday 10th October, 2016
I apologise for the lack of a report last weekend. As far as I was concerned, it had been done on Friday, along with the photos, but obviously the computer had other ideas! I am therefore catching up now (Wednesday).
Our Going for Gold winners this week were Amie, Will and Harry. Amie's was awarded for her ongoing 'can do' attitude to her work, particularly in her maths this week, when she has faced challenging fraction work head on. Will was awarded his gold medal for 'being Will'; is smile lights up the classroom and he is a very valued member of our class. Harry's award was for the new, improved version of Harry. He is willing to challenge himself and is taking responsibility for his learning.
Our maths has focused on fractions, percentages and decimals. Following a cheer when it was time for maths, was a groan when the children found out it was fractions. However, by the end of the week, it was clear that our knowledge of fractions had improved.
In English, we have planned, drafted and edited a flashback, following our work on The Piano the week before. This is really tricky as the children jump from present, to past, back to present tense within the narrative. We spent Friday morning taking part in a reading carousel of activities.This included having a read of the paper, as you can see from the photos.
We came to the end of our class book, The Mozart Question, by Michael Morpurgo. It was very different to Hacker, by Malorie Blackman, so we took time to discuss which text we preferred and to justify our answers.
In PE, we have been practising our balancing skills, using a ball. the photos will explain more.
As usual, we had our weekly times tables and spelling test. There were many smiling faces as children felt proud of their results, realising that the effort they had put in paid off.
Week commencing Monday 3rd October, 2016
How can it possibly be October already? We have had a great week. The particular highlight for me has been the children's eagerness in maths, with many of the Year 5 children realising that they are on a 'learning journey' and that if something is challenging, it's part of the learning process; through determination and persistence, they will succeed. We have been using all sorts of mathematical language. Ask your child to explain abundant, deficient and perfect numbers as well as prime factors of numbers.
We have focused on 'visual literacy' this week and watched The Piano. This has lead us to explore our emotions as a reader, to raise questions about the 'text' and to begin to prepare for our own flashback writing next week. Wish us luck as we will be writing in both the present and past tense within the same narrative! Jack made a super 'old man' as we carried out a hot seat activity. In addition to our literacy, we have finally come to the end of our class reader, Hacker by Malorie Blackman. I have been impressed with the way in which the children have engaged with the text and have been willing to discuss their own thoughts and opinions. I wasn't 'allowed' to start any other teaching this week until they had heard the end of the story.
There have been a number of personal success stories in both our times tables challenges and our spellings tests.
Our Going for Gold winners this week were Ollie and Natasha. Both were awarded for their work in maths and both related to having the self-belief and confidence to tackle maths questions / problems / concepts which are challenging. It's all about have a positive, can-do attitude!
Thank you to all of you who came to see me at Parents' Evening this week and I look forward to seeing everyone else on Tuesday.
Week commencing Monday 26th September, 2016
The main focus of our week has been our class assembly. The children worked hard to produce the assembly from start to finish. They had the choice of focusing on our learning so far this term, or on our current assembly theme of 'aspiration'. They overwhelmingly voted for our learning theme of communication. The children were very nervous beforehand but I was so very proud of each and every one of them. They were 'buzzing' afterwards. I have attached the slideshow and clips of children reading their recounts, which we included as part of our assembly for you to enjoy.
In PSHE this week, we have thought about 'self improvement' and the reasons why we strive to 'be the best we can be'. We shared the online video called 'Austin's Butterfly' (should you wish to watch it) and thought about how this links to our own work.
Maths this week has been all about addition and subtraction, as well as using the inverse to check the accuracy of our answers. In addition, we have used estimation to see if our answers 'look' sensible. The class's enthusiasm is catching and all are supportive of each other. As you will see from the photos, there have been a number of occasions where the children have become 'teacher' and bravely shared their knowledge with the rest of the class.
The children have completed their times tables challenge. When I walked back into the classroom at the end of the day on Thursday - after my afternoon's PPA - I was surrounded by children eager to share their scores with me. Many had achieved their next 100 score.
There were improved spelling scores overall, but still a number of children who had forgotten their spelling book or remembered the book but forgotten to learn their spellings or complete their sentences. I have again stressed to all how important those spellings are and my expectations. The presentation of the work should be just as if they were writing in class.
Our Going for Gold winners this week were Alex and Asher for demonstrating a positive attitude to their maths and for getting on with their work independently.
There will be no Home Learning Logs going out to children in the weeks to come as we wish them to focus on daily reading, spellings and times tables practise.
Please remember that we have our Harvest Festival assembly on Monday.
Photograph montage used in our whole class assembly
Week commencing Monday 19th September, 2016
I am starting this week's news with our whole class awards. Yesterday, in our whole school Going for Gold assembly, we were awarded the best attendance certificate (our attendance was almost 100% for the week) and the 'Mr Ford Award' for the whole class taking responsibility for the classroom and the Year 5/6 toilets. I was a very proud teacher. Our Going for Gold winners were Imogen, Kacey and Mia. All have shown a positive attitude to learning their spellings, coupled with perseverance. I cannot ask for any more from them.
This week, we have been 'literacy heavy', as the children became Vicky, from Hacker by Malorie Blackman, and wrote a recount. The lights were out, the scented candles burned and the music was on. At the request of the majority of the class, we have given more time to this than I had originally planned but who am I to curb their enthusiasm? Some have read aloud their work in progress and I am really looking forward to marking the final drafts.
It is our class assembly on Wednesday, when we lead assembly for the whole school. We have started to practise and the children are learning an animal-themed song with signing, as part of our communication theme. Under the homework tab is the link to the song for the children to learn the actions and words.
Our first spelling test took place this week, with very mixed results. Those who didn't do so well did have the honesty and courage to admit that they had not put enough effort in so know that they need to work harder this week.
The learning logs came back into school yesterday and caused quite a stir. As there was such a variety of topics chosen and ways of presenting it, we went off-piste from the timetable and had a 'museum' in the classroom where everyone could share their work and comment on each others, using Post-It Notes. Ollie's typewriter was a point of fascination, making Mrs Stevens and I feel particularly old as we have vivid memories of using one - it's now a historical object!
We have also managed to cram in maths, times tables tests, semaphore messages, PE and class photos.
Week commencing Monday 12th September, 2016
I am struggling to believe that it is already the end of week two; quite where this week has gone, I do not know! It has been packed full, including taster sessions of Dodgeball, Gymnastrics, African drumming and Atomic Tom. We have started our new regime of 'three sentences' at the start of every morning, which is only supposed to take fifteen minutes, but we have found ourselves learning so much that is taking a good half an hour. Off the back of the sentences which the children have to write, they are setting themselves personal targets and striving to meet these as the days go by. Progress is already evident.
Our weekly times-tables challenge was requested by many and there were some proud children on Thursday afternoon. We have continued to concentrate on place-value in our maths learning, with some of the children making use of visual resources to aid their understanding.
Our science work has furthered our learning on sounds and planning a fair test. The children were tasked with finding out which, if any, material acted most effectively to carry the sound vibrations in our paper cup telephones. This is still a work in progress, with predictions made but conclusions from the results still to be drawn.
In Guided Reading, we have stayed together as a class, rather than read in groups, and looked closely at the skills of retrieval, interpreting and prediction and choice. Working together as a class, affords the opportunity for greater, more varied discussion and sharing of ideas. The children have responded favorably.
Our Going for Gold winners this week were Sam and Seb for becoming valued and respected members of our school community so quickly and to Oliver who has returned in September, clearly ready for Year 6 and with a fantastic attitude to his work.
Homework will be detailed in the homework tab -please take time to look at this regularly.
Week Commencing Monday 5th September 2016
It has been an absolute delight to return to school and work with such an amazing group of children. After a few false starts at the beginning of the week - coming into class a little too noisy and maybe the odd conversation at the wrong time - the children all soon pulled together and are working as a team. I am sure your child will have told you about the class 'Dojo' system which rewards those making the right choices. Every child has been awarded Dojo points by me through the week but, what has impressed me even more, is the children recognising excellent behaviour and attitude to work in their classmates and asking for other children to be awarded a Dojo point. I cannot ask for more.
Our theme this term is communication and so we kick-started the new term brainstorming various forms of communication and thinking about where they would fit on a historical timeline. This lead us into a day of art and craft, recreating cave paintings, mono-block prints (some more successfully than others!) and then onto using a 'selfie' to recreate a David Hockney inspired photographic montage, using our IT skills.
Tuesday morning was spent on maths problem-solving, thinking about number strings and investigating and exploring patterns. The Year 6 children are already aware of 'Growth Mindset' but we took the time to think about how we use what we already know, how we do not give up and how we persevere. The children have considered how challenging work is a good thing and should be seen as a 'constructive challenge'. Both Mrs Stevens and I could sense a real 'buzz' in the classroom as children worked together and raised questions as well as answering others; we couldn't ask for any more!
We had a very successful visit to Bletchley Park. It was my first time there and I would definitely recommend it if you haven't already been. We could have spent so much longer there so the children have not seen all that there is to see. The excellent behaviour was commented upon by a member of staff who took the trouble to come over and praise the children as they were on a guided tour. The children clearly enjoyed the code breaking session - I would make sure you keep your passwords closely guarded as they are now highly trained!
Our visit to Bletchley Park informed our recount writing on Thursday which was completed independently and will give us a starting point to set personal writing targets.
The children have participated in taster sessions for Dodgeball and Hot Shots basketball and all have been given a letter, should they wish to participate.
In keeping with our communication theme, we have continued with 'sound' in our science lessons, exploring how and why it becomes harder to hear something the further away we are from the sound source.
As you can see, it has been a very busy first week back. the children have been advised of the following:
Reading - The children MUST read for a minimum of ten minutes at least five times a week and record this in their reading record book. I am asking for the records to be signed by an adult at home whilst we settle into the new routines.
Spellings - We will be assessing the Year 3/4 spellings this coming week and then moving onto the Year 5/6 statutory spelling lists.
Times Tables - We will continue with our weekly times tables tests. the children have free access to the sheets to bring home to practise.
PE - Our allocated PE days are Monday and Tuesday but I would like PE kits to be in school all week in case we decide to go for an impromptu run.
Home Learning Logs - The children have been issued with their first learning log, to be completed over the next two weeks.
Finally, we have been joined by two new members of the school so I would like to welcome Seb and Sam and recognise how well they have settled into life at our school.