Welcome to Mrs Laidlaw's class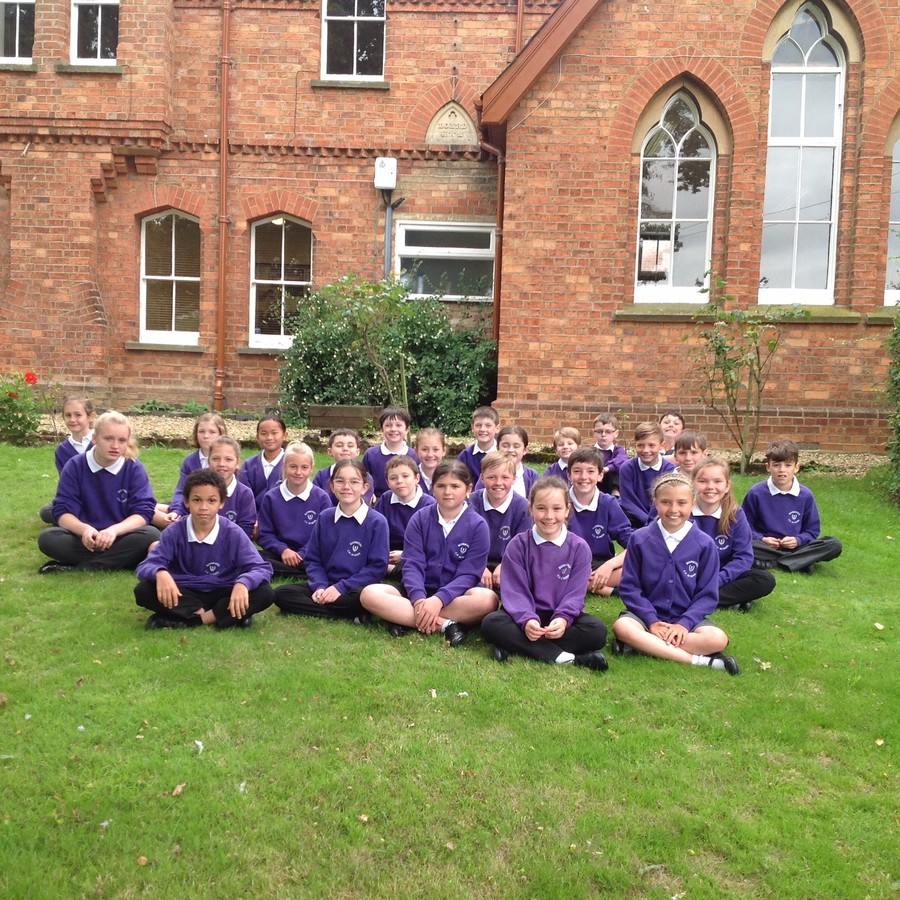 What a great start to the year! We have spent the first two days establishing our expectations for the year - Be the best you can be! This has involved sewing, drama and lots of communication between our peers. I can see that we have many budding artists, actors, writers and mathematicians.
It has been great to see everyone working together, challenging themselves by setting personal targets and using their thinking skills!
We have set ourselves reading, times tables and chair push up targets and have started to use the opportunity before school to help us learn!
Next week will see the beginning of our fabulous World Rugby topic with our trip to Bugbrooke Rugby Club - hope the sun shines for us!
Thank you for all your effort this week. I was especially impressed with your helpfulness, politeness and your behaviour in assembly. A big well done!
Mrs Laidlaw's class this week - Friday 11th September 2015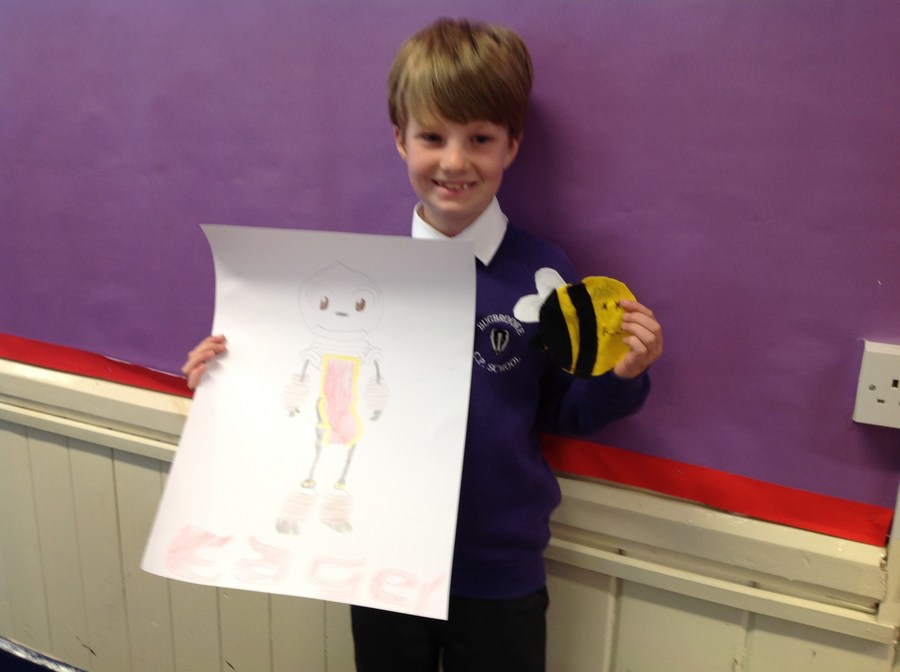 This week we have started establishing our reading expectations in class by regularly recording our reading in our new reading records! We have also set a reading challenge in class: which team will fill the reading shelf display up first? I'm happy to say that several books have been completed already and everyone is starting to record their daily achievements. Our class has shared their favourite books and quotes. Thank you for all your great illustrations!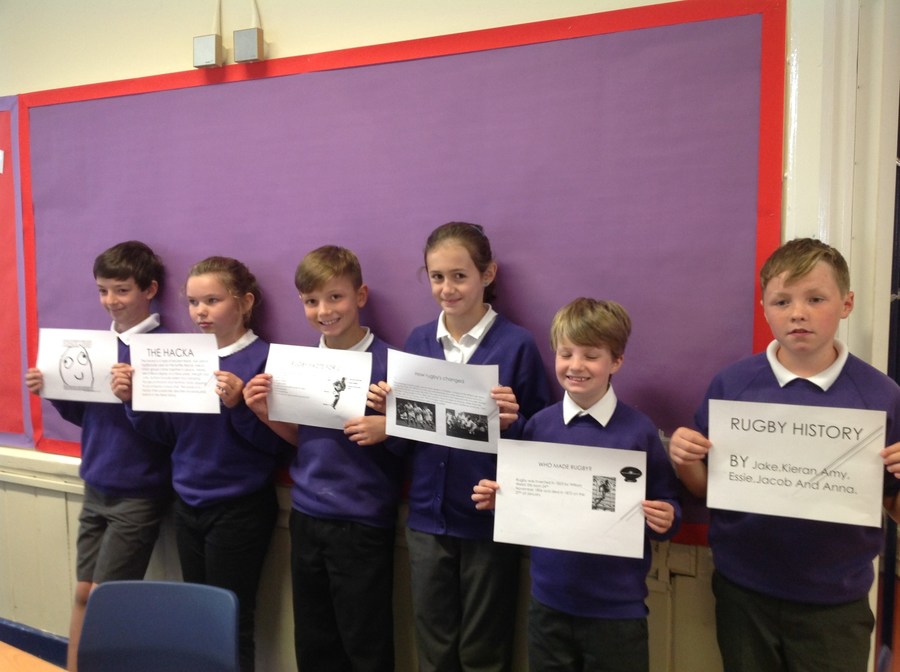 We have worked together this week to record and present our ideas relating to the history of Rugby. So the myth goes, William Webb Ellis apparently ran with the ball!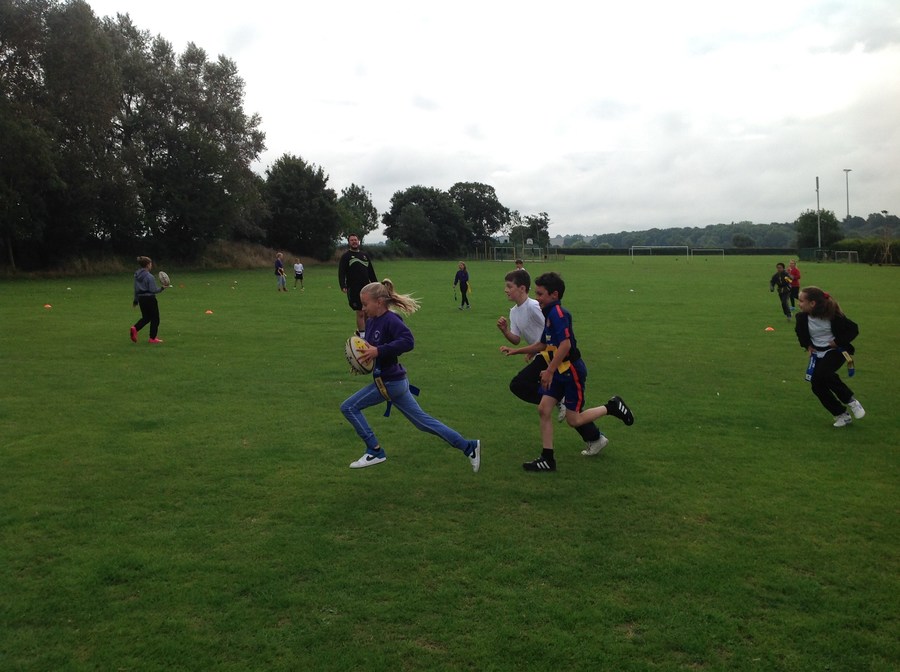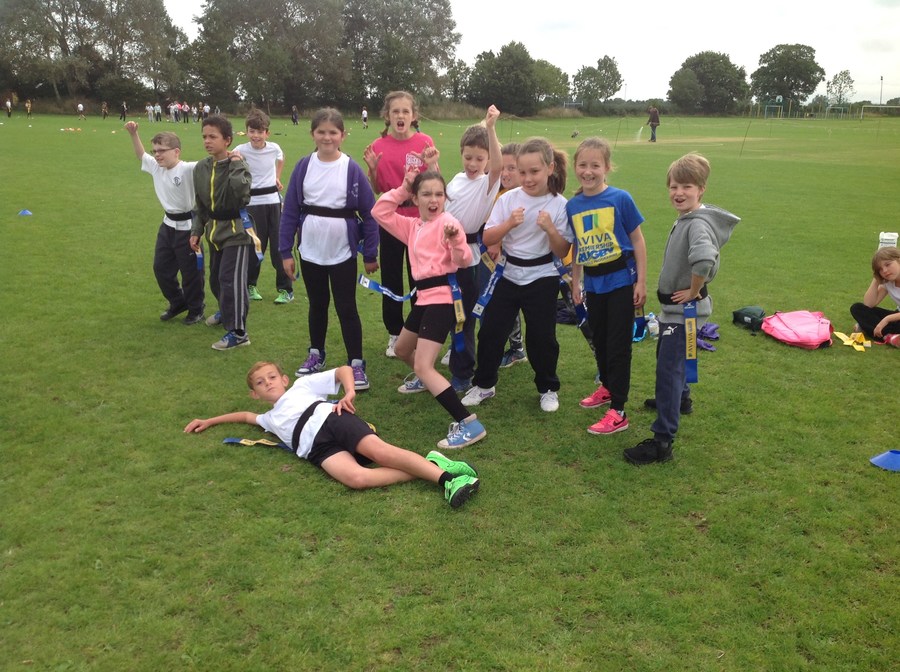 Fun was had by all this Wednesday during our year 5/6 trip. We had a great day with the Saint's Rugby coaches improving our tag rugby skills.
All our class showed great enthusiasm; teamwork was evident.
Following on from our busy morning, the children completed their own bunting designs - some great sewing and creative talents were expressed.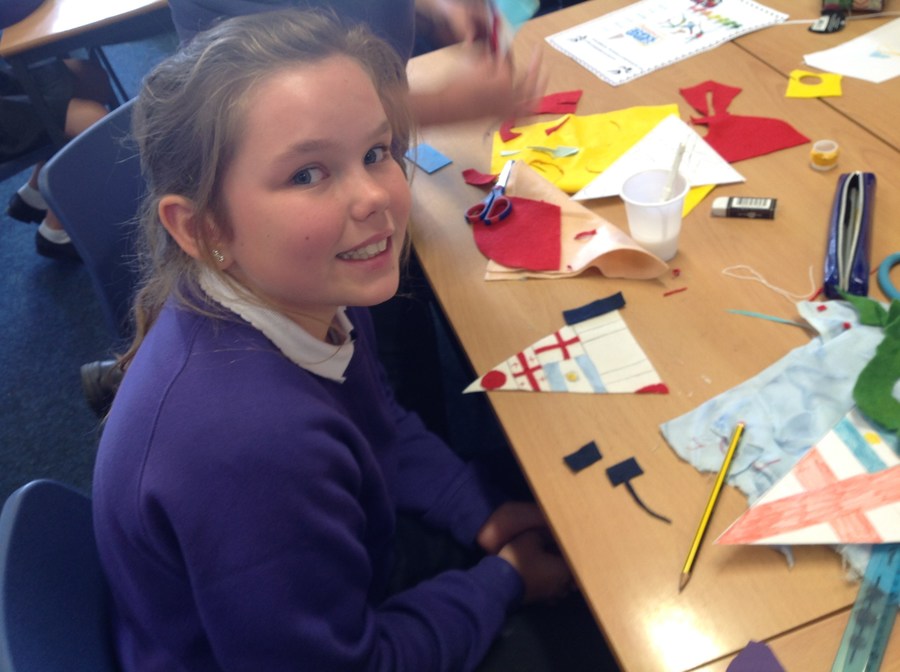 Friday 18th September
Another busy week where we have been working on our number sense - does that answer seem reasonable? We have been working hard to edit our work in Maths and English. Well done for really challenging yourself.
During our English lessons we have worked creatively together by producing our own story maps - some fabulous actions to learn our new tricky vocabulary! Thank you to everyone who has been using our magpied words in their writing. Make sure you are reading regularly and recording any new words.
In science we have been planning our investigation related to our heart - next week we will test our predictions.
Our weekly times table challenge is going really well - let's see who can beat their target next week!
Our kinetic letters handwriting has been enthusiastically received - thank you for reminding me when we have to bump! Keep building your strength at home - how long will you hold the plank?
So many of us are really trying to perfect our pencil grip - don't squash curly!
I particularly enjoyed our P.E. this week as you really worked well together - thank you!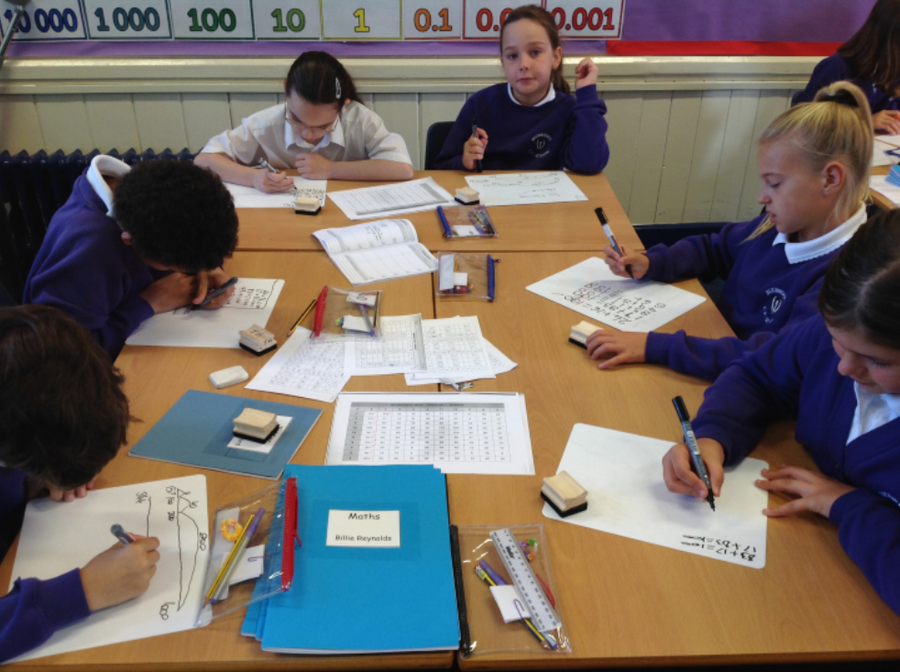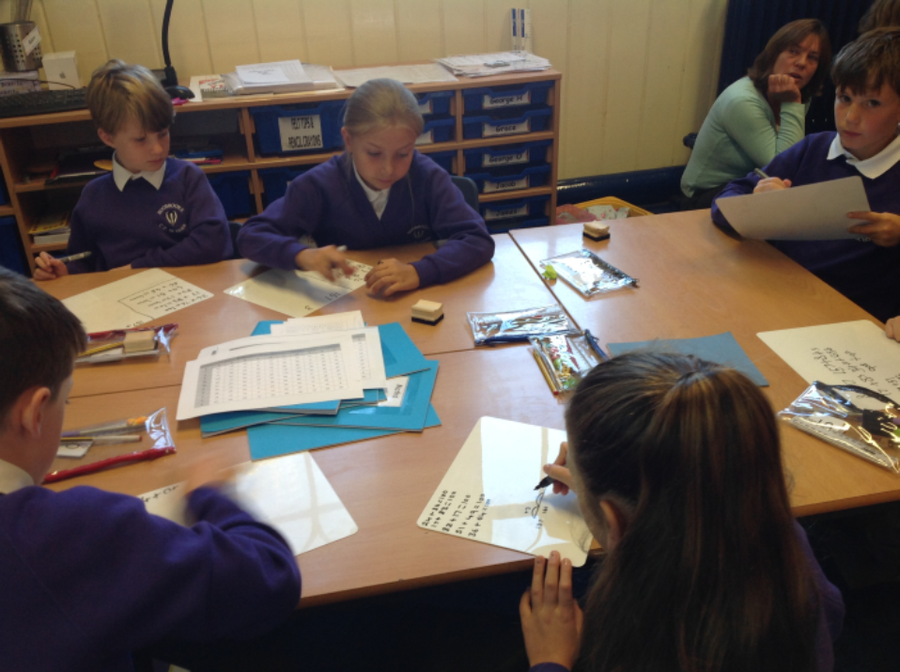 Friday 25th September
Another busy week where we have been completing our science investigation. The weather prevented us from doing our exercise outside so we were doing sit ups in the classroom!
Well done for working together.
You have seemed to enjoy the start of our geography work this term - we have discussed aspects of atlases and world maps; identifying continents and locating the equator. We hope now to local all the countries involved with the Rugby World Cup and I've been requested to create a puzzle investigation related to geography similar to the one we did during transition day.
Our number work this week has stretched us all! We have linked our knowledge of place value to multiplying and dividing decimals. A special well done to those who have completed challenge 1 - keep working on your times tables.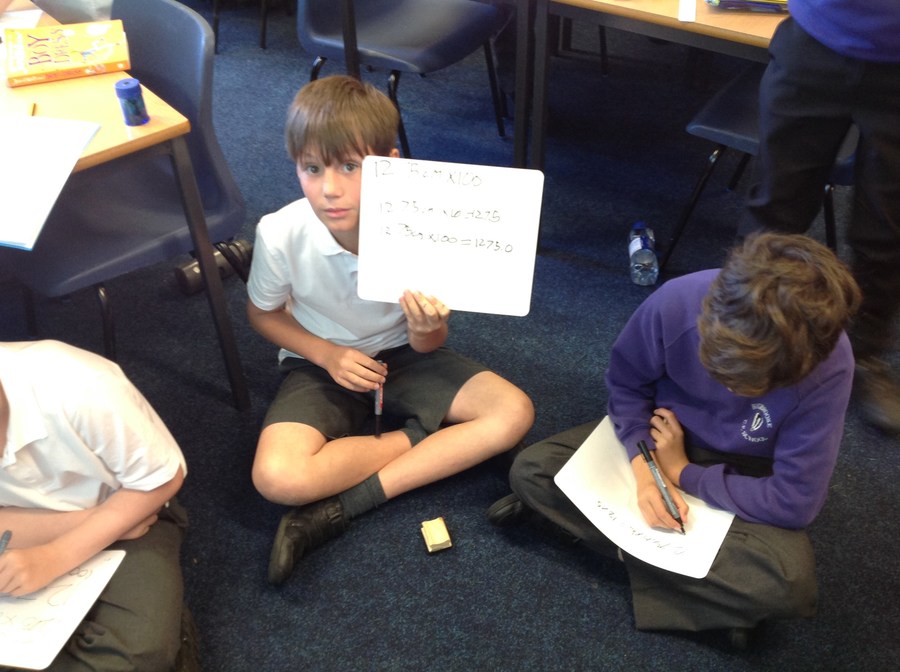 We have really focussed on our sentence work this week with a real push on our SPAG! Revising and extending our vocabulary related to grammar. You have produced some great sentences - I'm not too fond of spiders!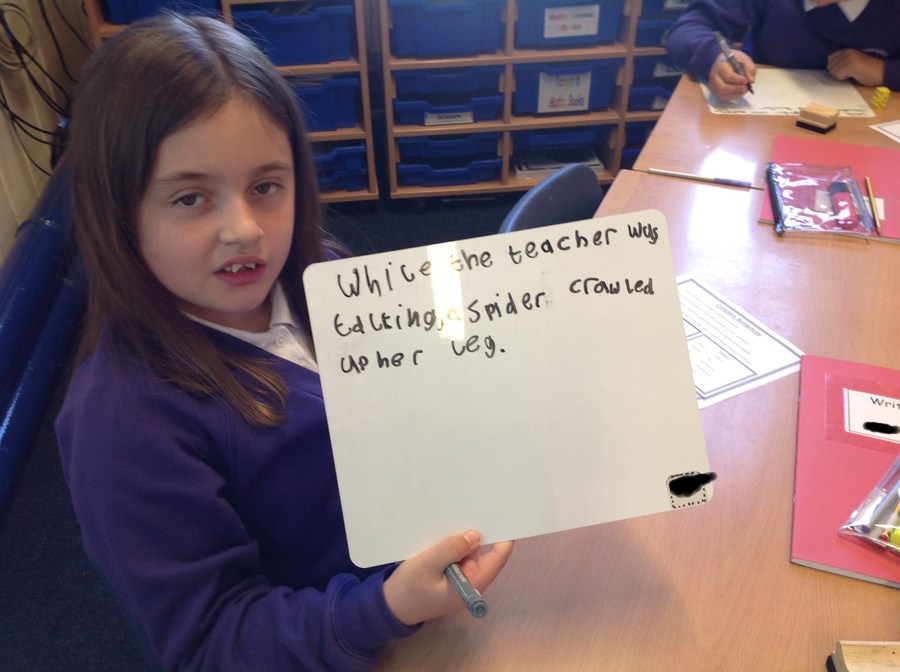 Keep recording in your reading record and don't forget our powerful verbs for our display!
Friday 2nd October 2015
What a wonderful week! You have really been working hard this week and there is so much to be proud of! Our highlights this week have included: reviewing our knowledge of subtraction and pushing ourselves with some 'extreme' maths; working on our writing and thinking about what our paragraphs should include; concluding our work on the circulatory system by modelling the circuit blood takes outside on the playground!
Everyone seemed to enjoy the Abacus maths games that we can now use at home to practise our maths - with many children wanting to stay in at lunchtime to log on!
We watched a short animated clip called 'Pigeon Impossible' this week you all worked really hard to improve your writing since our last 'big write'.
Thank you for a lovely calm day today whilst carrying out our reading carousel morning.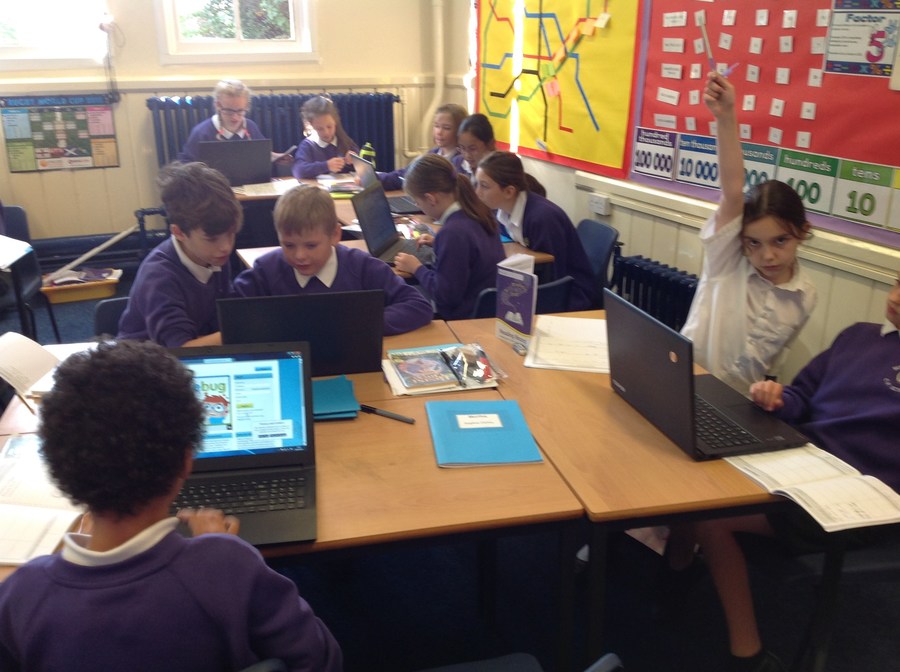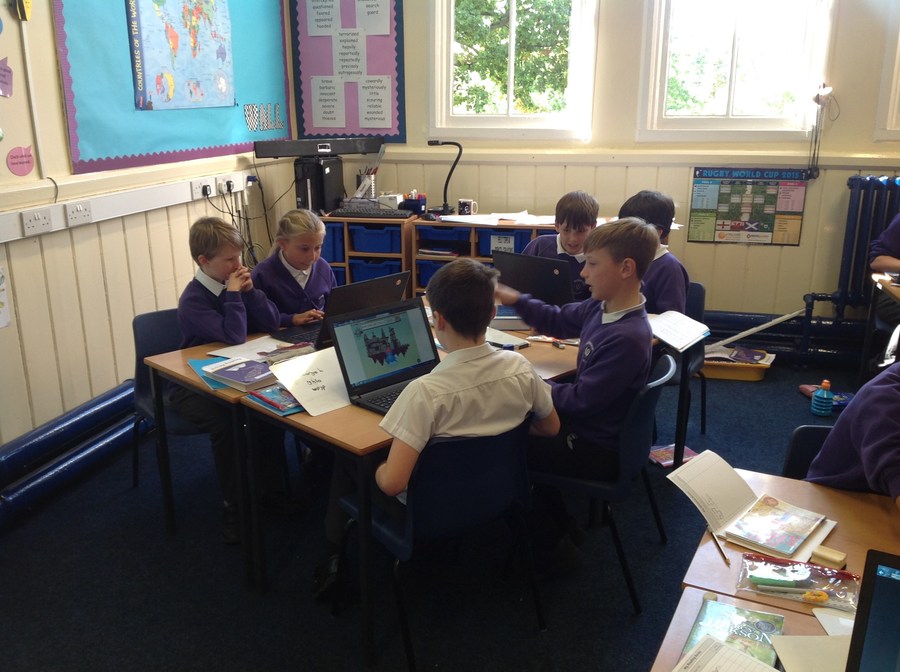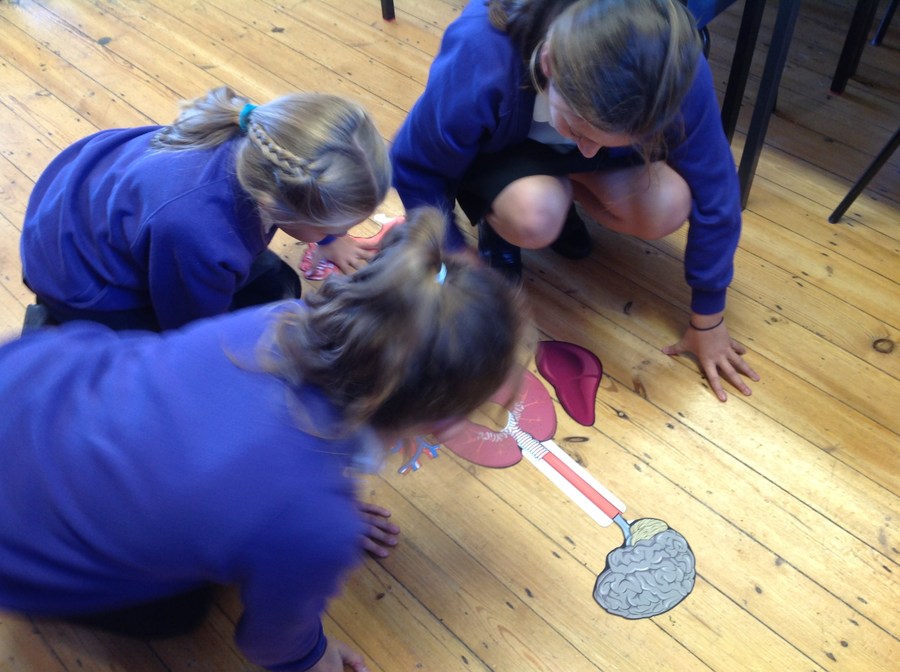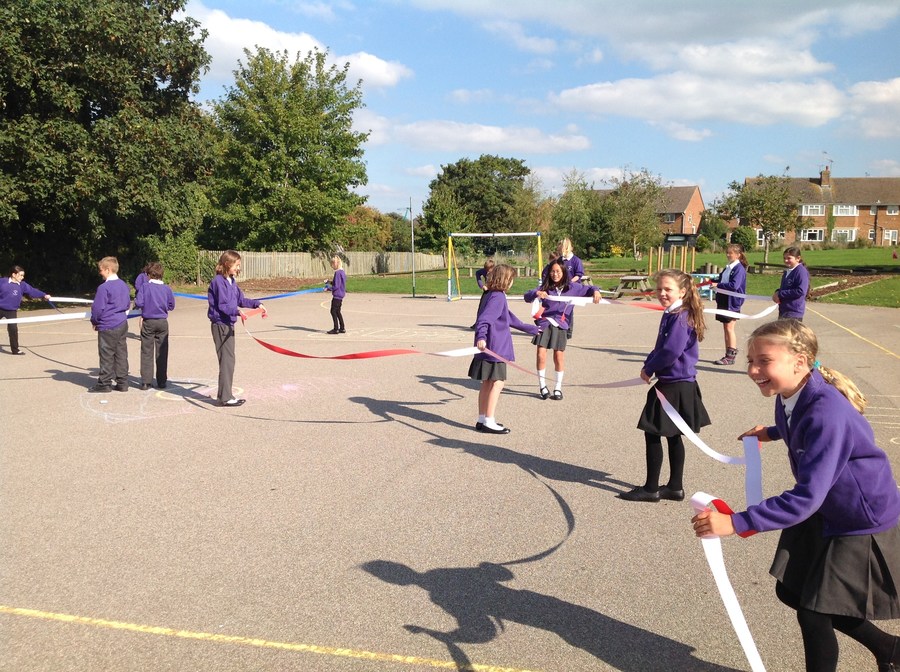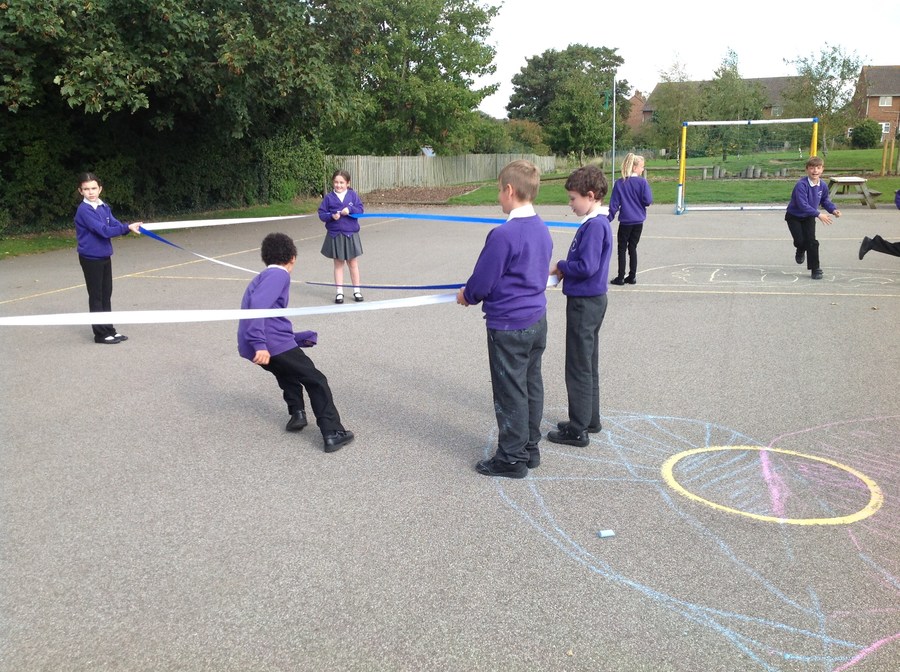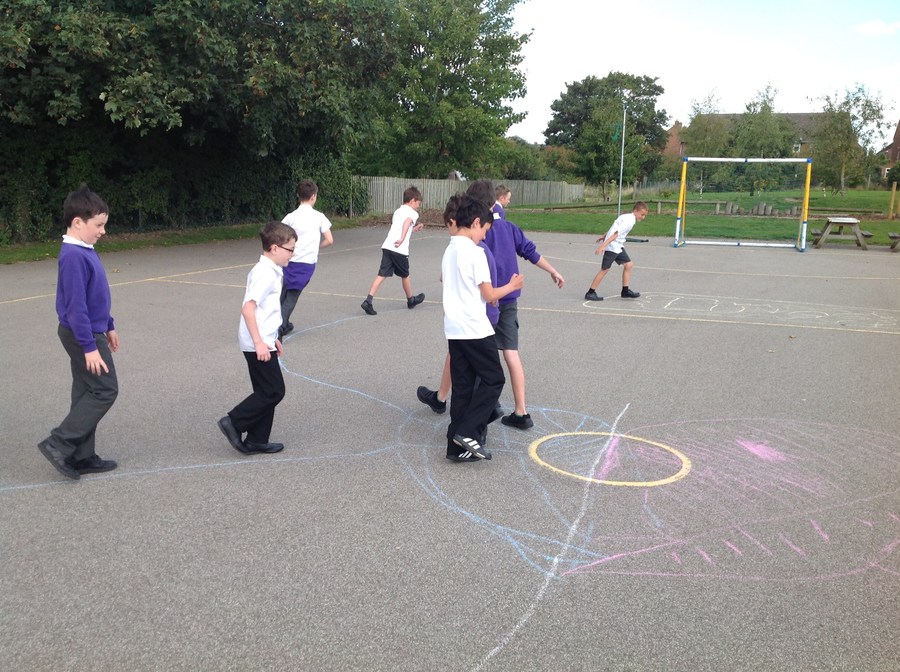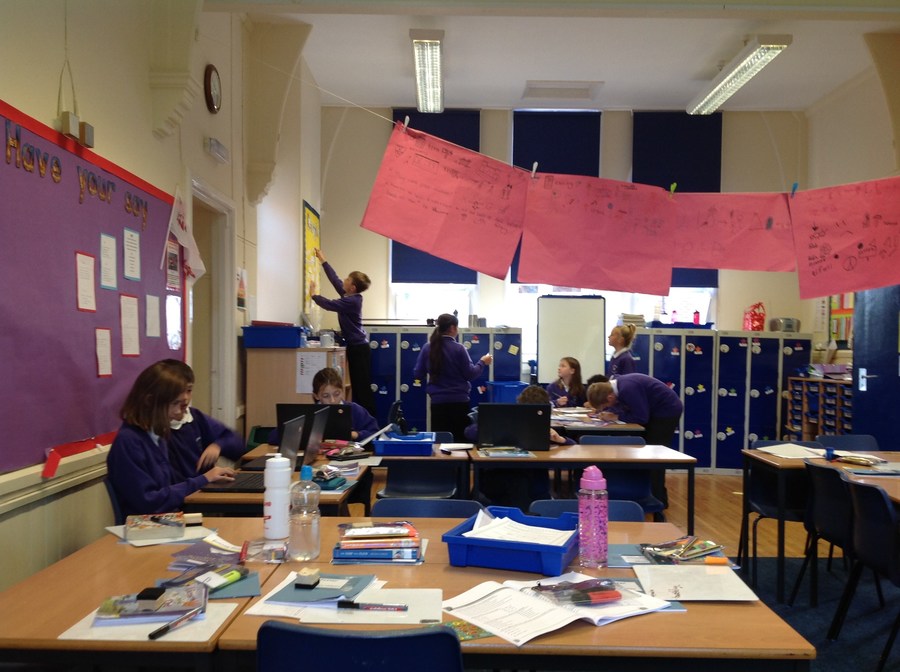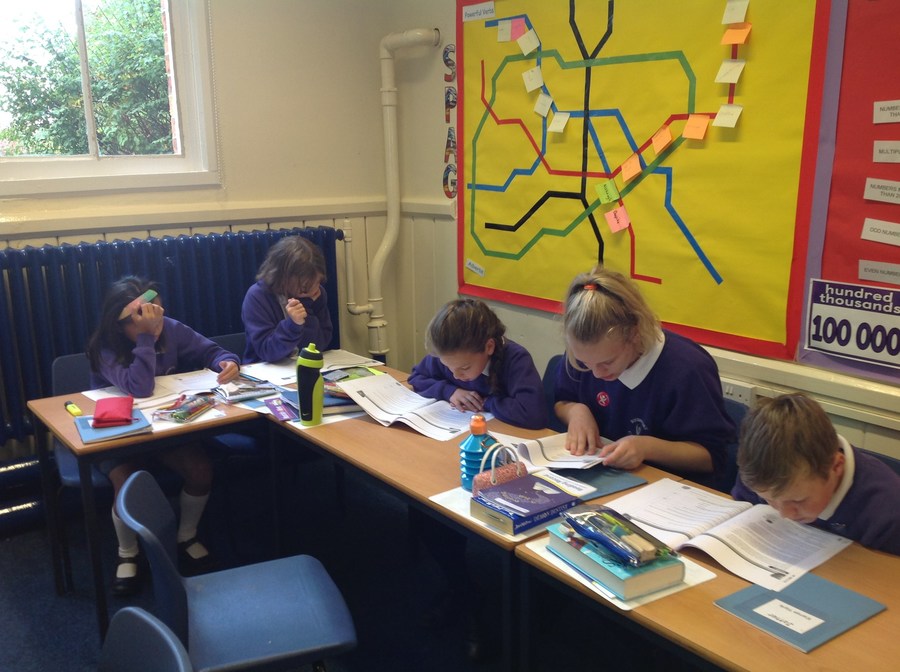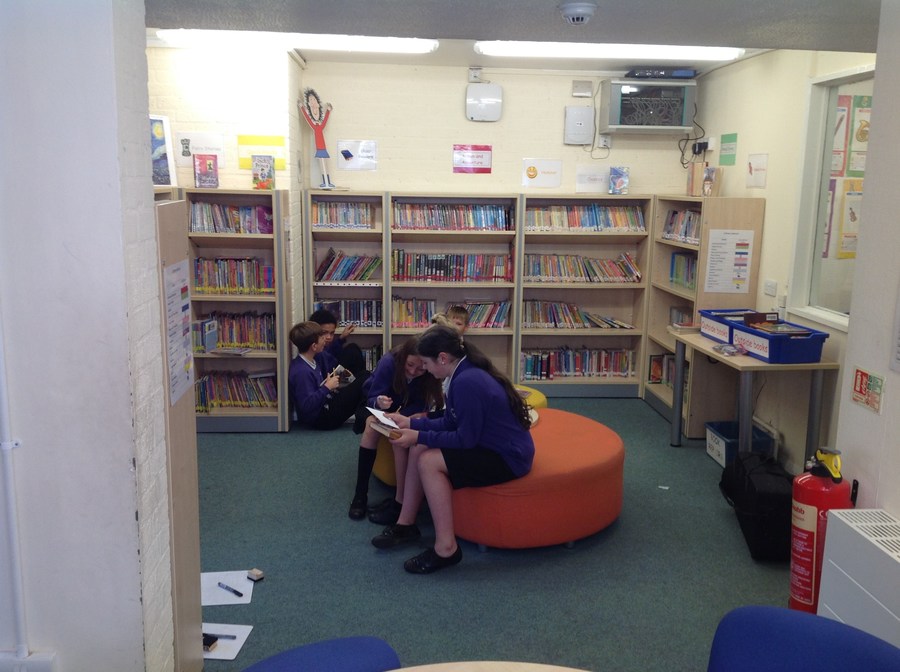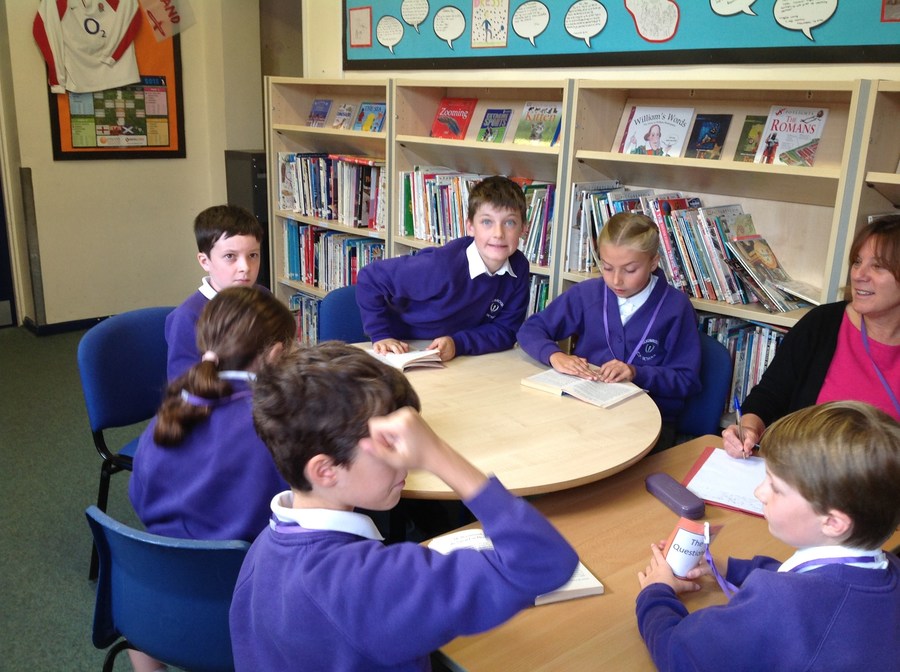 Friday 9th October
What a wonderful end to a busy week! I've been the proudest teacher ever today!
Following from our fabulous creative writing workshop this week, all the children have been working on their story plans and have drafted their first copy of their stories. This has been carried out in quite a different way - lying on the floor on the hall with our shoes off! Everyone has been really impressed with the enthusiasm and excellent working behaviours that our class has demonstrated this week! We plan to continue our stories next week and I've got a lot of marking this weekend as everyone has written so much! Well done!
This week we have introduced our 'Learning Log' as a way of completing homework in a creative way - I look forward to seeing what you can produce next week.
Our class has been reading with year 1/2 this week and again I was impressed with the mature attitude of so many in my class - thank you!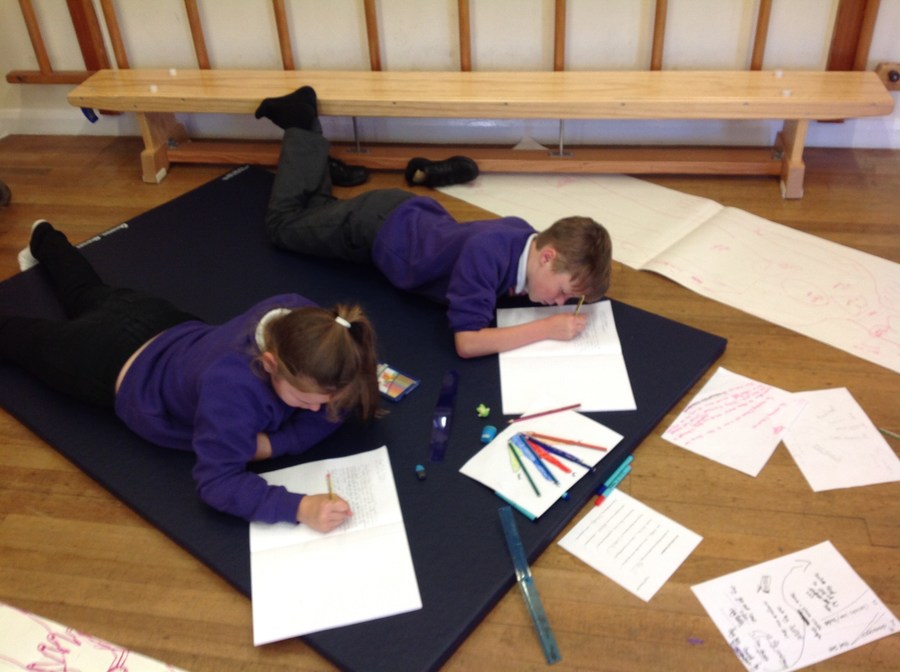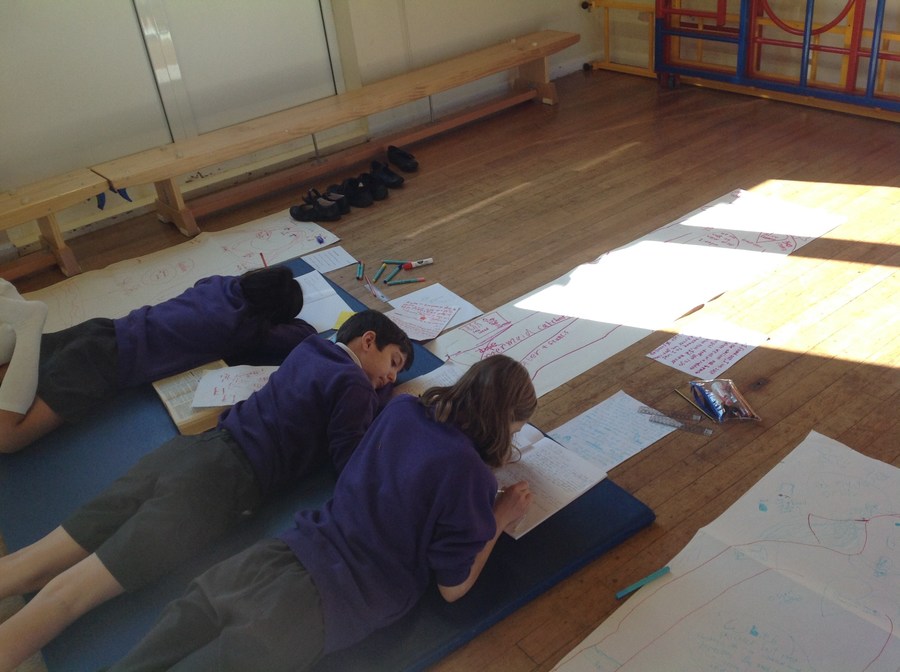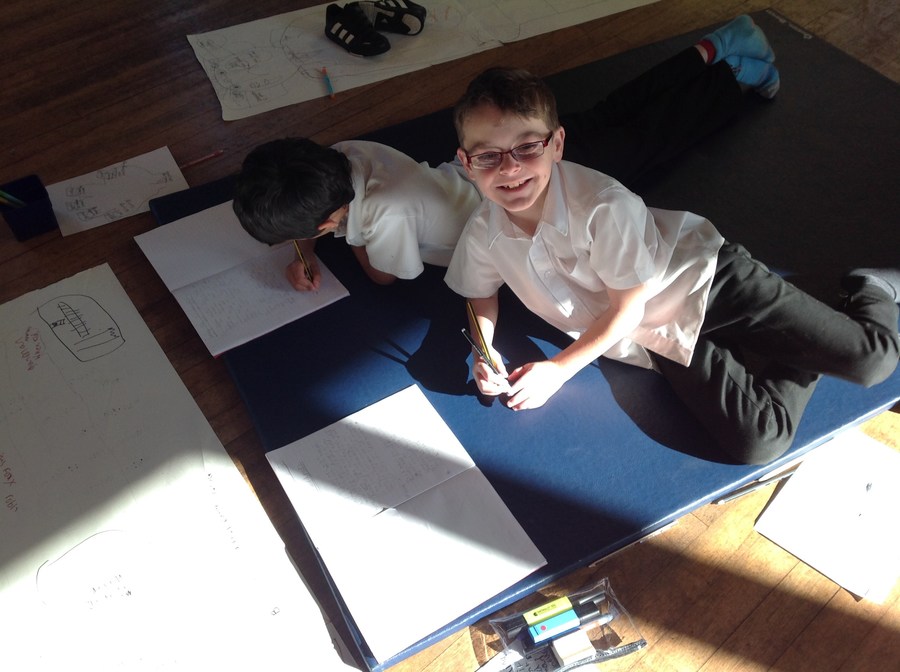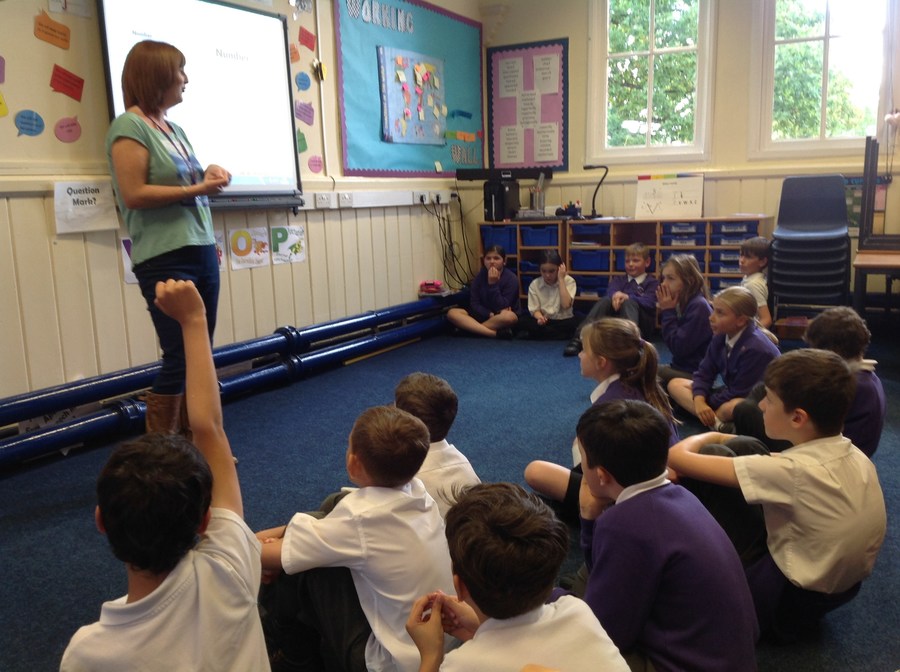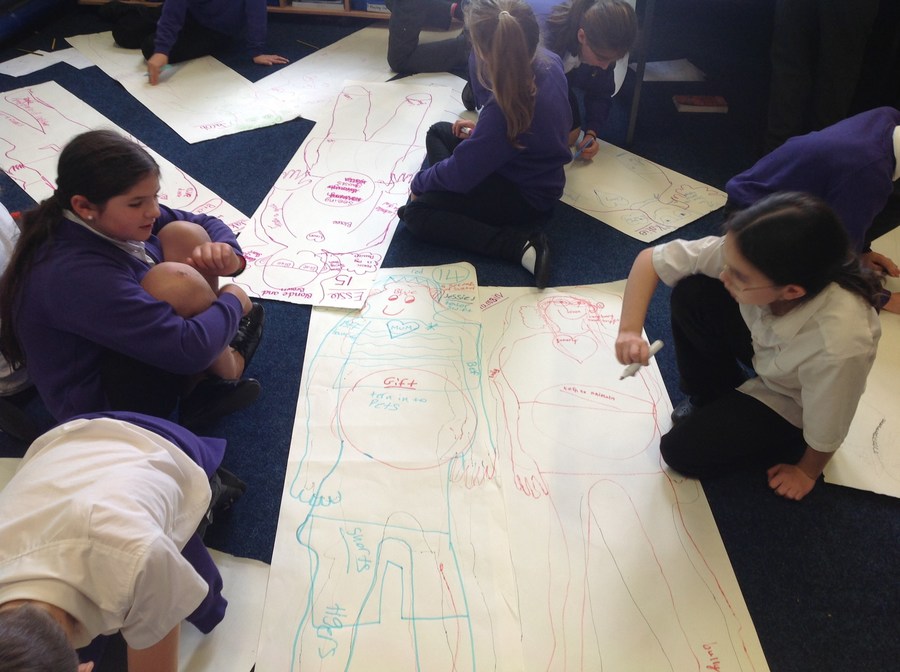 Friday 16th October 2015
This week we are very proud of our achievements made with our writing. We have all been working hard with our rainbow sentences and next week we will try to complete our stories on the laptops. Having edited our work, we have set ourselves personal targets and I can't wait to see the final versions! Hopefully we will get a chance to design the front cover of our books - we definitely have some budding authors amongst us!
We carried out some great maths investigations this week and have reviewed our assessment work. So many of us are now making connections with our maths knowledge and applying our thinking skills to all aspects of our learning. This was especially evident during our geography work - well done class!
One particular highlight this week was our science practical. We got a little messy with a Weetabix and a banana whilst modelling the digestive system - very realistic indeed!
Our class seem to really enjoy reading with Mrs Clucas's class; everyone is so caring and supportive.
I have been thoroughly impressed with the creativity displayed with our Learning Logs that were due in today. We shared our work in class and I will return them next week once I have had an opportunity to mark them fully. Remember to continue to look at the Year 3/4 spellings that we reviewed today as we still have some work to do on those. So although there is no formal homework this week, continue to review your times tables and spellings. It is essential that everyone reads regularly. Have a great weekend!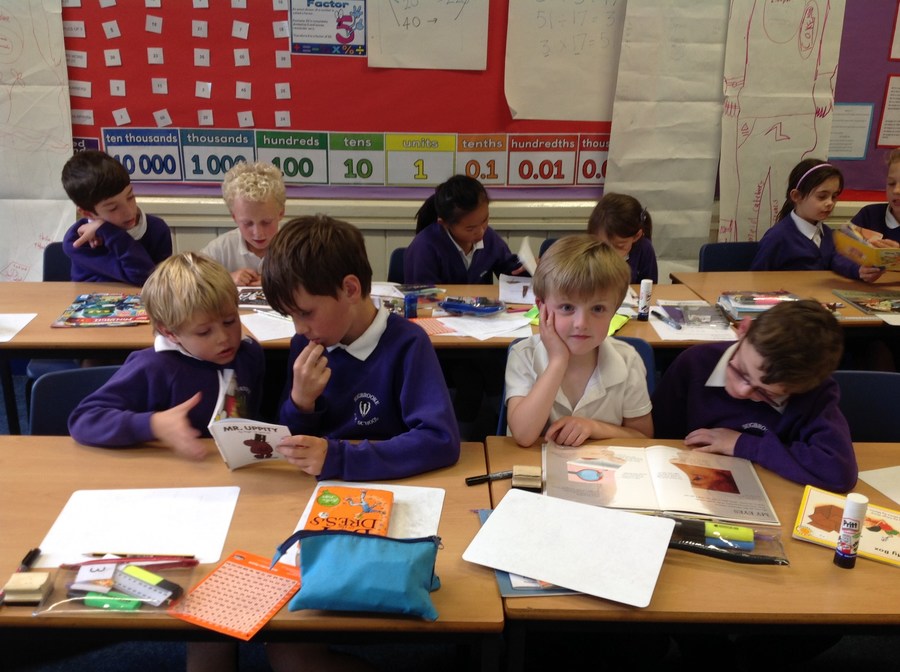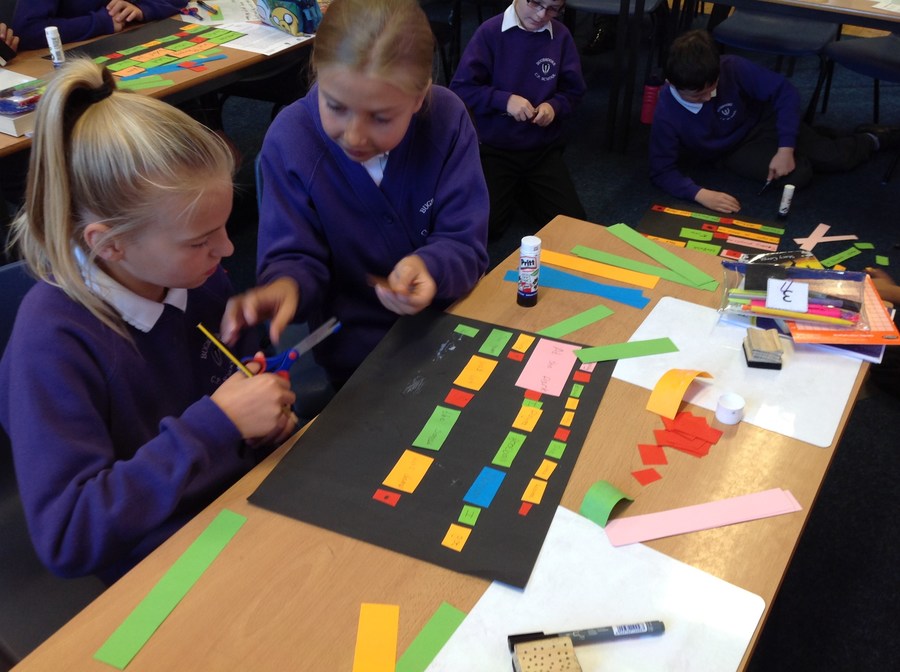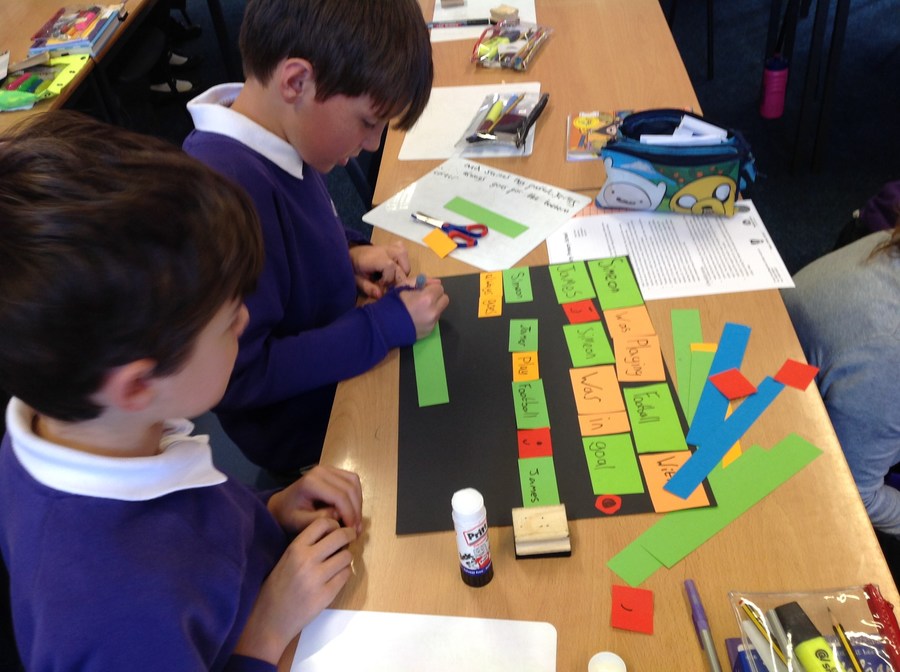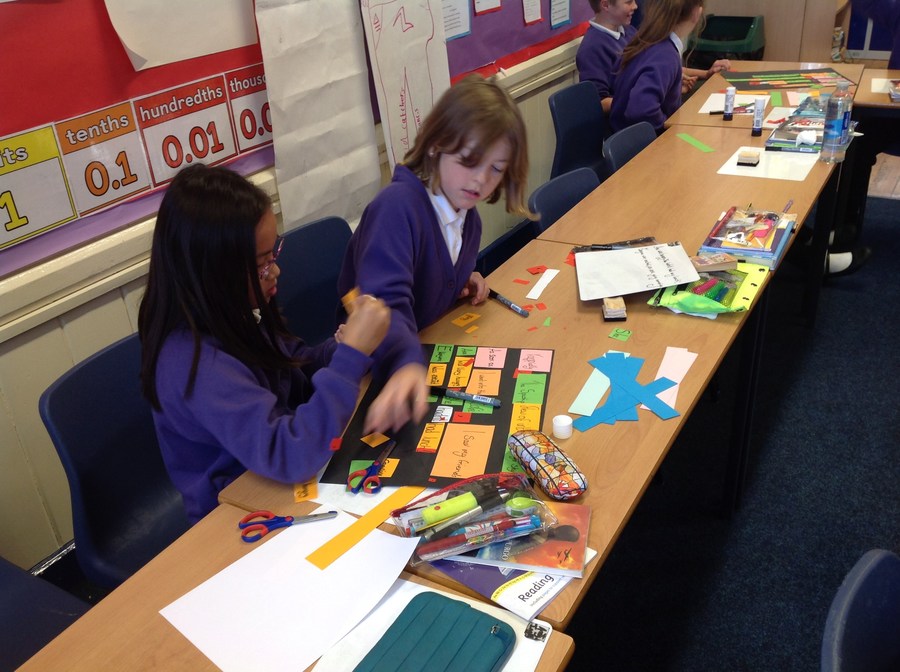 Friday 23rd October 2015
A fabulous week where every child in my class has shown excellent behaviour and working habits. Everyone has enjoyed finishing their stories on the laptops so well done for your determination and dedication.
Our trip to Daventry UTC this week has shown us all to be great Young Citizens - all Year 6 children should have some leaflets and a certificate in their bags tonight. Many members of the Police Community Service commented on their fabulous behaviour.
Languages day this week was a great success - not sure everyone enjoyed the Stilton! Thank you for working so well with the younger children in our school.
Tents are now up and I am looking forward to an exciting end to the term. You have worked well today solving maths problems that should hopefully ensure we are fully equipped to complete our next Learning Log challenge that has been sent home for the half term.
Have a great break!
Friday 6th November
We have made a fantastic start to our Autumn Term 2. I know I've had a great week which has whizzed by!
In maths we have been reviewing our shape vocabulary. We have been investigating and learning new vocabulary related to circles; as well as ensuring we can confidently use a protractor. Next week we will continue to use our knowledge of angles to be able to describe triangles and other polygons.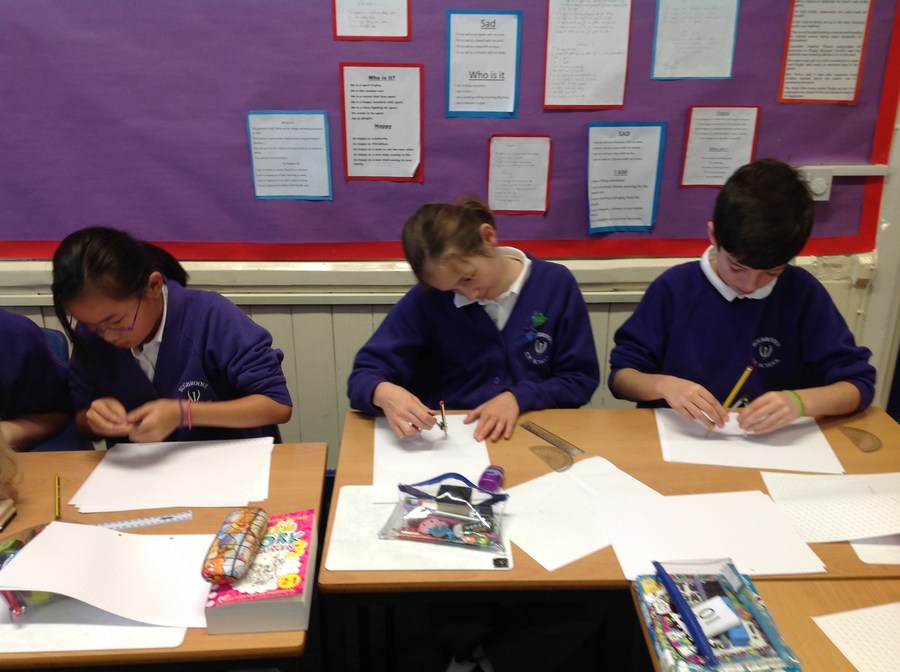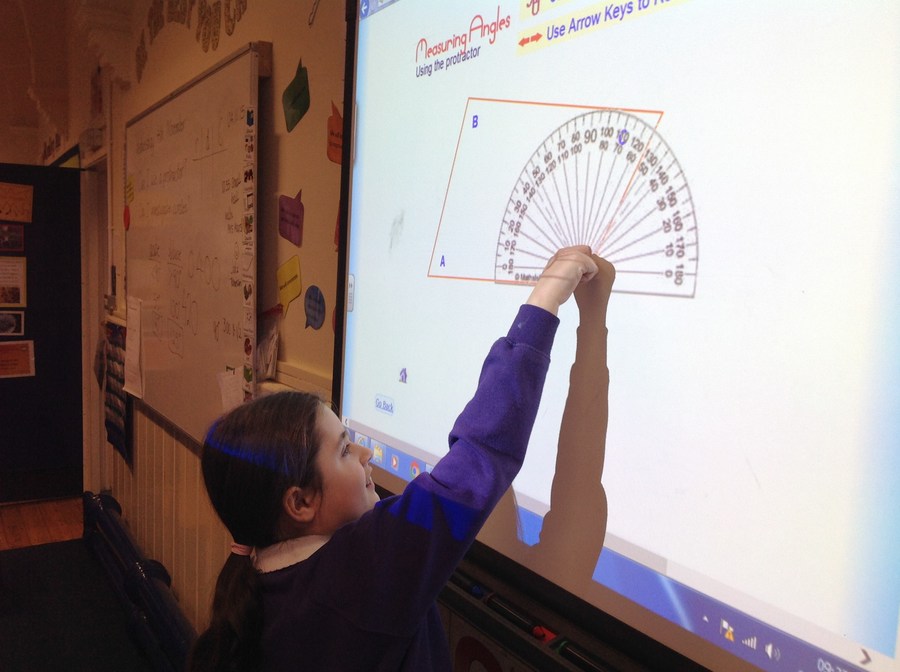 Thank you to all our visitors this week. Our classroom was brimming with children and adults during the school open evening. There was lots going on: algebra dominoes, times tables games, powerpoint quizzes, tangrams and other shape and number investigations. It was a great opportunity for us to demonstrate how creative learning maths can be.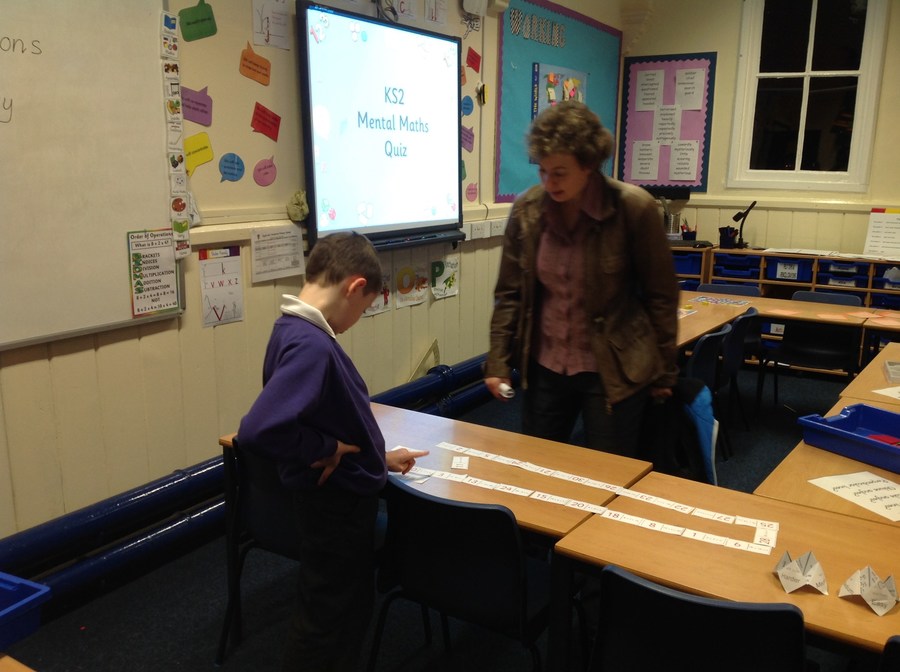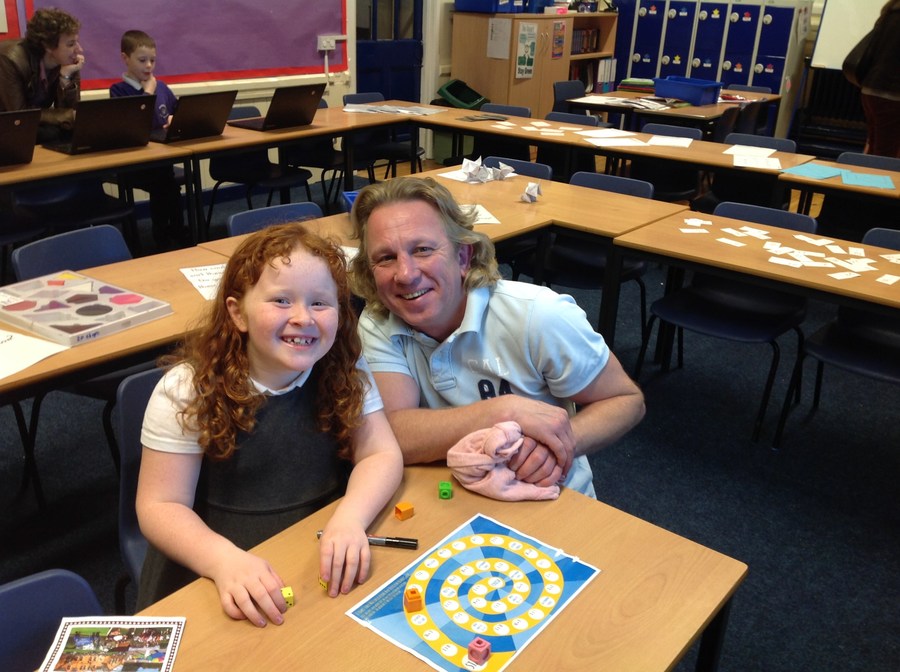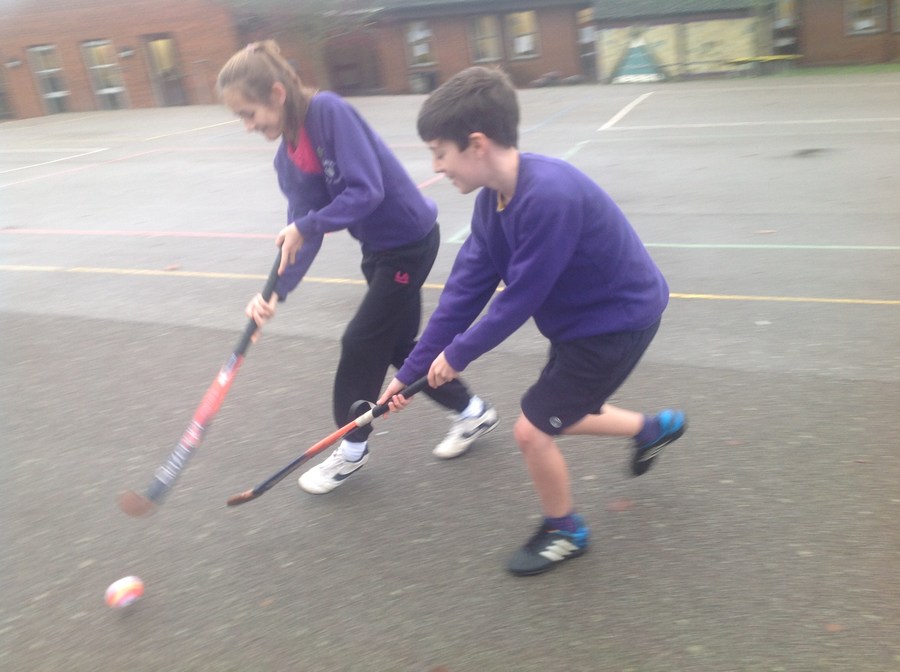 This term we will be reviewing our hockey skills. Luckily we avoided the rain this week! As usual, our class demonstrated great team skills, attention to safety and enthusiasm for exercise. A great week - thank you!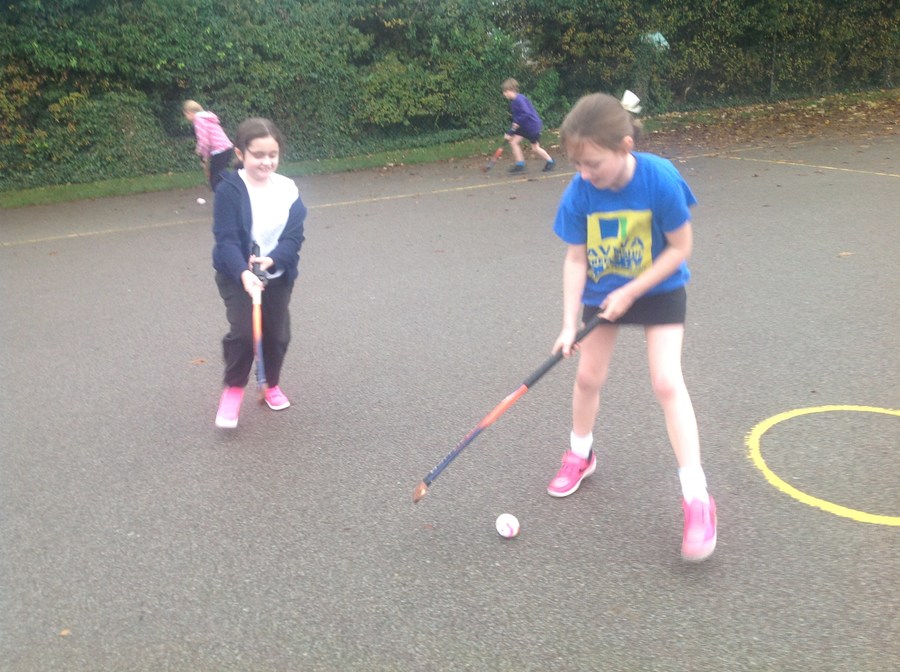 Friday 13th November 2015
I have been out of the classroom today on a maths course which will enable me to adapt our lessons on division next week to fully meet the needs of all Year 5 and 6 children.
This week we have been working on divisibility, equivalent fractions, simplifying fractions whilst making connections with our times tables. It is really important that all children see how different areas of maths are connected. Next week our work on division will link with our knowledge of fractions and multiplication as well as linking to percentages and decimals.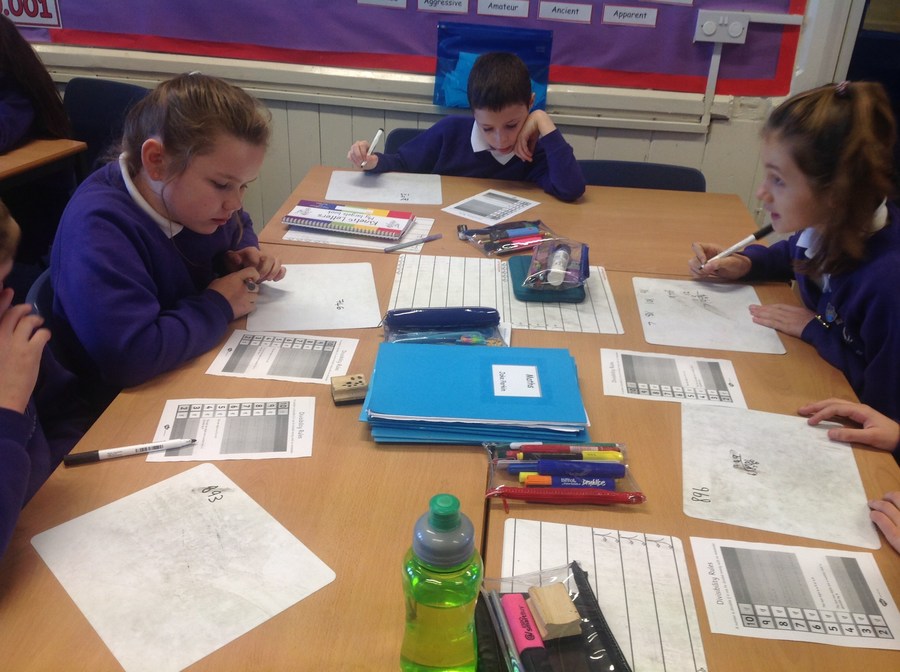 This week saw the start of cookery lessons for year 5 and 6. Everyone seemed to really enjoy the experience. Hopefully, in the very near future, everyone will get the opportunity to make their own pizza from scratch! Yum!
In maths this week we have been reviewing our knowledge of angles by using interactive games to help us use the vocabulary related to shape.
As a class we are reading Kensuke's Kingdom which has linked really well to our diary writing in literacy and our geography work. Our diary writing this week has been fantastic! With excellent use of figurative language and subordination. I have been really impressed with how our writing has developed since September. Next week our 'hot task' will really give everyone an opportunity to show me how much progress has been made.
We have also been continuing with our sketching lessons this week where we were using images of flowers - including poppies - to develop our understanding of shading techniques.
Please remember that we will all need our Wellingtons on Monday as well as warm, waterproof clothing. On Monday afternoon we will be doing our planting on Shady lane - fingers crossed for fine weather!
Friday 20th November 2015
The end of another busy week! We have packed lots into this week - as usual!
The start of the week saw us digging and planting our tree, shrub and bush at Shady Lane. Our class were praised for their excellent teamwork and efficiency.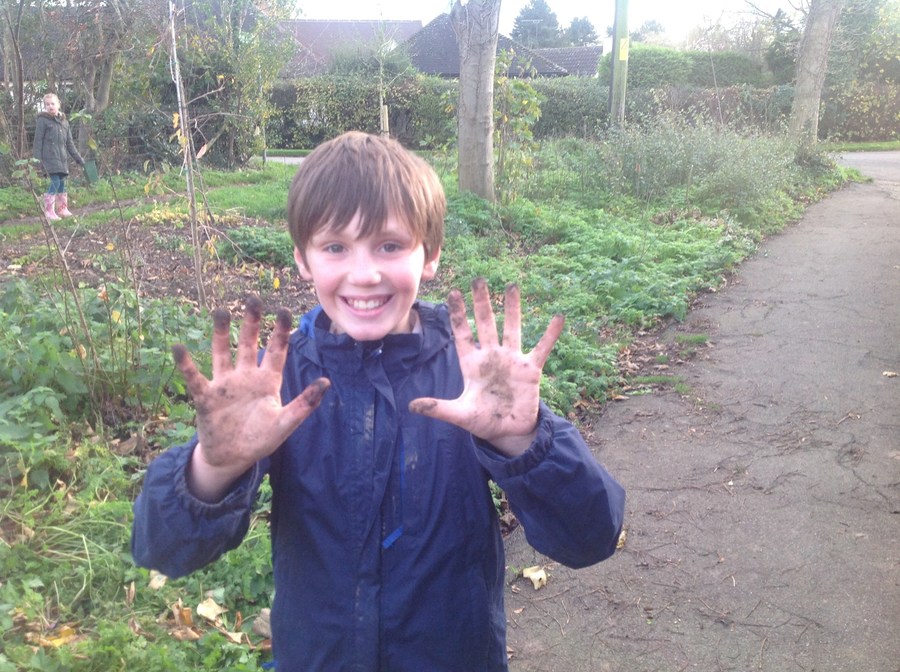 A definite highlight this week was our cooking. Everyone seemed to really enjoy eating their sundaes!
Our sketch books are looking great after our experimenting with brush strokes. We are hoping to complete our art work related to Kensuke's Kingdom this term so we have been starting to look at techniques that can aid our final piece.
Kensuke's Kingdom has featured heavily in our week. We have been using drama and hot seating to help us plan, draft and complete our diary writing. Again we completed our writing on the floor on the hall - very peaceful!
Thank you for all the baby photos - this will really assist our Science work.
Friday 27th November 2015
Thank you for a great week full of fabulous, creative learning: songs to help us remember not to comma splice; games to make connections between area and our times tables; playing with playdough to help us name the layers of the Earth!
A particular thank you for your great sportsmanship during both of your P.E. sessions - you really are an impressive class!
We have used the laptops to edit and improve our diary writing. Also, we have reviewed our knowledge of percentages, decimals and equivalent fractions.
We have had a great afternoon today watching a volcano explode! Have a great weekend; you deserve it!
Friday 4th December
This week we have been reading poems and discussing the features of performance poetry. We have had an opportunity to write our own poems and next week we will be continuing this. Hopefully, we will be using the green screen to present our class performance poem and will write more Christmas themed work using a variety of figurative language.
It's starting to look a lot like Christmas!
This afternoon we will be sewing our class Christmas decoration.
Thank you for your fabulously creative and colourful learning logs this week!
Friday 11th December 2015
Thank you for such an enthusiastic and rewarding week! Our class has had many 'wow' moments this week - they have really shone!
We have been busy writing season poems, thinking about the true meaning of Christmas and perfecting our performance poems. With the help of the green screen, I think we have many future budding X factor stars! I've been immensely impressed with the level of confidence displayed whilst reciting the 'Engine Driver' poem. We will be sharing the final versions next week!
We have also: read with year 1/2, played a festive game of football and completed our Christmas sewing activity.
Thank you for all your hard work in solving our Murder Mystery at the SPaG Bol! This was great revision of using: apostrophes, commas, past tense verbs, adverbs and adjectives.
In maths we have reviewed our understanding of fractions, decimals, percentages and division. We most definitely are starting to make connections with our maths.
Well done to everyone who has completed Challenge 1 this week - keep up the fabulous work.
The last Friday of the term! Merry Christmas everyone! Thank you for an entertaining week. A special thank you to the Christingle song singers!