Mrs Carr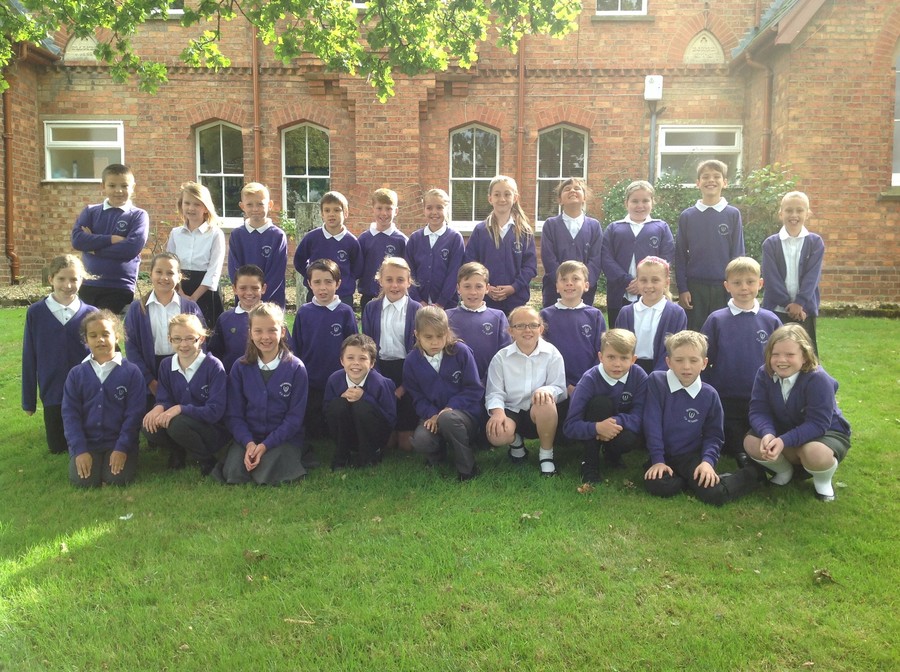 Mrs Carr's class start their new learning adventure....
What a promising start to the new academic year! Over the last two days, all the children have shown themselves to be enthusiastic, positive learners, willing to support each other as a team.
A drama lesson - based on a poem written from the viewpoint of the wolf's wife from The Three Little Pigs- gave the children the opportunity to work together in their new groups. Earlier in the day, when deciding our own class rules, the children had agreed that to 'be inclusive' was important. This certainly showed in their group work as they planned their performances and everyone had their part to play. We were entertained by the children's acting and reading of the poem.
Our maths brains have been reignited after the six week break and challenged with a multiplication race. There will be daily opportunities provided to practise time tables and every child is now striving to improve their own personal score week on week. In addition, we have carried out a maths investigation and found that we can use fact boxes of multiplication facts we already know to help us find others we don't yet know. Persistence shone through as we challenged ourselves to extend this to division.
A range of interesting questions have been generated for us to explore in our forthcoming science lessons, learning about the Circulatory System. We hope that as the weeks go by, we will be able to return to the questions and find that we have been able to answer most, if not all, of them.
This afternoon ended with some fun with the parachute followed by our weekly Green Assembly and we were proud to be able to say that we had all remained green for our first week back. I am very proud of the class and their positive start.
Rugby World Cup
This is our theme for this term as the World Cup coincides with our return to school. The children are heading down to the village rugby club ground on Wednesday morning to take advantage of a carousel of coaching activities by the Saints for an hour, followed by a mini tag rugby tournament. I believe there will be a prize for the winning team.
We will continue with this theme in our DT, Art, Geography and Science lessons as well as attempting to learn the Haka.
PE
Our timetabled PE days are Tuesday and Thursday. Please ensure that full PE kit is in school for those days.
Week Commencing 7th September 2015
When I think about what we have been up to over the last five days, it's no wonder there were some tired children leaving school at 3.30pm on Friday.
In keeping with our Rugby World Cup theme, the children generated questions about the history of rugby and then worked in groups to research the answers using both the internet and books. They found out some interesting facts to include the history of the rugby ball, the link to Rugby School and why the cup is called the Webb Ellis Cup.
Throughout the week, the children have had the chance to experience taster sessions of Dodgeball, Jado, U-Dance and Basketball. I was really pleased to see that everyone participated and there were many smiles to be seen as new skills were learned. Letters for all the taster sessions were given to the children should they wish to participate in the various clubs although spaces are limited.
On Wednesday morning, eighty nine children and ten adults snaked their way through the village to Bugbrooke Rugby Club. The children were coached by the Saints who organised three different games, each focussing on tag rugby skills. The morning ended with tag rugby games. Everyone participated to their best of their ability and a special mention must go to Joel who discovered he can run and dodge defending players with ease as he ran past a line of defending children to get to the other side of the pitch. We were all impressed. The afternoon was spent creating our very own rugby themed bunting to adorn the Year 5/6 area.
Following our visit to the rugby club, we became reporters and wrote a newspaper report detailing the outing. Linking with the theme of fitness and exercise, we began to talk about the heart and to find and measure our pulses although it was somewhat concerning when some seemed to have no pulse al all! Thankfully, we all found them in the end and measured them although some of the results were a little questionable at over two hundred and fifty beats per minute!
Congratulations to our Going for Gold medal winners this week, Thomas and Joel. Thomas has shown a very positive attitude to all that he has been asked to do and Joel has made valuable contributions in our class discussions.
Homework
The children have continued to practise their times tables and most have improved their personal score in our times table challenge since last week. Each has a blank challenge sheet to practise regularly at home. Once a week the children will be given the opportunity to go against the clock to see if they can complete the grid in seven minutes.
Every child has been given a reading record and been asked to fill it in every time they read. Reading should happen every day and children are welcome to change their school library book as and when they need to.
This week, we tested ourselves on the spelling of the first one hundred high frequency words. These are the words we all use most often in our writing. Following on from this, most children have their own personal list of words in their reading records to practise at home. Please support your child(ren) by asking them to spell each word and put each into a sentence to show they understand the meaning.
Next week
Please remember that PE is timetabled for Tuesdays and Thursdays and full kit should be in school for those days. Spare socks should be in the kit in case of wet, muddy feet or for girls wearing tights.
Researching the history of rugby
Our visit to Bugbrooke Rugby Club
Week Commencing Monday 14th September
This week, I asked the children what they are most proud of in their learning. Whilst I will not list everything on here as it will be a 'War and Peace' effort, I will list those areas which were common to most of the children:
Handwriting: As you will have seen from the school newsletter, the whole school is participating in a new handwriting program, Kinetic Letters. Do ask your children about 'Curly', 'Brave Monkey' and 'Scared Monkey'. Perhaps they could demonstrate to you how we use those characters in our kinaesthetic learning.I understand some of the children are making a conscious effort to practise some of the physical activities at home whilst reading or playing on their tablets. The children's opinion is that they are already seeing improvements in their posture whilst writing, their pencil grip and consequently their letter formation.
English: This week we have been focusing on journalistic writing and have studied in detail a fictitious report on Robin Hood. The vocabulary was challenging and the children surprised themselves when they were able to almost recite word for word the whole report. They achieved this by drawing a text map giving visual reminders to prompt them.
Guided Reading: This week, we introduced First News as a publication for the children to share during their Guided Reading sessions which the children have expressed a real liking for. They are taking the opportunity to read the newspaper and discuss current affairs within their groups. Reciprocal Reading groups have also been introduced this week where each child in the group has a role to play. This opportunity to be independent learners has been well received with one child likening it to a 'board room' and feeling quite grown up.
Multiplication Races: As you know, the children are given regular opportunities to practise their times tables in class which is then followed up by a timed tables test. The children were thrilled today when the majority made great progress from their personal scores last week. They have come to realise that regular practise is key to their success.
Congratulations to Harriet and Josian who received a Going for Gold award for their contributions to our class. Harriet is being extremely helpful in the classroom without needing to be asked and Josian donated a large quantity of his own comics to be shared in both our class reading zone and in the school library.
I have been impressed this week with the children's enthusiasm and willingness to participate in our whole class discussions. In addition, the class value of honesty is very much evident.
Homework this week continues to be daily reading, learning the high frequency spelling words identified and regular practise of the times tables. The children are developing an increased awareness of how much the times tables underpin much of their maths learning. Please encourage your child to record all their reading in their reading logs.
Next week, the children and I will work together to identify any Year 3/4 spelling gaps they might have and these will be written in their home reading records to practise at home.
Just a reminder that the new end of school collection procedures commence on Monday.
Week Commencing Monday 21st September
We have come to the end of another busy week. In English, our focus has been on SPAG (spellings, punctuation and grammar) in which we have been revising familiar word classes and learning new ones, punctuating sentences, including direct speech, and testing ourselves on spellings. Our Kinetic Letters time has been used to assess our writing speed, letter formation and pencil grip as well as the children completing a questionnaire to consider how they feel about their current handwriting. It was interesting to see that after ten minutes sustained writing, many children's hands ached and they had sore fingers. If all goes to plan, this will change in time to come as we develop stamina and improve our pencil grip.
In maths, we have used our knowledge of place value to multiply integers and decimal numbers by 10, 100 and 1000 as well as using tables in science to record and analyse our results. We also made a human number line, ordering decimal numbers. Our weekly times tables challenge has seen some children now move onto the second challenge and one even onto the third. The children have been reminded that they are not 'racing' against each other but challenging themselves to beat their previous week's score. Again, practising daily is the key to success. The children are beginning to understand how a secure knowledge of the times tables underpins so much of their maths learning.
We were extremely fortunate to have a visit on Thursday from a local published author, Rhian Ivory, who both engaged and inspired the children. She explained how ten publishers had rejected the first book before success was achieved which I think was a real example of resilience. I was amazed yesterday by the number of children in the class who were already closet authors and brought in examples of their work in progress. These were shared with the class and we look forward to hearing more. In the very near future, Rhian will return to do a creative writing workshop with the children, which we are very much looking forward to.
Our Going for Gold medal winners this week were Amber-Rose for always making the right choices and being ready to learn and Kacey for her resilience and positive attitude to learning in maths. Congratulations girls!
Some of the children have asked about homework. At present, the focus of the children should continue to be practising their times tables (they have all brought home their test this week to see where their focus needs to be), regular reading (remembering to complete their reading records) and spellings practice.
This week, a number of reading records have been left at home along with trainers and other items from PE kits. Although PE is on Tuesdays and Thursdays, I would recommend that children leave their kit at school through the week. May I please request that the children be given a gentle reminder to make sure they have remembered everything? Thank you for your support.
Week Commencing 28th September
This week started with a whole school Harvest Festival celebration. Thank you for all the donations which have now gone to the Hope Centre. The year groups each performed, with the Year 5/6 classes working collaboratively to perform a harvest poem with a 'sharing' theme.
We have focused on number in maths this week, using the formal method to add and subtract. We then put these skills to good use and solved two step word problems.
In science this week, the children had the opportunity to decide where the major organs are in the body. We had some interesting results! We moved forward from our learning about the heart to understand how the circulatory system works. I was extremely impressed with the number of questions raised by the children and the subject specific vocabulary they have learned.
Continuing with the rugby theme, the Haka was the focus of PE this week. I did not know that some children could pull such 'interesting' faces. We tried both the words and the moves as well as understanding why the All Blacks do the Haka at the start of their matches. The children also had a go at learning the alternative 'Hakarena'.
Types of questions as a reader have been explored (literal, inference and deduction) and how, as a reader, we use the text to find the answers to answer them.
Our times tables challenge scores continued to improve this week with some ready to move onto the next level. Again, the children have been encouraged to practise them daily.
This week, the children will have brought home a list of spellings which they need to learn. They are not expected to learn them all in a week but to look at the list on a regular basis, choosing a few at a time. In the weeks to come, we will also look at these words in class.
We were pleased to welcome Erin to our class this week. The children really demonstrated what a caring and welcoming bunch they are.
Congratulations to our Going for Gold winners this week, William and Imogen. Both were awarded for a positive, can do attitude in maths.
Next week, we are very lucky to have Rhian Ivory visiting our class to run a creative writing workshop which will then lead into our own story writing. I know Mrs Murphy's class has written some fantastic stories so I am really looking forward to working with the children on this one.
The children have all been given their own personal log ins for Abacus Maths to practise both at school and at home.
Week Commencing Monday 5th October
We have come to the end of another very busy week which stared with a maths assessment on number. I was impressed with EVERY child's positive attitude to this. It was their chance to show what they know and an opportunity for me to see where we need to go next with our learning. During the marking, it became apparent that we need to improve on checking our answers and using estimating to make sure that an answer seems sensible. To support this, I gave the children some examples of unmarked maths assessments where they became the teacher and marked the papers, looking for errors. When asked what they had learned from their experience of marking a completed maths test, many commented that they had learned that they do not want to be teachers; that wasn't the intended learning outcome! Thankfully, they also realised the importance of checking their work and looking for careless errors.
On Tuesday, the children had a gymnastics taster session. Letters for this have been sent home with the children. You will see from the photos below that lots of fun was had with hoops.
On Wednesday, we had the amazing experience of a visit from Rhian Ivory. Rhian took the lead and supported the children in creating their own character. It was shoes off, tables stacked up and children lying on the floor to create their own life-size character. Every child had ideas to record and their only limit was their own imagination. This led to us becoming creative writers on Thursday and Friday. I was so impressed with the children's engagement in their writing. We turned off the lights, lit scented candles and lost ourselves in our own worlds. The children had a majority vote to postpone PE and to continue writing. We are going through the process of drafting, redrafting and editing until we each come up with a story to be proud of. We are looking forward to being able to share our stories next week.
The times tables are improving overall, week on week and it is pleasing to see how supportive the children are of each other.
Congratulations to Bailey and Erin as winners of our Going for Gold awards this week. Erin has fitted so well into the class it is as if she has been here forever and is already supporting our younger children. Bailey is a very trusted member of our class who can always be relied upon to do various 'jobs'.
New for this week is the the introduction of a Learning Log which the children should have all brought home on Friday. Inside you will find explanatory notes and the children have all had an explanation in class as well as having had the opportunity to see an example of a completed log. These are due in next Friday and should take up no more than the double page in the book. If you have any queries, please do feel free to ask. In addition, the children all have their Abacus log ins and all have been shown how to access it on the internet.
Week Commencing Monday 12th October
We seem to have blinked and missed this week! The focus has been the continuation of the children's creative writing, going through the process of drafting, editing, redrafting and coming to a final story which each child is personally proud of. Once complete, the children have then used word processing to create a final product and illustrated their story.
We have started a new weekly reading session with Miss Lambert's Year 1/2 class. The Year 5/6 children partner up with a Year 1/2 child and share a book of the younger child's choice. I was very impressed with the children from both classes and it was evident from the smiles that the older children enjoyed the opportunity to share stories which they might not normally now read.
There has been continued success in our times tables tests this week with a number of children beating their score from last week and moving up to the next level. Who would have though that times tables could create such a buzz in the classroom?
We have come to the end of our lower case Kinetic Letters and there is evidence of this showing in the children's written work. We are now encouraging each other to make sure our pencil grip is correct which is a challenge for some as we try to break bad habits.
Congratulations to Charley and Bradley for being the winners of our Going for Gold medals. Bradley's was awarded for his excellent manners and the consideration he shows to towards others in the class. Charley's award was to recognise that she is always doing the right thing at the right time.
All children should be continuing to learn the Year 3/4 spellings they took home a few weeks ago. In addition we are learning spelling rules in class. In order to ensure we are all secure with vowels and consonants, we sang a song in class which has proven to be annoyingly catchy so you are likely to hear snippets over the weekend.
Thank you to all the children who returned their Learning Logs on time on Friday. There are a number still to be handed in and the children know that these need to be returned on Monday please. The Learning Logs have been well received and the chldren are reporting that they like the format. We will now have a week to focus daily on spellings, reading and times tables before a new Learning Log challenge is issued next Friday.
Looking ahead to next week, the children have all sorted out their own groups and who is going to bring in the tent. There is a real air of excitement about the camping. Thank you for returning all the reply slips this week.
I look forward to seeing you at Parents' Evening.
PE Kit - May I please request that the children all have full PE kit in school. This should include a warm swaetshirt (or similar which is not their school uniform cardigan or jumper) and jogging bottoms. In addition, the children should have outdoor trainers suitable for running on damp or wet grass. Plimsolls are not suitable for outdoor PE. Thank you.
Camping Special
After a week of building excitement, Friday finally arrived and the classrooms filled with tents and sleeping bags. The children had been tasked with putting themselves into groups and deciding whose tent they were to use. The day was spent putting up tents and making them as comfortable as could be. At the end of school, the children went home to change into their warm layers and to have their tea. After what seemed like no time at all, there was an eager queue forming at the door whilst the staff ensured everywhere was safe.
The evening started with a safety briefing and the issuing of glow sticks which were quickly turned into an array of bracelets, necklaces and glasses! The children were allowed to spend a short while settling into their tents by torchlight whilst groups at a time were called to make their smoores (chocolate digestives and melted marshmallows) and collect their hot chocolate to drink by the fire. Camp songs were sung and it was then time to settle for the night. It was a delight to hear their excited chatter from their tents; they forgot that tents have very thin walls! I was impressed at how quickly the children settled down for the night and how they followed the safety instructions they had been given earlier.
By six the next morning, children were waking and it was time to pack up the contents of the tents and head inside for a warm-up and a breakfast of croissants or bagels. I was asked where the bacon was by some.
The children were so well behaved and I think it's fair to say that even though it was cold and some did not get much sleep at all, it was enjoyed by everyone, staff included.
Week Commencing Tuesday 3rd November 2015
Although some were reluctant to admit it, it was good to be back after a week's break.
Our maths this week has focused on the the use of lots of mathematical language to describe polygons and some children went a step further to investigate the relationship between the diameter and circumference of circles. We have also considered the classification of angles and an how to measure reflex angles without sticking two protractors together, as was suggested.
There was great excitement as the sketch books came out of the drawer and we used shading to show how different tones can be created with just one pencil. We tried this out with a range of sketching pencils.
Mrs Marsh took the lead in one of our lessons this week, thinking about the the difference between 'being safe' and 'feeling safe'. We had a number of scenarios to consider and how they would make us feel.
We have this week reassessed the Year 3/4 spelling words and every child has their up-to-date sheet from which to practise their spellings daily. Our usual weekly times table challenge produced some more very happy and proud children as they beat their last score. We reminded ourselves how important it is to practise both spellings and our tables daily.
The Learning Logs were a pleasure to mark with many children coming up with creative ways to present their homework. We had a 'Learning Log' gallery in the classroom enabling everyone to share their homework and to challenge each other with their multiplication grids and games they had created.
We had three Going for Gold medal winners this week: Charlotte, Thomas and Emily. Charlotte's was for 'being Charlotte' and always doing what is expected of her, without exception. Thomas received his award for a personal best and Emily for positive behaviour choices. Congratulations to you all!
Next week, on Tuesday 10th November, is our turn to walk to Shady Lane to plant trees. A letter has been sent out. Please ensure that your child has suitable footwear to get muddy and a change of clothes.
Next week, the children will start cookery in small groups.
Week Commencing 9th November
Our class text, Kensuke's Kingdom by Michael Morpurgo, has really captured the children's imagination with each and every child listening intently and not wanting me to stop when reading it to them. Michael's adventures at sea very much fit with our Survival theme and are supporting the children with their diary writing. The use of IT (360 degree panoramic views) has inspired them to produce some much improved diary writing (in character) to include emotions and reflections.
We have had a really busy week with a trip to Shady Lane to plant trees and shrubs, Armistice Day, the children going out in groups to do cookery and a day spent in pyjamas to raise money for Children in Need (I apologise to those parents who wanted to speak to me first thing Friday morning to find me still in my pj's). To raise funds, the Key Stage 2 children had made games to be played in the hall, taking responsibility for creating and running them. Thank you to all those who donated sweets for one of our games. There were enough to have two 'Guess how many sweets there are in the jar / container' games.
Maths has been challenging for many of us this week as we have tried to find the internal angles of a regular polygon - without using a protractor - using what we know about the angles in a triangle. We will be moving onto fractions through the coming week. Please do encourage your child to use the Abacus maths games they have access to at home.
Congratulations to our Going for Gold medal winners this week. Both Sophie and Nathan showed a very positive attitude to their learning when they used some of their break to complete a reading comprehension task which they had started and needed to finish.
In outdoor PE this week, we braved the colder weather and practised hockey skills.
I was pleased that so many children handed their homework in on time. As is now the custom, once marked, the children will have the opportunity to share their homework with the rest of the class in our walk-about homework gallery (see the photos below).
As part of our science and the life cycle of humans, the children have been asked to bring in a photograph of themselves as a baby.Many have already been brought in but may I please request that everyone's photo is in this week?
Week Commencing 16th November
When asked what they had enjoyed this week, the children listed: still life drawing; diary writing; cookery; reading Kensuke's Kingdom; hot seating in drama; watching the Year 5 green screen videos in assembly; researching the physical features of St. Lucia in Geography; having a personal video sent from 'Bear Grylls'; learning about the parts of a flower and its life cycle in science; learning about fractions; success in the weekly times tables challenge and having fun in SPaG (spellings, punctuation and grammar). As I don't have all weekend to write about all of these, I will choose a few and the children can fill you in on the rest of the details.
There was a palpable buzz of excitement and pride on Friday morning when the children had completed their seven minute timed multiplication race. Six children achieved their personal goals, with two in particular feeling particularly proud as they have been striving to reach the first one hundred score since September. Well done! There were also a number of greatly improved scores. Mrs Bramble came to visit the class to let us know how proud she is of the children's achievements. I am now hopeful that all children, both Year 5 and 6, will crack Multiplication Race 1 by the end of this term. Now that we have moved on to fractions in maths, the children are really able to see how a secure times table knowledge underpins their learning.
This week was national anti-bullying week. Back in October, the Year 5 children spent a day thinking about e-bullying and created their own raps and art work. These were put together using green screen technology and presented to the rest of the school in our assembly. The children were rightly proud of their work.
Oliver volunteered to take on the role of Michael in our drama this week. He was asked questions by the children about his thoughts and emotions during his experiences on an island. The children impressed me with their mature attitude and the questions they posed. Micheal (aka Oliver) gave some very insightful and considered responses to the questions which helped to support the children's diary writing this week.
The children have been given their next Home Learning Log with an extended time to complete it. I have told them that unless they feel ready, they do not need to complete the numeracy section as we are going to continue our fraction work into next week.
Congratulations go to Amie and James who were both recipients of our Going for Gold medals. Amie received hers for always showing me that she is ready to listen and paying attention and James for his entertaining diary writing. It was a pleasure to read.
Thank you for all the baby photos. We are now ready to 'Guess the Baby' next week. There are some adorable pictures to look at.
Just a polite reminder that as the weather is so much colder, children do need to have a coat in school. In addition, all children need a warm top and a pair of long trousers for outdoor PE.
Week Commencing 23rd November
This week has seen us tackle fractions, decimals and percentages in our maths lessons. All of the Going for Gold medal winners this week were for their hard work in maths. Kacey and Lauren sat, whiteboards in hand, with a determined attitude and as a result, they were rightly proud of their achievements and success. Erin has shown a very positive attitude to her maths learning, both inside and outside of the classroom, the result of which is evident in her maths work.
The children had the opportunity this week to experiment with water colours using different brush techniques and to continue with shading and cross hatching using differing grade pencils.
I hope the children are proud of the science work they have produced this week, using a range of science skills: prediction; research; recording and presenting findings and drawing conclusions from the results. We started by predicting the gestation period of a range of mammals which we then put to one side. After our research, we then returned to our original predictions and re-assessed them based on our new learning. The children have taken a lot of care over the presentation of their work, using Kinetic Letters. Mrs Murphy was in the first science lesson of the week and was impressed with the children's knowledge of specific scientific vocabulary.
We were pleased to split into two this week, with half the children going to read to the Year 1/2 children and the other half staying in class to receive some Year 1/2 children to share stories. Thank you to Sophie who took the lead in our class and read the children a story about dinosaurs. It was clearly enjoyed by all.
This coming week, we will star to turn our minds to Christmas and decorate the classroom to help us get into the festive spirit.
I hope everyone has seen the letter this week about forthcoming Christmas arrangements. If you wish to start sending in your donations to the Christmas lunch (Thursday 17th December), please feel free to do so. I have already safely put away our first donations of biscuits.
(Photos to follow)
Week Commencing 30th November
Well, as we were entering December, we started the week making snow flakes to decorate the classroom. This put into use some of our recent maths learning as we thought about the properties of 2-D shapes, parallel lines and angles. I even heard comments being made such as, "I have made two thirds of mine now." I know the children really enjoyed making them and I have been told of more being made at home.The chocolate advent calendars are also in use as we count down to the big day. Thomas had suggested that we could make Christmas bunting so out came the glue, glitter, sequins and glitter paint. It was a pleasure to see the children enjoy themselves but I think I may still be finding glitter in unexpected places in March!
The children really impressed me this week with their positive and receptive attitudes to poetry. They were given a selection of poems to read through with a partner and discuss. When asked who would like to stand and read a poem aloud, we were awash with volunteers. I was particularly pleased to hear some of our less confident readers stand and read to the whole class - well done everyone. This is a testimony to how supportive the children are of each other. We then looked at all the poems to find examples of rhyming, personification, alliteration, onomatopoeia, similes and metaphors. Our next step is to write our own poems which we will record using green screen technology.
Maths this week has focused on division and I have reminded all children to make use of the on-line Abacus maths which they all have the details of.
In keeping with out theme of survival, the children all participated in two hours first aid training, run by the St John's Ambulance. The trainer commented on how well behaved the class were and how well they all listened and participated. Everyone has a certificate but more importantly, everyone has learned valuable skills which may make a real difference to someone one day.
Thank you for all the Learning Logs which were handed in on time. It is evident that many children are taking a great deal of care over their homework. We have taken the decision to give more time for the work to be completed.
Our times tables races were not as good as usual this week, with many suffering a dip in results. I know from the children that they haven't been practising as much but all have been reminded of the importance of doing so.
All children have been given different books to be reading at home as part of their Guided Reading activities. It was a pleasure to sit back on Friday and hear the children discuss their reading and give their thoughts and opinions. Many are reading a genre which they might not have picked for themselves and are finding that they actually quite like it, such as ghostly stories.
Our Going for Gold medal winners this week were Erin, Mia and Daisy for their daily support of our younger KS1 children in the dinner hall and Ollie for his positive attitude to his learning.
Week commencing 7th December
We have come to the end of another busy week. Congratulations to our Going for Gold medal winners, James, Thomas and Charlie, who have shown themselves to be three good supportive friends who are enjoying spending time together at lunchtimes putting the Thunderbirds Tracey Island through its paces.
The children had the opportunity to watch the Year 3/4 performance this week and came back to class full of enthusiastic chatter. We have practised our songs for the forthcoming carol service on Tuesday. In addition, building on the poetry work the week before, the children were tasked with writing their own poems on the theme of peace at Christmas. Every individual or group stood and shared their poem with the whole class. One will be read out at the service.
I was not in school on Friday so I eagerly await the times tables results from Friday morning. The children have also had two maths assessments to do this week which they will have the chance to review on Monday.
In Geography, Play Dough was the order of the day and once the class had managed to contain its excitement over the opportunity to 'play', the Play Dough was put to good use to construct layered models of Earth. They were then cut in half to support our understanding of how volcanoes are formed.
Looking ahead, it is the whole school Christmas lunch on Thursday as well as party afternoon. Donations for the lunch have started to come in already and are safely stored in class. Please do feel free to send in your donations as soon as possible.
Below is a selection of photographs taken over the last two weeks.
Week Commencing 14th December
What a whirlwind of a week! As you will see from the photographs, it was a hive of activity in our classroom with Christmas cake making and decorating and Christmas card creating. Just in case you are wondering, both activities definitely relied upon the application of our maths knowledge as we measured ingredients, thought about dividing the mixture fairly, worked out the surface area of the cake to cover with icing and considered what 2D shapes would make an attractive bauble. In addition, we had to measure accurately.
Thank you to all the children and families who supported our evening carol service on a very wet Tuesday evening. I hope you all enjoyed it.
Party day on Thursday was a success with feedback from the children indicating that they all enjoyed the 'buffet' lunch. This was followed up with Christmas games where we witnessed some creative dance moves in our musical bumps game.
School re-opens on Tuesday 5th January. I am looking forward to seeing the children and embarking on teh next leg of our learning journey. After all the festivities, the children have been warned to expect to work hard in the New Year.
Please continue to support your child by ensuring that PE kit is in school and that homework is being completed on time.
May I take this opportunity to thank you for all the generous gifts I received from the children at the end of term. I was truly spoilt.
Happy New Year to you all!