Mrs Cahill and Mrs Justice
Our Finale…
Well, what an amazing year we have had, it has passed us by in a blur! We are so proud of everything that you have achieved – our highlights have been the improvement in your handwriting (don't forget to keep practising over the holidays) we loved our African drumming and dancing too. We were really impressed with your teamwork when you built your Stone Age shelters, Scared Monkey was thrilled with his choice of accommodation!
Don't forget everything we shared about keeping safe during the summer holidays – especially when you're hunting Pokémon!
Mrs Bicknell and Mrs Hill want to thank you for your hard work and have a fantastic summer!
We would love you to keep reading and practising your spellings ready for September.
Have a wonderful holiday!
Mrs Cahill, Mrs Justice, Mrs Bicknell and Mrs Hill!
Week Beginning 4th July
This week the children have worked on the four number operations in Maths lessons and the methods used for these calculations.
In English the children have got back to their work on balanced arguments. We have been comparing life in the Stone Age with our lives today. The particular focus has been the food we eat and where we get it from. We all agree that life is considerably easier today with our shops and supermarkets close by!
Well done to our Gold Medal winners this week, Scott and Sam. Both boys have made super progress with their writing and are always ready to learn.
The absolute highlight of the week however has to be the Ukulele concert. A huge "Well done" to all the children - you have been fabulous performers!
Week Beginning 27th June
This week has really been action packed! The weather finally held (just) so that we could have sports day. The children were fantastic, the team spirit and encouragement of each other was great!
In literacy, the children have been reflecting on their year, I'm sure you'll agree that it has absolutely flown by!
Maths has been focusing on the methods used for addition, multiplication, division and subtraction.
In ukulele we have been practising for our concert. We have been using 4 different chords that we are getting better at using.
Thank you to everyone who joined us at the summer fair, it was a huge success. The children's dance was amazing! We are so proud of you all!
Well done everyone for being the best you can be!
Week beginning 20th June.
The children really enjoyed their maths this week and having the opportunity to work out the capacity of various containers. In English, we have continued to compare life in the Stone Age with our lives today. In particular we looked at the kinds of food eaten and how food is obtained. In our role plays the children started to "argue" their point of view. Planning a balanced argument is the focus for this English unit and we had some very interesting opinions!
Well done to Kaydance for her Gold medal this week. She has shown a renewed enthusiasm for her learning and showing how much she can contribute in our discussion. Well done to Harry too for his amazing effort with his Kinetic letters recently, keep it up Harry!
We are keeping everything crossed for Sports Day going ahead next Tuesday. The children should be prepared to come to school in their P.E kit, bringing their water bottles and hats with them. We really hope it will be a case of third time lucky!
Week Beginning 13th June
This Week's web site entry has been written by Macy and Anika – thank you guys!
On Monday
In literacy we wrote a diary entry as a Stone Age child. Also we wrote a story about a star that crashed on the moon. In P.E we practiced for the relays on Sports Day!
On Tuesday
We carried on with our Stone Age diary entry and read it to each other. We did spellings going to our different classes.
On Wednesday
We did more literacy doing fronted adverbials adding different sorts like time (e.g. Next year, tomorrow and after a while etc.) and degree (e.g. Maybe, utterly joyous and nearly asleep, etc). We did our afternoon carousel doing French and P.E.
On Thursday
In maths we learnt how to scale up a recipe to make more of them. In going for gold Jack B and Jack M got the gold medals. Well done! Again Ukulele was a big favourite we're able to change the chords from C to G to F and back to C again!
On Friday
We did scaling up and down investigations in maths all morning along with some times tables problems. In science we were finding out what rocks are and which ones are natural and man-made. We have 28 green children!
Thank you for your report of the week, girls! Please don't forget to be learning your spellings and times tables at home and make sure that you are reading on a daily basis.
Fingers crossed we will have sports day next week, so please make sure all PE kits are in school. Have a restful weekend.
Week beginning 6th June
What an exciting week we have had as you can see from our slide show at the bottom of this week's entry.
This week was the start of our "Meet the Flintstones" topic and Steve Parrish was our visitor for the morning sharing his fantastic knowledge and artefacts from the Stone Age times. The children thoroughly enjoyed listening to him and we all learned so much from his presentation to us. The highlight was watching him light a campfire on our school field after cutting back a chunk of turf. After he had finished, Steve then demonstrated how the Stone Age dwellers would have "made good" the site of their fire before moving on.
In English we have been working on writing letters and it was lovely listening to the children chatting about letters and cards they had received, often keeping them in special places or boxes in their rooms at home. We will continue with this next week alongside a look at diary writing.
We have also been focusing on times tables and the children will know which they should concentrate on at home. As well as this please support your child by encouraging them to learn their spellings - they could use their kinetic handwriting whilst practising their words!
It continues to be really important for the children to read regularly at home. This week we nearly finished our class story "The Iron Man" which the children have listened to beautifully. They should be able to tell you something about the story!
Thank you for ensuring your child has a water bottle in school and keeping up with the healthier lunch boxes.
Week Beginning 23rd May
We have been so proud of our children this week. We have been busy with assessments and the children have taken it all in their stride and have proved that they can tackle difficult questions with true 'stick-ability'. Well done all of you!
Ukulele is becoming more challenging every week and we have to jump from one chord to another very quickly, which is lots of fun.
The children really did impress us with their knowledge of many different subjects this week though their mini missions. They have worked so hard to prepare: PowerPoint presentations, dances, gymnastic routines, cupcakes, grass headdresses (which brought a few mini-beasts into the class, which of course we had to stop to look at!) and so much more. We loved finding out about what interests you outside of school. You have certainly earned your half term holiday!
During the holidays, don't forget to learn your times tables and do lots of reading so that you can impress us with your very full reading record!
Daisy-Mai and Caoimhe both earned 'Book Worm of the Week' this week – well done girls!
Caoimhe was also our most improved hand writer of the week, keep it up!
Have a wonderful week, keep safe and don't forget to use the Green Cross Code when you are crossing the roads.
Week Beginning 16th May
What another busy week and a big "Thank You" for your support in helping your children think about their healthy lunches and generally being more active than usual. Lots of children shared that they have tried different fruits and vegetables. Diane from Tescos in Towcester joined us in an assembly to make us more aware of the sugar content in our food. Thank you children for listening carefully and keep up with these healthy snacks!
The children have made muesli and also had some extra outdoor activities. The class are especially enjoying playing some rounders and getting to grips with some of the rules. They thoroughly enjoyed playing kwik cricket too.
Ukulele is getting a little more complicated now as the children learn more chords but they are rising to the challenge and have also learned another song.
The Dinosaur fact files are coming on well and we are continually amazed about the facts learned about these fascinating creatures. We cannot believe just how big some of them actually were!
This week nearly everyone had their reading book and reading record in school and we were so pleased to see much more evidence of reading at home - again, thank you children and keep this up!
Next week is our "Mini Missions" week and we are looking forward to sharing these together. Should there be any problems please pop in and let us know.
Have a lovely weekend.
Week Beginning 9th May
It's been another very busy week for our class. The children have used the iPads and laptops to research information about dinosaurs for their fact files. The children are really beginning to sift out the important information from the text that they need to use within their writing.
In maths, the children have been focusing on place value and comparing and ordering different numbers. Some of the children were really proud of themselves when they began looking at decimals. We were really pleased with how well they tackled some of the more difficult questions – some of the children even said how much they enjoy the challenge of maths! Keep up the enthusiasm guys!
The children baked sugar free banana, date and apricot muffins, they were delicious! In our ukulele lessons the children were really focused, we have learnt a few chords, some of which include using 3 different fingers (which is very tricky), how to 'walk' on the strings with our fingers and we can even accompany and sing a few different songs, phew! It's great fun.
Gold Medal winners
Macy and Fern for fantastic note taking and for following instructions carefully.
Hand writers of the week
Fern, Macy and Taiya
Bookworm of the week
Sam
Next week is Healthy Schools' week – can you please ensure that you have your PE kit in school all week, especially your trainers. Remember to try and meet our challenges of walking to school, water in your lunch boxes and a chocolate free lunch box – can you do it?
School photos are on Thursday – please make sure that you come to school in full uniform including jumpers and cardigans.
Week beginning 2nd May
The children have had a fabulous week story writing! Mrs Cahill is so impressed with their enthusiasm for their dinosaur story and really pleased with the outcome. We think they should all be very proud of their achievements in writing this week. We hope that everyone will continue to work hard on their spellings at home and really try to think about the spelling rule they have learned during the week.
The children are getting very good at finding their own errors and self correcting any mistakes found!
We had more musical visitors in school this week. This time it was the turn of a brass quintet from the Northampton Music and Performing Arts Trust. We all thoroughly enjoyed listening to them play and learn about the instruments. Can you remember the names of the instruments children?
Can we remind all the children that it is really important to have a water bottle in school especially now the sun has decided to appear! Caps for playtimes are also a good idea.
We would really like to see all Reading Records in school every day. On Monday we collect them in to check the reading done during the week. It would be great if we had a full house of reading logs on Monday!
Don't forget that Mini Missions are planned - if you cannot remember your day please ask Mrs Cahill or Mrs Justice. We are really looking forward to learning something from you!
Have a lovely weekend in the sunshine and we will see you next week.
Well done to Shaka, Jemima, and Luke for their Gold medals this week - their writing is really coming on and stamina to keep working is great to see, keep this up!
Week Beginning 25th April
For this weeks updates please see Bugbrooke School News to find the Pioneer and Africa Week.
Week beginning 18th April
We've had another busy week this week. The children started off with their dinosaur poetry recitals, then began writing mystery stories, which they have really enjoyed. The children are really improving their writing, some of them have even managed to add in subordinate clauses! Great!
In maths, we have been on a shape hunt, investigated 3D shapes, nets, lines of symmetry and angles – we were really impressed about how hard the children have worked.
The children loved making, and more importantly, eating pizza this week, I think they were very surprised by how easy it was to make and how nasty they were!
We have begun Ukulele lessons this week, it was great! We learnt how to hold and strum the instrument and played our very first chord. We even accompanied a song with our new found skill!
We are very excited this week too, as we have been really lucky to receive our 'Seeds from Space' this week. Our seeds have been up on the ISS with Major Tim Peake and are now in our possession. We have to grow the seeds under scientific conditions and report our results back to ESA in 35 days, we are really looking forward to discovering if there will be a difference in the two different packs of seeds and whether being in microgravity has an effect on their growth! We'll keep you posted!
Well done to our Gold Medal winners this week: Amelia, for choosing powerful vocabulary in her writing. Luke for including subordinate clauses within his writing and Jack B for a great effort in his writing this week.
The children are really looking forward to their adventures next week! Can you please ensure that the year 3 children are wearing their PE kits on Wednesday, no shorts please.
Week beginning 11th April
Well done to our Gold medal winners this week - Caoimhe and Natalie. The girls have done a particularly good job of settling back into their learning and showing a really positive attitude even when things feel a bit tricky.
It was lovely to see the children back at school this week - the Easter break had obviously done them the power of good as we have been a Green class this week! Every child returned to their learning with enthusiasm; perhaps our new topic The Big Dig was partly responsible! We had a fantastic morning searching for dinosaur eggs in the garden at the front of school. Luckily the weather was kind and we were able to spend some time outside which was a real treat.
Back in class we worked together to write poems about a variety of different dinosaurs. The children have done a brilliant job of learning our class poem King of the Dinosaurs and are beginning to perform it off by heart and with great gusto! We will look forward to hearing them recite some of their work in a Year 3 and 4 poetry recital next Monday.
Well done to all the children who had reading books and reading records this week - there has been some fabulous reading done over the holidays and please keep this going.
Please help your children to remember their water bottles every day. This will become increasingly important as the weeks go by. All children should have their P.E kits in school on Monday. A change of socks would be very useful as the grass will still be quite wet for a while.
We are really looking forward to the exciting weeks ahead and look forward to seeing the children make great progress this term. This week was certainly a good start - thank you children!
Week beginning 21st March

Congratulations to our Gold Medal Winners this week:
Corey, Josh and Harry for their fantastic presentation when writing their instructions about making canopic jars – their use of kinetic letters was great! Well done boys, you need to keep this up now!
We have had another super this week. Everyone has tried so hard to put all their effort into their work this week.
The children have continued to write instructions. They were challenged with writing a set of instructions for 'How to make a canopic jar.' The children all tried to 'level up' the language they were using and they remembered to include time connectives and imperative verbs. When the children wrote their final drafts, we were incredibly impressed with how well they are now applying their kinetic letters!
In Maths, we have been revising different method of addition and subtraction and how to apply the methods they know to word problems.

We wish you a wonderful and restful Easter holiday. Don't forget to keep reading, learning your tables and practising your spellings and kinetic letters on a daily basis. We're looking forward to seeing you next term!
Week beginning 14th March 2016
What a busy week we have all had! The children have been working hard in English on our new unit "Writing Instructions". They can all explain why it is important to follow instructions and enjoyed making their chatterboxes. Next week they will be showing what they know about writing instructions and writing up their Canopic Jars instructions. We are sure you agree that the jars look amazing especially now with a coat of paint!
Thank you to all parents and family that joined us for our Egyptarium - the classrooms were very busy with grown ups admiring all the Egyptian homework. The children thoroughly enjoyed show casing their work.
Today of course the whole school took part in the worthwhile cause of Sport Relief. Thank you again for your support in helping them gather sponsors. The children had a fabulous day and we will look forward to finding out how much money we have raised for this charity.
Have a super weekend and we look forward to seeing you on Monday children.
Week beginning 7th March 2016
It's been another wonderful week of learning!
In English, the children finished reading the story, 'Giant' and continued their work on story writing. The children have all worked extremely hard. They have been trying hard to include the 'boomtastics' and 'fantastics' in their work. The children have endeavoured to identify their mistakes and make their own improvements too.
In maths, we have focussed on fractions. The children learnt how to add fractions and convert improper fractions into mixed fractions. They have also been comparing fractions and placing these upon a number line.
Our highlight of the week was making our Canopic Jars! The children learnt about the skills needed for making and joining a coil pot. They also learnt about sculpting clay to produce the character for the lids of their pots. We were incredibly impressed and proud of our budding potters!
Congratulations to Daisy-Mai and Daisy for being our gold medal winners this week! Daisy-Mai for working so very hard to improve her spellings and Daisy for her beautiful Egyptian homework.
Remember to keep reading, learning your times tables and spellings daily!
Week beginning 29th February
Well done to all our class for another amazing week of learning. It is fantastic to see so many children really showing brilliant progress with their kinetic handwriting - their efforts are really paying off!
In English this week the children have learned the story of "Giant". They worked together to create a story map of what happened and then wrote imaginative sentences about the characters and setting. Next week we will focus on dramatic events within stories.
World Book Day was the highlight of the week however and another big "Well done" to everyone for entering into the spirit of the event and coming to school in such wonderful costumes. We hope the children really enjoyed the day and thank you all for helping them with their costumes.
This week all the children remembered their PE kit which was super. As the field is wet some children did get soggy socks and didn't have a spare pair. We have talked to the class about adding this to their kit list but if you can help with this that would be appreciated.
Thank you to all children who have already brought in their homework. The due date for this is 11th March and we look forward to seeing all their work on display.
Keep reading and recording children! Some of you are disappointed when you don't receive a sticker for reading. Make sure you remember to record all your reading as you go along.
Enjoy your weekend and try to remember the message from Steven's assembly this week - remember those Mums on Sunday and all other family and friends that help to care for and look after you!
Week beginning 22nd February
(Thank you Alex, Natalie and Daisy for completing the review of our week!)
This week we have taken part in a Bumper Book Quiz, we did the book quiz because we were hoping to get in the Guinness Book of World Records.
In literacy, we wrote a mountain fact file. Also on Monday we did the big run for cross country it was a fun P.E. lesson.
We have done a lot of practise in Kinetic Letters, we love writing in kinetic letters whilst checking our pencil grip!
On Wednesday we did P.E. again. In maths we looked at ordering numbers, temperature and negative numbers. In SPaG, we looked at suffixes and prefixes.
In cooking, we all made bread rolls at school, it was fun. (They were delicious too, thank you for making us one!) In French we learnt how to say the different names of clothes.
Congratulations to our Gold medal winners this week:
Jack B for working hard in literacy
and
Kane for being the most improved writer of the week.
Can you please make sure that your PE kit is in school ALL WEEK!
Week beginning 8th February
Well done to our GOLD MEDAL winners this week -
Paige, for always trying her hardest in everything she does and
for her beautiful use of kinetic letters
and
Emma for settling so well into our class and for her beautiful presentation too!
We've had a busy week in maths - we have been looking at measures and data. We have been measuring items in the classroom and playground. Some of the children made some very accurate estimate!
In English we have been learning about the structure and features of non-chronological reports. They learnt how to take notes and then use these to write a report on bees. Some of the children got to publish their work and add water colour illustrations.
We had a look at editing websites in ICT, if you would like to have a go at home try this link:https://webmaker.org/en-US/goggles/install you have to install the goggle onto your bookmarks bar and then visit another website – we looked at cbbc.
On Thursday, the children had their treat afternoon, which consisted of yummy treats and a DVD in our pyjamas with our favourite cuddly!! It was lovely to see the children relax and enjoy the film.
We hope you have a wonderful and restful half term and hope you are fully recharged for next term and the exciting challenges ahead.
Don't forget about the 500 word story challenge, try and get these finished by Monday 22nd February. Also don't forget about the book quiz on the first day back, make sure you do lots of reading to prepare and your Egyptian homework is due in soon.
Week Beginning 1st February
This week's update has been written by Jack M and Daisy. (Thank you guys!)
This week has flown by. Our class enjoyed everything we learnt this week.
Firstly, well done to Joshua and Sam for getting going for gold medals. Josh for his improved attitude to his learning and Sam for his creative writing sentences.
This week in English we have been writing an effective sentence about Bertie (a prairie dog) from the story Varmints.
It was about pollution and what can happen to the world if we lose our green land and have dark cities instead.
In maths we have been learning about; Roman numerals, equivalent fractions and division. The class particularly enjoyed Roman numerals. Mrs Justice is an exceedingly proud of the class. (Yes I am, your tessellations were fantastic too!)
Thank you to Mrs Mathison for our brilliant food tech, we learnt how to make a rainbow fruit kebab. (which were delicious I hasten to add!)
Another wonderful week, thank you. I'm really pleased to add that the children have earnt their gems in a jar treat this week, so we have decided to have a DVD in our pyjamas with our favourite cuddly toy with tasty snacks and hot chocolate on Thursday 11th February. Well done. The jar has been emptied again and is already being refilled!
Week Beginning 25th January
English this week has been very thought provoking. We have been learning about the decline of the bee population and the effect it could have on the Earth. We linked this to the text 'Varmints'. The children have produced some fantastic writing, they have thought hard about the quality of vocabulary they have been using and even tried to make it better by using the 'Fantastics' and 'Boomtastics'.
Maths has been challenging, this week. We have focused on subtraction and borrowing which, at times, some of the children have found particularly tricky – but well done for persevering! Please keep practising.
The children have cooked very tasty vegetable soup this week – I know it was tasty as I had it for my lunch twice this week! Thank you guys, it was delicious!
Here is the recipe should you wish to make it at home:
Mrs Mathison's Vegetable Soup.
Serves 8
2 leeks
6 small carrots
¼ swede
¼ butternut squash
2 small parsnips
1 potato
1 tbsp oil
2 stock cubes
2 tsp parsley
Black pepper
Method
Peel, then chop all the vegetables into small pieces.

Heat the oil in a pan, add the vegetables and cook until softened (about 2 minutes).

Add enough water until the vegetables are covered.

Once boiling, add the stock cubes, parsley and black pepper to taste.

Cook until the vegetables are soft.

Blend, serve and enjoy
Well done to our gold medal winners:
Taiya – for always working her hardest, for always making the right choices and for being a wonderful member of our class.
Macy – for a much improved attitude towards her learning and for having for stickability within her work.
Well done girls!
Please remember to be reading, practising times tables and spellings on a daily basis.
Week Beginning Monday 18th January
Congratulations to our medal winners this week:
Natalie for her great effort in maths last week – she was enthusiastic and focused. Keep it up Natalie!
Jack B for his contributions in writing lessons this week. Well done Jack!!
It's been another busy week!! The children continued with their Big Run on Monday and enjoyed their PE activities! In art, the children have been using watercolour to create their own hieroglyphs. They are becoming much more proficient in creating the tones that watercolour offer.
In science, we have learnt about the structure of our ears and what is in our ears that makes us dizzy! I'll let the children explain that to you!
Aspirations has been a topic for discussion this week. The children have been thinking about what makes them special and what they would change if they were in charge of our country.
I am really proud of how well the class are doing in their times tables. They are making great strides in their achievement.
Please practise the times tables that your child has brought home this week it is so important that they learn them. Your child should be learning their spellings and reading on a daily basis too.
Week beginning Monday 11th January
It's been another whirlwind of a week and the children have been working their socks off! We have begun reading 'The Time Travelling Cat' by Julia Jarman. The children really enjoyed finding out about the characters.
In maths, the children investigated place value, ordering numbers, negative numbers and finding the value of each digit. We have even been finding out about the links between fractions and decimals. We were really impressed with how the children rose to the challenge!
We were really excited to watch Tim Peake and Tim Kopra on their space walk on Friday, the children were full of inquisitiveness and asked so many thought probing questions. We were lucky enough to have had a reply to a message that we had sent to Tim Peake's team about whether Tim would hear any sounds in space during his space walk. The reply stated that he would hear the fans that blow the air in his helmet, the voices of mission control and his fellow astronauts on the radio. It lead us beautifully on to our new science topic about sound! The children thoroughly enjoyed investigating how sounds are made.
Our Gold Medal winners this week are:
Charlie for the recital of his poem and Corey for his wonderful recount that he wrote about the mummification process that we saw last week.
Please remember to help your children to learn their spellings, times tables and to read on a daily basis.
Please remember to learn your spellings and times tables on a regular basis...
Week commencing Tuesday 5th January
Well, what a start to the New Year! The children have come back refreshed, focused and ready to learn!
This week we have begun our exciting new topic - Mummy Knows Best. The children investigated modern day Egypt using laptops and holiday brochures. They then used the information that they had gathered to create a persuasive advert.
On Wednesday, the children were invited into the hall to view a mummification! The children were so focused on the events that they were able to absorb all the information that they had heard and turn this into a quality recount of what they had seen! We were absolutely blown away by how much specific information you could remember and how good your writing was - we think you must have really enjoyed listening to all the gory details!
Fractions was our focus in maths this week, and once again, the children were keen to learn all the new facts. They were able find fractions of shapes and quantities with enthusiasm.
Well done everyone for such a good start! Let's keep up the hard work!
This week's GOLD MEDAL winners are:
Jack M and Kane for their wonderful art work during the topic of 'People in Action'. They were able to create a background for their work that depicted movement by using different shades of blue. Well done boys!
Happy Christmas to you all!
Week beginning 14th December.
What a lovely final week of term! The children had a super day working on their Christmas crafts and thoroughly enjoyed their Christmas parties.
We would like to wish all our children, their parents and families a very happy Christmas and a relaxing holiday.
Please do remember to start reading your poems and keep reading those books children!
It's been a whirlwind of a week! The children performed incredibly well during their Christmas production of 'Humbug Sees the Light'. We are so very proud of you all, you truly were the best you could be!
In English, the children have started looking at newspaper reports and begun to think about writing their own!
We revised our multiplication methods in maths and did the most amazing work in art, based on winter sports.
Well done to our Gold Medal winners this week:
Rodrigo for always being helpful, reliable and trustworthy.
Amelia for being so confident on stage during our Christmas production.
REMINDER
Our Christmas party is on Thursday. Please could your child bring in little cakes and biscuits as their party food - these will be shared amongst the year group during a party lunch! Thank you.
Please ensure that your child is reading on a daily basis and they are learning their times tables. They need to be able to answer their times table questions very quickly without counting up on their fingers.
Week beginning 30th November
What an exciting week we have had with our play - songs, dances and words really coming together. Congratulations to all the children for knowing their lines, for such enthusiastic singing and waiting patiently whilst we position everyone on stage. It really is a team effort and everyone counts to make it a success. You are in for a treat next week and we look forward to seeing you at one of the performances!
Alongside all the rehearsals we are really focussing on spellings and the children will have a Spelling Bee competition in the final week of term. They need to look at all their common exception words in particular - these are in their spelling books. If you get chance to test them and encourage them it would be much appreciated!
Week Beginning 23rd November
The children have had another great week - the highlight being beginning our Christmas Production! The children have done really well learning their lines - well done, keep practising! They have been busy learning dances and songs ready to wow you too!
In literacy, we have finished story writing and they have used everything that they have learnt to produce imaginative stories with exciting plots and creative settings and character descriptions.
In maths, we have bee revising methods for addition. Well done to those children who persevered when it got tricky. Some of your consolidated your knowledge and some learnt new methods. Keep up being the best you can be!
Well done to our Gold Medal winners:
Kane - for his marvellous maths! You are doing so well and devour all the maths you are given!
Macy - for using your Kinetic Letters so well and producing a wonderful letter to her French Pen Pal.
Amelia - for working so hard in her maths, especially with Mrs Bicknell
Please could you bring in an interesting newspaper report ready for your new literacy topic next week.
Week beginning 16th November
We have had another really productive week and the children have done a brilliant job with their English - creating a character and planning a story map. Mrs Cahill has been so impressed with their descriptive writing and looking forward to seeing the story come together next week!
This has been our "Anti-bullying" week and Year 3 and 4 learned a rap which they performed in assembly. The message was about being a friend...don't be a bully...because here at Bugbrooke School, we don't find it funny!
In ICT the children worked on creating animations of finding the golden ticket from our Charlie and the Chocolate factory unit.
We are almost at the end of this class story and the children have thoroughly enjoyed being read to. We would really encourage parents to enjoy shared reading time with your children as it has such value in their learning.
In P.E. the children are challenging themselves to improve their general fitness levels in their "Big Run" and we are also getting out on the playground every afternoon for a 10 minute power walk or run. This seems to be really popular with all three classes and we are all impressed with the energy the children possess!
Please help your children to remember to learn their weekly spellings and to record all their reading - if you could sign to acknowledge they have this we would be very grateful.
We really enjoyed sharing all the homework the children had produced for their Brazil project.
Congratulations to Gold medal winners this week Jack and Harry for their super efforts in English and for Kaydance with her Maths
Week beginning 9th November
We have had a really busy week this week, when the children were asked what their highlight was, they said everything!
The children enjoyed writing detailed character descriptions and had to think carefully about which words to use to describe their character!
We worked really hard in maths on formal methods when adding and subtracting, the children were fantastic at learning new methods!
On Thursday, the children worked as teams to dig holes and plant trees along Shady Lane, we were given the accolade of 'the team who had dug the deepest hole!' Everyone had decided really well on which roles they should take on when planting and all were great team members! We look forward to seeing our plants flourish!
Children in Need was on Friday, thank you for your generosity, we managed to raise over £700, fantastic! We all loved coming to school in our cosy pyjamas! Thank you to all the children who helped to run our games, you did a great job.
Congratulations to our Gold Medal winners this week. Jack M and Shaka for their thoughtful input during guided writing and Fern for her beautiful kinetic letters! Well done guys, keep it up!!
Week beginning Monday 2nd November
Well done to our Gold medal winners this week - Josh, Alesha and Charlie.
Josh and Alesha have shown a super learning attitude this week and Charlie is trying so hard with his kinetic letters! Good up the good work!
The children have had a super first week back after the holidays. They have enjoyed some drama work in R.E and had a great week using the lap tops and ipads for a variety of activities.
One of the highlights was their research of endangered animals living within the Amazon Rainforest. Using the key words they created a super display using a website called tagxedo.
We suspect the children might want to use this for all sorts of topics - even their spellings perhaps!
The children have started to think about writing a poem using their ideas.
Next week the children will be involved with the Shady Lane planting project - a parent mail has been sent but just a reminder that the children will need a change of clothes and footwear as they are likely to get muddy.
PE kits should be in school on Monday ready for the start of their outdoor lesson in the afternoon. A plastic bag for wet and dirty trainers would be a good idea.
The children will be getting a new list of common exception words next week. These are the words they will work on during this half term and should be practised at home too ......in kinetic letters please!
Thank you for your continued support and hope you all had a good half term break.
Well done Year 3 and 4! We've had another great week and you are all green, Mrs Cahill and Mrs Justice are really proud of how well you are gelling as a class.
During our English lessons the children wrote advertisements for their chocolate bars. The children had to exaggerate what was special about their chocolate bar and be very persuasive.
In maths, we worked through an investigation trying to be as systematic in our approach as possible. We had to work out how many combinations of outfits were possible. It made us really think but we were ready for the challenge!
We have been very busy concentrating on the formation of all the lower case letters in our Kinetic Letters lessons. If the children could practise their Kinetic letters during the half term holidays that would really help. They should now be using their kinetic letters in EVERYTHING that they write.
On Thursday we had our languages day, the children learnt about what it is like for people around the world who aren't as fortunate as ourselves, learnt about food miles and had the opportunity to try a variety of foods from all over the world!
Next week is half term. Please ensure that your children are reading every day, learning their times tables and finishing off their Brazil projects. Please make sure that any writing is done using our wonderful Kinetic Letters!
Don't forget there is a training day on Monday 2nd November, so school will restart on Tuesday 3rd November.
Have a restful week!
Week beginning 12th October
We have had another great week in class and both Mrs Cahill and Mrs Justice have noticed the children settling to some really hard work without any fuss! This has made the classroom feel very calm and a lovely place to be.
In English the children wrote a story based on a bag of props that we discovered. The concentration from everyone was fantastic and many children exceeded their target of writing more than ever before! We know that quantity is not necessarily always the best but it is super to see so many children building up their writing stamina.
The Food Technology groups had a lovely time making their sandwiches - perhaps they can help prepare the lunches over the weekend!
Next week is our annual cluster Languages Day and the theme is "Foods around the World". The hot lunch on this day is Italian themed and we hope packed lunch children can get into the spirit of this too - perhaps with some red, green or white food to represent the Italian flag or Italian foods such as pasta.
READING - It is really important that the children continue to read with you at home and thank you for supporting your children with this. If you feel that the chosen book is too tricky at the moment please comment in the Home School book and we will make sure they receive help to choose something more appropriate.
Parents Evenings are on Tuesday and Wednesday next week - please ring the office to make an appointment if you haven't already done so. We look forward to meeting you then.
We had a great week this week. The children really couldn't choose what their favourite part of the week was!
The children had a very special visit from the one and only Mr Willy Wonka this week! The children got to interview him all about his chocolate factory and then children produced some detailed character descriptions about their guest.
Another favourite activity this week was the food technology lesson that they did with Mrs Mathison - the children were really sensible when using the knives.
During our Kinetic Letters activities the children concentrated very hard to form their letters by following the letter trails that Brave and Scared Monkey made.
To top off our fantastic week we won the Mr. Ford award for the tidiest classroom and the 100% attendance certificate! Both Mrs Cahill and Mrs Justice are really proud! (Let's work hard to keep the Mr. Ford award in our room by keeping it tidy!)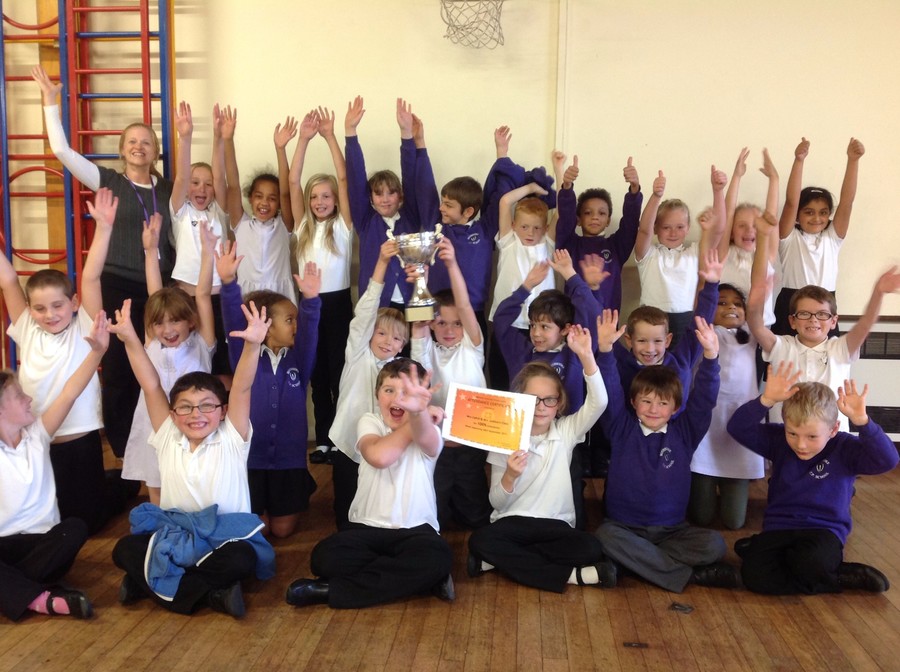 Week beginning 28th September
We have had another great week and the children have worked really hard on their English task of creating an invention which would produce their imaginary chocolate bar. There was certainly a lot of competition as to which could be chosen to go into production!
Next week we will continue our work on Charlie and the Chocolate factory - focussing particularly on the characters in the story.
All the children are trying really hard with their Maths and challenging themselves to find the best method of solving addition questions.
A highlight this week must have been their first Food Technology session with Mrs Mathison. In their small groups they are learning about food preparation and hygiene and getting to eat the things they create. You might be interested to know they are also learning how to wash up, dry up and clean up properly at the end of the session!
Thank you for your continued support in hearing your child read and recording in their Home School books. We are checking these on a Monday and have really noticed an increase in the amount the children are reading at home - thank you! A few children forget their reading book on a Monday after a busy weekend of reading - if you could help them to remember that would also be appreciated.
The children are getting much better at organising their lockers and packing their belongings away neatly. Please can we remind you that a water bottle is important to have in school each day.
Week beginning 21st September
We have had a fatastic week of learning this week. We are so proud of the 'stickability' of some of the children in the class and how well they are persevering with tasks when they get challenging. Keep it up!
In English this week, the children had great fun using their imagination when they rowed down a chocolate river!
We looked at what makes a healthy diet and what types of foods are included within the 5 different food groups.
In art, the children sketched some incredible pictures of fruit. The children had a wonderful eye for texture and the different shades of colours that made up their chosen fruit. We are all really impressed with what you have achieved!
Within our maths lessons, we have been using number lines to add or subtract with growing accuracy.
Well done to our 'Gold Medal' winners this week. These went to Corey, for his much improved attitude to his learning and to Aaliyah for her fantastic fruit that she drew in art and her writing in English. Well done you two, keep up the hard work.
Week beginning 14.9.15
We have had another great week getting to know our new children even more
and electing our School Council representatives for the year. Well done Jack and Macy - we know you will do a good job representing the class.
Cadbury's World was the highlight of the week and we were pleased with how well the children behaved and conducted themselves. We learned many interesting facts about the Cadbury family and the history of the chocolate bar we know so well!
The children completed their Chocolate poems and recited them to the class. We asked them to put as much expression as possible into their recital - it wasn't an easy task to follow Michael Rosen with his Chocolate Cake poem, but all the children had a great try!
Next week we look forward to beginning our focus on Charlie and the Chocolate Factory in English.
11.09.15
What a Wonderful Week!
Year 3 and 4 have had a lot of fun tasting chocolate as part of their English work – Chocolate - MMMMM…! They got to use all of their senses, taste, touch, smell, hear and see! They enjoyed seeing the chocolate fountain with the delicious chocolate tumbling down the sides! They thought of some magnificent adjectives to describe their chocolate and used these to write poems.
The class were really motivated in their Maths lessons this week and thought carefully about where to place numbers on a number line.
In Art, they drew some wonderful chocolate wrappers using their sketching and observation skills.
Wednesday is our visit to Cadbury's World, we are all very much looking forward to this and we're hoping that it'll be just like Charlie's visit to Willy Wonka's Chocolate Factory!
Week beginning 31.8.15
Mrs Justice and Mrs Cahill are very pleased to be back and planning our exciting learning together. The class have had an extremely busy few days and we are proud of how well they have responded to all the tasks set.
It is no surprise that the children are going to particularly enjoy our theme of "Mmm....Chocolate" and Daisy really enjoyed writing the chocolate poems.
Corey and Joshua liked the team building games and Luke and Natalie liked the sketching of their shoes!
For Year 4's it was straight into swimming on Friday morning and all the children behaved well and Kane and Jack were particularly pleased to have this chance!
Next week we have lots of taster sessions for the children to take part in - including Hot Shots. It would be fantastic if all the children had their P.E kits in school ready for when we need them.
We hope you have had chance to look at the new Home School Reading Record - it has lots of interesting information for you and your son or daughter to share.
Thank you for your support in helping the children get off to such a super start - Mrs Cahill is looking forward to seeing everyone on Monday!