The children today shared their most memorable moments of the last year, these included; visit to Cadbury's World, Sports Day, Pioneer Centre with a variety of stories, hand stands and falling over, not to mention writing on the desks with Mrs Kane.
We were sad to say farewell to Mrs Deidhou, Mrs Etherington, Mrs Mathison and Mrs Kane and wish them well their next adventures.
Thank you for all your super presents, we've had a fantastic year. I've had lots of fun and have equally learnt lots from them.
Have a Safe Summer and a well earned rest.
Mrs Butlin
Week beginning 4th July
On Thursday we did our Ukulele concert and our fingers hurt. This Friday Ruby Archer was the hand writer of the week. We all enjoyed P.E with Mrs Butlin.
Today and yesterday we did English balanced arguments they were really tricky and we had to have lots of brain breaks or we wont have survived.
Yesterday, we did PSHE that was really fun and it was how to keep clean our work sheet was Yasmine and Tom got sick so we had to make them better. We are all proud of each other.
This week we have done the bus stop method for division, long or short method for multiplication and we all deserve a weekend off.
Bliss, Keali and Ruby.
Gold Medals this week - Keali and Esmee for their organisational efforts in preparing us all for the Fete, Tom B had worked extremely hard, independently on his balanced argument. Keali set a record winning a second Gold Medal from her new class teacher, Mrs Laidlaw. Well Done everyone.
Hand writer of the week is Ruby Archer, Mrs Woodger nominated her for her consistency.
Next Week:
Monday and Wednesday: PE kit (remember no earrings on these days please)
Week beginning 27th June
We made super cards it was really fun.
We are all really tired because of the dance rehearsals.
In Art it was fun because we printed our pictures.
In Steven's assembly, he talked about the summer holidays and what we can do in the 6 weeks holiday even if it is just flying a kite or a bike ride or even a very long walk around the village.
Jorja and Abbie
Thanks everyone who came to support during Sports Day and help out during the Fete. We were lucky with the weather for both events. Mrs Kane and I were super impressed with the girls, especially Bliss who helped on our stall. Keali and Esmee had worked out a 10 minute rota system for staffing the stalls, Bliss never left us. Maths today was related to money and how much we'd make on our stalls.
I was also impressed by Corey's aim, he was one of three people who manged to hit me directly in the face!
Good Luck Year 4's for Monday, I know your new teachers are looking forward to it. Year 3's we'll be in Miss Clarke's room.
Next Week:
Monday& Tuesday - Transition Days Please check Parent mail for more details. Please have PE kit.
Wednesday - PE
Thursday am - Ukulele Concert
Friday - before and after school, a chance to look at your child's books.
Week beginning 21st June
We have written some Thank you letters to Stevie and Irene Parrish to thank them for their visit from the first week of term. We have also looked in more detail about Stone Age survival, the need to hunt and why we don't hunt today and acted out arguments, the boys seemed to give into the girls quite easily.
In Maths the some of us enjoyed a very practical session measuring liquids in ml. We practised throwing and catching skills and put them into practise with a game of Cricket on Monday luckily rain didn't stop play.
The class loved French this week, Mrs Brickwood managed to find some online interactive games to play.
Keali amazed us with her performance on Thursday playing her Grade 1 flute piece.
We have now learnt our Dance for next week with the rest of the year group, we're looking forward to next week. Our stall has evolved into 2 throwing activities, Throw the Sponge at Mrs Butlin and Tin Can Alley but we still need to collect things to go in jars for to support the rest of the year group.
Gold Medals this week were presented to Flynn, for his inspirational ideas and Ember for her continued hard work at home practising her timestables.
Next Week:
Monday - PE kit
Tuesday - Sports Day (fingers crossed)
Thursday - Final Dance rehersal and Ukulele
Friday - Summer Fete, bring plenty of pennies, we are raising money for an improved trim trail.
Please remind your child to read everyday, they get a credit sticker evertime they prove it with evidence in their Reading Log.
Week beginning 13th June.
We were very proud to have won two awards last week; 100% attendance for the week, we are aiming to be the best in the school for attendance. We also won the Mr Ford award for the cleanest classroom.
We have celebrated the Queen's birthday this week, written diary extracts from a Stone Age child's point of view, thought about how Muslim's pray and worked out how to scale up and down. We even know how large the chair for a giant needs to be having applied our Mathematical skills. Mr McFarlin rearranged so we got another Ukulele lesson, it's sounding good for our concert. Finally, we have started working on our dance for the fete having all choreographed some truly cool moves.
We became weather watchers this week hoping the sun was going to shine for Sports Day, we'll be doing that again next week hoping for sunshine on Thursday.
Darcy, Flynn and a very nervous Natasha had their moment in the spotlight this week playing in front of the school. Mrs Dheihou and I were incredibly impressed and I'm proud to boast that 1/3 of the violinist were from our class. I wonder if they practice as much as I did at their age!
Gold Medals this week went to Keali, for her logical problem solving skills in Maths and James for his diary extract of a Stone Age boy.
Handwriter of the week: Ruby
I've set the children a reading challenge, to read every day at home. The evidence will be in their Reading Log, every time they show me this updated they'll receive and easy credit.
Next Week.
Monday – PE
Wednesday- PE
Thursday – Sports Day dependent on the weather.
Week beginning 6th June 2016
This week we have travelled back in time to the Stone Age! We've been comparing our day to the day in the life of a Stone Age child. Did you know they started work at the age of 4? According to Bliss the beds were comfy but a bit smelly. As the dawn rose she didn't want to get out of bed so her bed was dragged out into the yard so she could milk the cows!
Back in 2016 though, our 7, 8 and 9 year old's might not have to milk the cows yet, but they do need to know their timetables, so we have been looking at various strategies of how to learn them and how to apply that knowledge.
There didn't seem much time for leisure activities in the Stone Age, only cave painting and hunting but we have managed to squeeze in some time to learn about the game of cricket.
Handwriter of the Week –Darcy for improvement in speed and Kinetic Letters
Gold Medals (awarded on Friday) : Natasha for her wonderfully interactive Mini Mission, Abbie for her independent written work this week and Ewan for his Art work – that I've been waiting a week to give him. Well done.
Next Week:
Monday – PE kit
Wednesday – PE kit
Thursday – Sports Day from 10 am, please can we have sun cream applied, water bottles and sun hats.
.
Week Beginning 23rd May
A week of personal challenges; Assessments and Mini Missions. Everyone worked really hard to conquer whatever their personal challenge was, whether it was a difficult test, having the confidence to stand up in front the class or technical issues, we all overcame.
The Mini Missions were fantastic, I've learnt so much, they ranged from Cross Stitch, Sporting achievements, Animals, Cubs (I'm sorry I missed that one) to Kaleidoscopes and even a visit from a Silky chicken. The photos were taken by some of the children and I've got a feeling that next time we do it photography might be one of the interests.
Mr MacFarlin the Ukulele teacher has set us some homework for the week: to listen to Bob Marley's 'Three Little Birds.' It should be attached but you will be able to find it easily via an internet search.
During the first week back we will be focussing our Maths on times table knowledge, the children have been reminded to keep practising.
Have a lovely week off, you've really earnt it this week!
Converting media.
(Media will continue converting in the background)
Week beginning 16th May
Healthy Schools Week
We have had a busy week this week, Ewan started the week hobbling in, celebrating – he had walked 26 miles on Saturday, with his family, to raise money for Muscular Dystrophy. He even received a special award from Wellingborough Mayor. Well Done Ewan.
It was a great start to our Healthy Schools week. The whole class really enjoyed all the sports we've been doing; Tag Rugby, Skipping, Circuit Training, Cricket and Netball skills – I think TJ was the only one to score. This morning we even tried to be like the Australians, have PE first thing to see if it helped us to concentrate, Adan and Corey told me it worked because they got through all their fractions work.
Having had a great Healthy Eating assembly led by Diane from Tesco's this week, we then got the opportunity to make muesli with her. Most of the class enjoyed it and some of the girls said they wanted to make it at home (the ingredients were really cheap too).
Bran Flakes
Porridge Oats
Sultanas
Sunflower seeds
Small amount of cinnamon
Goji berries
We have also been writing up our draft Fact Files in ICT - learning how to use text boxes and inserting pictures, if you get a chance have a practise at home.
Handwriter of the week – Aston.
Next Week:
Mini Missions – be ready to present to the class, so practise what you are going to say over the weekend.
Week Beginning 9th May
Another very busy week: researching Dinosaurs for Fact Files, playing Rugby, learning about Place Value, anxiety and how to use Power Point to help with our Mini Missions, French translations and new chords on the Ukulele all finished off with Banana Muffins.
We had a great afternoon (in the sunshine, no rain in sight) on Thursday around the village, we looked at the plants in Shady Lane. The Crab Apple Tree is nearly in blossom and Abbie has promised me she'll report back when it flowers. We also practised how to cross roads safely after a year group assembly about Road Safety. Finally, we arrived at the Millennium Park, what a fantastic place Bugbrooke is to live in.
Gold Medals this week were awarded to Quinn for his sportsmanship and team spirit during Tag Rugby and Flynn for his continued hard work, especially in Maths.
Handwriter of the Week: Ewan for his improvement.
Next Week:
Healthy Schools week so PE at some point every day, kit needed all week. We also have a chocolate challenge in school, can you meet it? No chocolate products in pack lunch all week!
Thursday: School photo –school jumpers/cardigans required.
Mini missions are the following week please check below for your day.
Week Beginning 2nd May
We started the week looking very tanned and a little tired sharing our exciting adventures from last week. It was great to hear so the Year 4's had such a great time at the Pioneer.
It was our first Music lesson with Mrs Diedhiou this week, she is really impressed with the enthusiasm our class already has for music. This of course has been followed by Ukulele on Thursday which is getting more complicated - the great thing is, that we keep repeating the tunes.
Food Technology this week smelled and tasted delicious, cheese scones. The children gain so much Mathematically from these sessions (I just gain weight). Luckily we ran it all off playing tennis and learning tag rugby skills.
Gold Medals this week went to Thomas Be for his efforts in Music over the last week, Millie for her continued hard work and progress in English and Bliss for always being hard working, enthusiastic and a great classmate.
Handwriter of the Week: Taylor for always trying his best and now speeding up.
Next Week - Can you make sure your child has a water bottle and PE kit everyday.
Don't forget Mini Missions are the week beginning 23rd May.
Week Beginning 25th April
For this weeks updates please see Bugbrooke School News to find the Pioneer and Africa Week.
Spelling Lists and Mini Missions Letter with Dates
Week beginning 18th April 2016
If your child is feeling tired this week you'll understand why when you find out how much they've done this week:
They have performed their poems to the Year group, written an opening to a suspense story, the Year 3's have learnt the basics of Tag Rugby, Year 4's have been learning how to use protractors some have been on a shape hunt, tennis, prayer, collages, pizzas and finally an introduction to the Ukulele!
I'm hoping everyone has a good weekend of sleep ready for next week because we are all looking forward to Wednesday.
Gold Medals this week were awarded to Flynn, Corey and Ben for their amazing written work. They created a fantastic setting for their Suspense story.
Hand writer of the week is awarded to Thomas Bates for consistently using his Kinetic letters in his written work.
Well Done boys.
Next Week:
Monday : No PE
Wednesday: Pioneer Centre and African Dance and Drumming Day. Performance at 2.50pm please come and support us.
Thursday/Friday: PE kit required.
Welcome Back!
What a great start to our new topic this term – eggs discovered in the school grounds by Sir David Attenborough. The eggs, once we'd found them contained mini dinosaurs, which we have now been able identify – we seem to have some dinosaur enthusiasts in our class, including Mrs Woodger. Many children have bought in books to share about the topic, I hope you don't mind us keeping hold of them for a while to use for reference during the term. Thank you.
We have performed in class and written our own poems about dinosaurs in English. Along with producing some initial draft poems the children are getting to grips with the fact that they now have to revisit their work to make improvements.
We have also welcomed Mrs Kane back, she'll be teaching our class on Friday afternoons this term and together we'll be teaching some of the Maths this term. I was astounded today during the times tables, Flynn and Ember shot through their test like rockets – I can tell they've made lots of effort over the holidays to practise.
Gold Medals this week were awarded to Adan B, his Mrs Etherington was really impressed with the care and effort he's put into his collage. Abbie received her medal for making huge leaps and bounds in her spellings.
Hand writer of the Week: Bliss, using kinetic letters consistently throughout her written work.
Well Done Adan, Abbie and Bliss.
Next Week:
Monday: Outdoor PE
Tuesday: Food Technology
Wednesday: Outdoor PE
Thursday: A new exciting venture….
Friday: School Disco (contact the school office for more details and if you can help FOBS)
FOBS – Our summer fete is on 1st July, please don't just put it in your diary, find out what you can do to help. All the money they raise benefits your children.
Week beginning 21st March
We've had another busy week, the children have been learning how to make cups of tea (acting it out) to help them with their instruction writing. We are all now getting used to proof reading our work to find mistakes and improve it.
Gold Medals this week were achieved by Thomas B and Aden. Thomas has made leaps and bounds in his Mathematical understanding. Aden had written a set of clear instructions also using his Kinetic Letters consistently throughout his work. Well Done boys.
Handwriter of the Week: Keali – consistently using Kinetic Letters throughout her written work.
I've included our Sports Relief photos from last week, thank you for you kind donations, please pass them to the office when we return on the Tuesday 12th April if you haven't already.
I have asked the children to do various things over the Easter holidays to prepare for our return: They have a poem called 'Dinosaurs' please can they practise ready to perform. There is a list of Year ¾ spellings in the middle of the Reading Logs, please can they tick off the ones they know or have investigated. Also keep up with their reading and times-tables practise and if they need it, practice the telling the time.
I hope you all have a lovely break and come back refreshed for the Summer Term.
Happy Easter.
Week beginning 14th March
I have asked the children to really stretch themselves this week this in our class; at the start of the week we had Reading Assessments, then in Maths we were learnt new methods of division. They all rose to the challenge and I am incredibly pleased with all their efforts.
It was great to see so many of you on Monday evening admiring the Egyptian projects. I thought they were amazing. I've got a feeling that there were a few that definitely put in more than the advised 3 hours.
The children's highlights this week were Art and ICT and obviously Sports Relief. We had lots of fun doing each activity and finished by trying to beat me at Star jumps (I'm not quite as fit as I thought I was!). I particularly enjoyed PSHE this week where were looking at the qualities of a good friend, I wonder how many qualities your child can remember?
Gold Medals this week were awarded to Sarah and Ewan: Sarah had written a good descriptive paragraph which she had then edited and improved to make it even better. Ewan's attitude to work has really improved, which is reflected in his work and he has also been a really supportive friend to his fellow classmates.
Handwriter of the Week this week is Ruby - working hard to get her letters the right size.
Next Week:
Monday: PE kit needs to be in school every day.
Tuesday and Wednesday: Parents evening – call the office if you don't already have an appointment. If these days don't suit you, we can arrange another time that does.
Week Beginning 8th March
The highlight of our week this week was making clay Canopic Jars, the creations are great, I wonder if the children can remember what the Egyptians kept in them? These and the fantastic homework that has arrived through the week will be displayed on Monday after school in the classroom. Ewan has already shared his as you can see in the photos - Spelt Bread.
Gold Medals this week were awarded to Abbie for her Egyptian homework and Bliss for consistently being the best she can be.
Handwriter of the week - James for his huge efforts to improve his letter shapes.
Next week:
Monday - PE and Egyptian Display after school.
Friday - Sports Relief
Don't forget to book your parents evening appointments through the office for Tuesday 22nd and Wednesday 23rd March.
Week beginning 29th February
The children reported today (Monday 8th March) that they had a full week of learning. They really enjoyed dressing up for World Book Day - check out the photos on Bugbrooke News. They also made zig-zag books in class based around the theme of The Hungry Caterpillar.
The big news of the week was that the class computer reportedly'died!' Don't worry it's already been replaced.
In Maths they worked on co-ordinates and telling the time (please continue to support at home).
In English they have been working on their creative writing based around a story called Giant by Julia and Charles Snape. Can you get them to retell the story at home and discuss the environmental issues around the book.
Today we have been using a website in Maths www.fractionmonkeys.co.uk/activity/ the children wanted to have a play with it at home ordering fractions.
We have quite a few children from the class chosen for the Cross-Country competition on Wednesday. Having watched them all running again today I'm really impressed with their stamina and can really see a big improvement. Good Luck.
Please don't forget that the Egyptian homework is due in on Friday ready for you to look at next Monday.
Week beginning 22nd February
The week started with our World Record Breaking Book Quiz attempt which the children tell me they thoroughly enjoyed – we won't know for a while whether we've broken the record yet because all the figures need to be processed. Our class winners were Sarah, Esmee and Keali who all received book tokens sponsored by local businesses.
The Food Technology has sent some wonderful bread smells around the school. The children were very creative with their designs. Mrs Mathison has given added the recipe but the children will have to tell you the method.
125 gr white bread flour
125 gr wholemeal bread flour
1 teaspoon fast acting yeast
½ teaspoon sugar
½ teaspoon salt
150ml warm water
Cook in the oven at 200 C for 20 minutes or till golden brown.
Next Week:
PE kit with trainers all week please.
Thursday – World Book Day, dress up as a character from a book. If you wish to join the book swap bring some in to receive a token to exchange on the day.
Week beginning 8th February
On Monday most of our girls (Choir) got to sing at Jubilee House – I was lucky enough to see part of the performance and it was great to see so many of you there. I am trying to encourage the boys to join the choir now.
This week we have been looking at measures and data in Maths. In English we have been learning how to take motes and then write a report on bees.
We had a look at editing websites in ICT, if you would like to have a go at home try this link: https://webmaker.org/en-US/goggles/install you have to install the goggle onto your bookmarks bar and then visit another website – we looked at cbbc.
Gold medals this week were awarded to 2 Thomas's! Thomas H has really work hard in his English and improved his work rate. Thomas Be, since January has really committed himself to working with the rest of the class.
A number of the class have spent a lot of their own time typing up their stories for the 500 word challenge. These are due in before 25th February so I'm hoping they'll be finished on Tuesday 23rd February ready to send off. It is entirely their own work and I'm hoping they've used their FANTASTIC and BOOMTASTICs – they will tell you what they are.
On Monday 22nd February we have entered a Book Quiz, so if you get the chance, pop to the library and read as much as you can.
Don't forget the Egyptian homework is due in soon.
Have a good half term.
Week beginning 1st February 2016.
Our highlights this week have been doing Food Technology, French and the Maths Day today: We investigated Egyptian and Roman Numerals, can your child work out how to write your birthday year?
M=1000
D=500
C=100
L=50
X=10
V=5
I=1
Gold Medals this week were earned by Aden and Thomas Ba, both for English. Aden has had some really inspirational ideas and Thomas' confidence in his written work has really grown lately.
Next Week:
Monday- PE, outdoor kit and trainers needed.
Wednesday - Food Technology Day
Friday - Break up.
Week beginning 25th January 2016
This week in Maths, we've spent ages on column subtraction which some children found REALLY hard. They persevered and I'm proud to report they have all mastered the skill.
In English, we have been thinking about the environment and the impact bees have on the planet. The work has included some extremely thought provoking writing.
On Tuesday, the children all made vegetable soup in Food Technology. The tasting sessions were quite varied according to Mrs Mathison, a real mixed bag of reactions.
Art is always a highlight of the week but this week it was topped by our class treat, Spy Kids movie in our PJs with hot chocolate!
It was not a surprise to the class that Corey won a Gold Medal this week, he has worked really hard in Maths since January and has made lots of progress. Keali was also a Gold Medal winner for her Art work, Mrs Etherington was amazed at her attention to detail.
Next Week:
Monday: Big Run – children may need a change of socks dependent on how wet the grass is.
Friday: Maths Day.
Don't forget to practise your timetables and Kinetic Letters.
Week beginning 18th January
This week Keali and Esmee wrote our page update:
On Monday we did the Big Run and activities in P.E.
On Tuesday Maths. In the afternoon we watched Egyptian fact programs. 8 at a time, we went in an Egyptian cave and we were detectives.
On Wednesday we did Art and French in the afternoon. In French we learnt the colours and in Art we painted Egyptian Hieroglyphics.
On Thursday we did Maths all day! (the children begged me)
Mrs Butlin says she thinks we have been fantastic learners this week and she's really proud of us!
Thank you girls.
Gold Medals this week: Quinn for his continued inspirational ideas and Aarez for his constant thoughtfulness.
Next Week:
Monday and Wednesday: PE
Thursday: Class treat - a film and hot chocolate in PJ's (only for the afternoon). Letter to follow.
Week Beginning 11th January 2016
Our week has been so fast paced this week that we haven't had time to think. After watching the performances of the Christmas Poems, we had a very wet Cross Country run. We then left our trainers (and some socks) drying out while we learnt about the Egyptians with the aid of a very strange cat.
Cats have been a strand throughout our week in English too; we are studying The Time Travelling Cat by Julia Jarman. This week we've looked at the characters and the hidden clues in the text. The children had to be the detectives to find out about the characters feelings. When you are reading with your children ask them questions about the characters in their stories.
We have worked hard in Maths this week on Fractions, I think the best bit was when we used cake and sweets to demonstrate. We finished the week talking about equivalent fractions, most children who were secure with their times tables found these tasks easier so do please keep practising.
PE saw the children quite literally taking a leap – they were practising the Triple Jump. Mrs Stevens was desperate to show me how far they could jump. I was absolutely amazed.
In our PHSE lesson we were introduced to 2 characters, I'll leave it up to you child to tell you what they found out about them.
We started a new topic in ICT: HTML editors – do you know what HTML means?
Gold Medals were achieved by 3 children this week. Esmee for her HUGE jumps in PE, Mrs Stevens was really impressed with her technique. Natasha for her constant contributions to our English lessons, I think she has been inspired by Julia Jarman's text. Millie, the improvement of her Kinetic Letters has been phenomenal.
Next Week:
Monday and Wednesday PE kits required, trainers for both lessons – it might be worth sending in a spare pair of socks during the wet weather.
Food Technology – Tuesday
Friday – Spelling and Times tables tests.
Happy New Year
I hope you all had a good break. The children have returned with great enthusiasm for learning; this week, even though we've only had 4 days in school, we have already got through so much.
We launched our Mummy Knows Best topic on Wednesday with an unusual theatrical show of the Mummification process. Judging by the written work the children have produced about their experience it really made an impact – in fact Aden said it was inspiring! We also looked at where in the world Egypt was and produced a Radio advert to persuade you to take us there on holiday.
Gold Medals this week went to Millie and Samuel. Having had 2 different long spelling tests this week I was really impressed with Millie's attitude towards the test. Samuel received his medal for always working hard and having great ideas.
In Art they have been working with water colours, and improving their brush work ready for their Egyptian hieroglyphic work. Maths has us in the process of studying Fractions this week. I can see that most of the children have been practising their times-tables over the holidays.
Next Week:
Monday - Performance Poetry day. Outdoor PE kit required.
Tuesday – Food Technology session
Wednesday – PE kit (please provide both indoor and outdoor kit for this session)
Christmas Week 2015
Wow what a full on week we've had this week. Hopefully you've seen the fruits of our crafty day from Monday – sock snowmen, Santa cards and marshmallow cookies.
Tuesday split us in half, I hear the Carol Service was great and our readers, Esmee and Jorja did a fantastic job. The children who stayed at school spent some time writing some really thoughtful poems about Refugee's at Christmas. Everyone managed to gather together just in time to watch Tim Peake's rocket launch.
Maths took us on a Christmas themed investigation – how many presents, wings, legs, birds and people in the Twelve Days of Christmas song. Can you work it out?
Wednesday gave us the opportunity to plan and write up our Newspaper reports. We reported on 'Mr Humbug See's the Light.' The work produced was great and will be seen soon in our class paper.
Spelling Bee was won by Sarah, Ember and Natasha. It was a very close completion which ended in a dash for a dictionary to find the winner. Well Done girls.
Party day – what fabulous outfits, food and excited children we had. AND extraordinary dancers in our class!
I hope you all have a lovely Christmas. I've asked the children in class to make sure they keep up with their reading and times tables. Don't' forget they also have a poem to perform to the class on Monday 11th January – if they want they can write their own but they do have booklets that should have come home on Monday.
Thank you for all the lovely cards and gifts. As a Thank you I have told the children that they are not allowed out of bed before 10am on Christmas Day - I'm looking forward to hearing that they followed instructions!
Merry Christmas
Mrs Butlin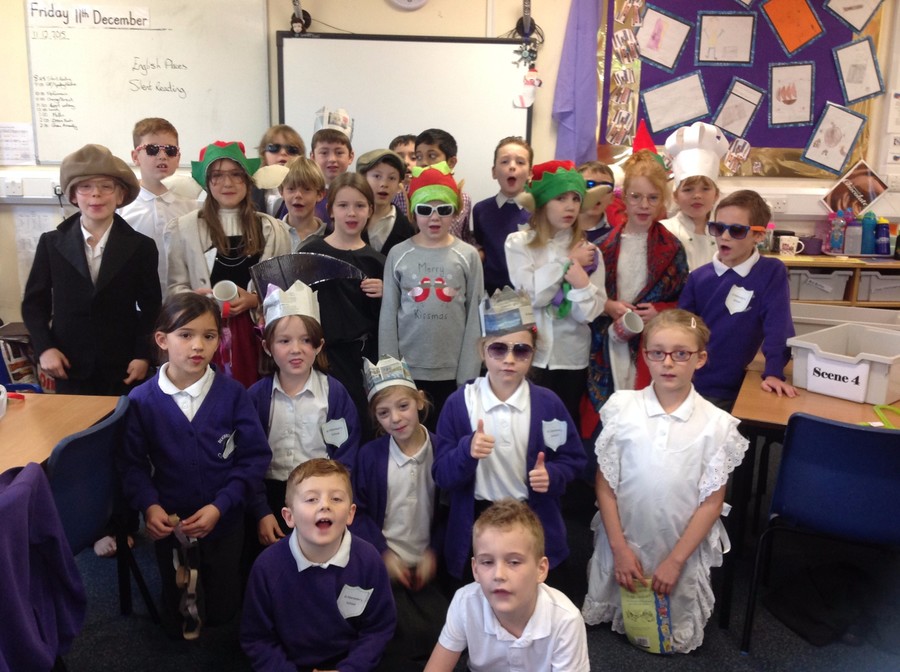 Week Beginning 7th December 2015
A week of performances in many guises: firstly some of our class members sang in the Cluster Carol Service on Monday evening. The church was filled with young voices, it was a joy to hear our choir. Ruby even stepped up with the other Year 3 children to sing the first verse of Away in a Manger. Natasha did a great job of our Reading – Listen by Clare Bevan.
Then our Bugbrooke Beaters performed to the rest of Key Stage 2 in singing assembly. They performed various rhythms together and then individually. They have been practising together on a weekly basis in the small hall and it was quite a different sound. I think some of them got stage fright.
Mr Humbug Sees the Light – what great performances, I hope you enjoyed it as much as we did. Everyone in class really worked hard, especially on our songs. I'm extremely proud of each performance and performer. They now have notes ready to write a Newspaper report for next week.
3 Gold Medallists this week – Darcy who sang her heart out on Monday evening in church, I have never seen anyone enjoying it and getting into the moment as much as she did. Adan – his behaviour, work rate and attention has really improved over the last few weeks. James – found the courage not just to audition but actually stand on stand and perform those lines, a huge personal achievement. Well Done everyone.
Mrs Brickwood took some photos in French this week, I'm sure your child will explain what they were learning about!
Next Week:
Wed – PE kit required
Thursday – Party Day, come to school in party clothes. Food ideas have already been sent home.
Friday – Last Day of term.
Week beginning 30th November
A great but tiring week. We have spent time rehearsing for 'Mr Humbug Sees the Light'. It's going great and we've finally mastered those tricky bits in our class songs. Lines have been well rehearsed, thanks for practising at home. And thanks for the costumes, don't forget all children need a pair of 'shades' – sunglasses, all will make sense on the night! We've also completed various assessments in both English and Maths. All children have tried their hardest despite facing some difficult questions.
In other news, Adan received his Gold Medal due to him last week for some excellent Maths work. Ruby has also knuckled down to produce some great Maths work this week, and then also wowed myself and Mrs Brickwood with her fantastic singing. Keali was awarded her gold medal for her continued enthusiasm, organisation and hard work. Well Done.
Next week:
Monday – Outdoor PE kit.
Wednesday – Dress rehearsal am in front of school PE kit required for the afternoon.
Thursday – Performances at 2pm and 6pm (we'll send you details of what time to arrive).
Friday – Final performance 10am
Week Beginning 23rd November 2015
Our week started with a challenge – to learn 2 scenes and 5 songs for the Christmas Performance. Our aim was to master 1 song per day. We've had a good go at it and I'm pleased to say we have a good knowledge of each one. It certainly helps when you've got such an enthusiastic class who are definitely wanting to shine on stage. Can you please continue to encourage your child to learn their lines and have a knowledge of the ones before so they know when to come in.
The Maths work this week has been looking at grid multiplication and division. The division has given them a new method on some of our children BUT the fact that they've all been practising their timetables has really helped them.
English work this week has been working on story dilemmas and then writing a story in a timed situation. I'm looking forward to reading those this weekend. Next week we will be looking at Newspaper reports – if you do have any suitable Newspapers this weekend please can your child bring them in on Monday and Tuesday so we can share them in class.
Congratulations to Adan and James this week they gained their first belt in Jado Kuin Do and we got to celebrate with them in assembly on Wednesday where they gave us a demonstration. If you are interested in joining this club there are places in January, please contact the office. Congratulations must also go to our Year 3&4 Hotshots team, captained by our very own Thomas this weekend where we won the tournament.
Only one Gold Medal awarded week (because my second recipient was absent) Bliss has done a marvellous job of learning her lines in a very short time. Now all we've got to do is get the cues right. Great work Bliss – I know you spend a lot of time doing extra work at home.
Costume requests should be coming home very soon (but we do have a lot in school so don't panic). Mrs Brickwood and team have been working really hard to get these out to you as soon as possible. Please let us know if there are any difficulties as soon as you can so we can find another source. For the final song they will all need to wear sunglasses so can you please send those in too.
Thank you.
Week Beginning 16th November 2015
I am incredibly proud of our class this week. They have done several things to make me feel this: firstly, they have been improving their handwriting so much that most of their work is showing their Kinectic Letters, secondly the projects they produced showed exactly how much effort they made and also the enjoyment they gained from home learning. Sarah said that everyone did some amazing projects and worked extra hard. Finally, we spent a lot of time working on Maths problems which presented a real challenge; they were determined to master these skills.
Gold Medals this week went to Taylor – the precision and care in his Art work had really impressed Mrs Etherington, in fact she was so impressed it was the first thing she showed me when I walked in the next day. Thomas H gained his medal for continually working hard at everything he does, in fact, since September he has shown determination to 'Be the Best'. Congratulations boys.
Some of our Year 4 children auditioned for main parts in the Christmas Production. They all did incredibly well and all have speaking parts. I will inform them on Monday who is playing which part in our scenes. It's getting very exciting, we were listening to the music this afternoon.
Finally this week we have learnt a new song (tune Hokey Cokey) to help us remember how to hold our pencil correctly – see if your child can remember it, or even see if they can teach you how to hold the pencil.
Next Week:
Monday and Wednesday - Outdoor kit for PE please.
Rehearsals for play starts, lines home on Monday for anyone needing to learn them.
Week Beginning 9th November.
A very busy week ending on quite a high:
We finished and performed our Endangered Animals poems which were great. I asked the children to write a story in an hour on Tuesday, they all got so engrossed in writing their stories that they asked if they could have more time to finish. How could I refuse?
We started outdoor PE on Monday with the first of our Big Run. We will be running every Monday trying to build up our stamina for long distance running so if you running is your 'thing' then do encourage the children and get them out and about. Equipment needed for Monday and Wednesday PE lessons will be trainers and tracksuit bottoms etc, – if they are wet we will endeavour to send them home to dry.
Gold Medals this week went to Corey and Ewan. Corey for his hard work learning his timetables. Ewan has made extra efforts with his organisation and handwriting. Well Done boys.
The Brazil projects look absolutely great, I'm really stunned at how varied they are. I'm also astounded at the amount of effort the children have put into their homework.
We have also welcomed Mrs Woodger into our class this week, she'll be supporting us on a regular basis and I'm fairly sure she's had a great first week.
Today has been an extremely exciting day, from coming into school in our pyjamas, playing Fete style games in the hall and finally a great Science lesson led by Darcy's mum. She brought some friends in from the School of Nursing at Northampton University (they didn't say much). However, they helped us learn all about the skeleton. Thank you Mrs Wright, you added a whole new perspective to our learning today. We had a great lesson and I managed to keep my plaster on all day just to see the reactions of other people – Mrs Marsh was the best, a really horrified, concerned look, with a loud gasp! I've also discovered how hard it is to achieve simple things when your movement is restricted – eating with a knife and fork was a real challenge.
The children have bought home a song/rap to learn today. We will be performing it in next weeks Wednesday assembly as part of Anti-Bullying week. They only have to know the first 2 lines and then 1 other line – they should be able to tell you which it is but it's in the second verse, just in case they forgot.
Finally, it's that time of year when we start to think about Christmas productions (Thursday 10th December). Most of our Year 4 children have brought home a sheet for auditions on Wednesday afternoon. Ideally we would also like to see them sing as well for the main character.
Week beginning 2nd November
What a great ending to the week, planting a Crabapple tree, Lilac shrub and Raspberry bush. We were the first from school to get our hands mucky and I know the children have loved it. We didn't manage to add the posts to label where they are so hopefully next week I'll take some children down again to finish the job. It means for years to come our class has contributed to our own village environment and we can all enjoy the fruits of our labour.
Gold Medals have been awarded to Jorja, Sarah and Esmee for their group in English. Ember also achieved a Gold Medal for overcoming her fears during her swimming lessons.
We have 3 winners of our first Spelling Bee – Taylor, Kate and Ember. I was extremely proud of all the children who entered, it's great to see that so many of the children had the opportunity to practise at home. We will do another one later in the term, today they brought home the sheet of this half terms common exception words.
It was great to see so many families at Open Evening on Wednesday, as you saw the Year 3&4 classes this week created 'Wordles' about Endangered animals. If you are interested in creating your, own visit the website www.tagxedo.com, they are extremely effective.
With Remembrance Sunday this week and many of our class attending the church service, Mrs Etherington took some time to discuss the impact this occasion has on many families. I found it intriguing to see some of the children's responses to the questions posed.
Next Week:
Monday and Wednesday: Outdoor Games and PE – children need their kit in school every day just in case we change the day.
Thursday: Brazil homework due in. Well Done everyone who has already done this.
Friday: Children in Need – wear PJs for the day! There will also be some pocket money games in the hall for them to pay to play in the morning. We took a vote, our class decided they wanted to run a Hook a Duck and Pick a Lolly Stick (created by Darcy and Quinn).
Week Beginning 19th October 2015
What an end to the first half term. We've already covered so much this term and I'm already looking forward to next term.
The Year 4 children finished their swimming lessons this week. I was so impressed with their confidence in the water, my group in particular worked incredibly hard and really developed their skills.
In Maths this week we focussed again on 3D shapes and managed to create our own while investigating their properties. Do you know how many edges, vertices and sides a heptagonal pyramid has?
We finished our adverts in English this week, you'll be really impressed if you come round on Open Evening to see them all on display – you'll want to eat the delights of Millie's Marvellous Marshmallows.
We've also focussed a lot on Kinetic Letters this week and after speaking to many parents this week I have included the spellings to practise over half term ready for our quick Spelling Bee in the first week.
Languages Day on Thursday was great, we celebrated food from around the world. Everyone in our class managed to taste something new, not everyone liked what they tasted but we had great fun.
Our class this week have produced some astonishing Art work this week. Having drawn a chocolate wrapper or box at the start of term they then repeated the work. Mrs Etherington was so impressed with the improvement that we shared some of the work in assembly.
I managed to meet most parents this week and as discussed with most of you, it would be great if you could encourage your child to practise spellings and handwriting together. Also remember to sign the Reading Log on a weekly basis and urge your child to learn his or her times tables. Each pupil has come home today with a sheet of spellings with their individual times table target (they will be tested in the first week back).
I look forward to hearing all about the half term on Tuesday 3rd November.
Week beginning 12th October 2015
Gold Medal winners this week were Adan for his amazing knowledge of 3D shapes and Quinn for his effort to improve his letters during Kinetic Letters.
Maths has challenged lots of our class this week. Following 3D shapes, we've been doubling and halving. The task for all of us: what happens when I halve an odd number?
Exciting English, we've been working on advertisements for the chocolate bars they invented recently. How many different words can you use instead of delicious?
We've been comparing the River Amazon to our very own River Nene. Did you know the River Nene various locks and weirs to negotiate when you paddle down it?
Our Scratch animations are really progressing, we added our own voices to them this week.
The children tell me they've been jumping for joy this week with Mrs Steven's in PE literally! They had to investigate different ways of jumping and find out which was the best method.
In RE our class have made us proud by showing how caring and thoughtful they are respecting others views and values.
The homework has been sent home this week. Also to help your child organise themselves at home and school I have given them an organisation card with little reminders of what to bring everyday (they also have one in their locker).
Please can I encourage you to sign the Reading Log every week to show you've seen it and if you've heard them read.
Parent's evenings are next Tuesday and Wednesday evening, If you can't make those dates I'm happy to arrange another time. Please phone the office for an appointment.
Week beginning 4th October 2015
We started our week with a visit from the extremely eccentric Mr Willy Wonka. I'd invited him in to inspire our character descriptions in English. Unfortunately I didn't get to meet him, by all accounts he was a bit weird!
We've had a taster session for the new Gymnastics club starting this Friday at 8am - we were all hula hooping.
Maths this week has had our Year 4's learning how to draw circles using a compass and now know what a radius is. We've all been investigating symmetry and shapes. We have also, now been able to log onto Abacus at www.activelearnprimary.co.uk the children have their usernames and passwords in the back of the Reading Log. The school code is wp7p, please encourage them to visit the site if you can because there will be games for them to reinforce learning in school. As always please practise times tables at any given chance.
We had great fun in Science today remembering how the digestive system works and then sharing it with the rest of the class.
Gold Medals this week were earnt by Abbie and James. Abbie had continued to work hard and endeavours to 'Do her Best' all the time. James had amazed me with his character description in English despite having very little material to help him. You can now view all the Gold Medal winners from now on in our Bugbrooke School News link.
ICT – our Scratch projects are progressing, we are now programming our characters. You can experiment at home with Scratch, just download the free program from www.scratch.mit.edu its great fun.
We've also looked at the different layers of the Rainforests this week, I wonder who can remember the 4 layers? I will be setting a project about Brazil this week to be completed after half term, now is a good time to start thinking about it.
Our Class Charter

Don't be afraid to be unique.
Respect everything and everyone.
Always listen and learn.
Make sure everyone is safe.
Help anyone who is sad.
If you have nothing to say, don't say anything.
Keep Smiling.
Week Beginning 7th September 2015
Chocolate mmmmmmm. What a start to the week, investigating chocolate using our 5 different senses.
We've had lots going on during the week including lots of sports club taster sessions. We've learnt today that if we become ACTIVE at home and school that we can earn points in school. It's great to know how many children in class walk to school and take part in clubs.
On Wednesday our class spent some time finding out about the Queen as she's now the longest reigning British monarch, I wonder how many of you can remember how many Prime Ministers she's known?
Gold Medals this week were awarded to Kate, for settling in so quickly into a new school and Darcy for her great contribution to our Class Charter.
We've all (myself and Mrs Etherington included) been learning about new routines and knowing expectations so I'm really pleased the Home – School agreement has been sent home today. Please can return it as soon as possible.
We practise times-tables on a regular basis in class, so it would be great if you could encourage your child to learn some new ones, they know which they need. Have a look on the internet there are some great songs to help on youtube.
Timetable this term:
Wednesday
PE day so all children need kit in for that day (apart from next week)
Friday
PE kit for Yr 3
Swim kit for Yr 4.
Be in school for 8.30am. I suggest girls leave earrings at home so we don't have issues taking them out and losing them. Also, if you can, dry the swim hat and add a little talc – it makes it easier to put the hats on. It all ran smoothly today, thank you for your support.
Next week
Wednesday – Cadbury's World. We'll be there and back during school time, just need a disposable lunch for the day. More details in letter on Monday.
Week beginning 14th September 2015
Wow, what a busy week we've had: Poetry Performances, looking at animations ready to produce our own in ICT, Food Groups and of course Cadbury's World. I'm really pleased with the work the children have produced about the trip, by all accounts they had a great time. I hope they shared the chocolate they brought home.
Gold Medals this week were won by TJ for his positive attitude in school and Thomas B for his thoughtfulness while putting himself up for election.
Our elected school council reps are Quinn and Darcy. Well Done, I think you'll both do a great job.
Just to confirm: the new Reading Logs should be filled in by the children every time they read, a minimum of 4 times a week. Times tables should also be practised and, if you want, the spellings sent home too.
Next Week:
New picking up routine, if you are meeting your child then you will be invited onto the playground after 3.25pm see the separate letter for details.
Wednesday PE for everyone.
Friday Swimming for Year 4 – we need you in school at 8.30am so we can leave on time.
Week beginning 21st September 2015
This week during English we rowed down a chocolate river together, the children then wrote about what they saw, heard, tasted, touch and smelt. I was absolutely amazed at the descriptions of pancakes dripping with maple syrup and chocolate fish swimming in the river.
In the build up to Harvest on Monday all the children produced some fantastic pastel fruits for the bowl. Mrs Etherington extremely pleased with their work.
Our Science work has got us thinking again about healthy diets and the need for a balanced diet. It would be great, if at home, the children could have a look at the information on the contents labels of food you have in the cupboard.
We are looking at where in the world chocolate comes from in Geography. We looked at the Equator and the fact that cocoa beans come from the Rainforests. We'll be discovering more about Rainforests next week.
Gold Medals this week were awarded to Natasha for her great ideas in English and Ben for his amazing concentration and work produced in Maths. Great work you two, now I know you can do it, I'll be expecting more!
Unfortunately I've had to ask the children to leave pencils cases at home from now on. They are too distracting and seem to be causing daft disagreements in class.
GREAT NEWS - We've won the first ever weekly attendance award! Last week our class was the only class to have full attendance ALL WEEK. Lets keep it up please!
Next Week:
We start a short course in Food Technology.
Wednesday: PE
Friday: Swimming – children need to be at school by 8.30.
Week beginning 28th September
We had had quite a full week this week:
In English we've created and written about our own invention room. We focused on the use of verbs, I wonder who can remember any they used to describe the process their machines went through making their wonderful new chocolate?
In Maths we've been working hard on column addition. I hope these methods will be experimented at home.
In Science we've been looking at the digestive system, thanks Adan for his interactive Leap Frog book, it was a great resource. I'm hoping today's lesson will spark some interesting conversations at home.
PSHE was really interesting, we looked at different dilemmas. What would you do if your friend did something that you knew was wrong?
The class started their Food Technology sessions with Mrs Mathison. The next session is planned for Wednesday, they get to eat whatever they prepare at the time, must be tasty because I haven't seen any leftovers yet. You'll also be glad to know that they have to do their own washing up!
Gold Medal winners this week. Aston had amazed us with his knowledge of verbs and Flynn had planned a really healthy meal during Science and been able to label each part with the food groups.
Spellings are now set on Mondays and tested on a Thursday – your child would really appreciate it if you could support them learning them during the week. They will need their Spelling book on Mondays so they can bring them home.
Good News – we won another award today in assembly. The Mr Ford Award for the tidiest classroom. Well Done team.